1.Outdoor Stationary Load Banks
Outdoor Stationary Load Banks offer the most robust, high-capacity, outdoor designs in the industry. It is setting the standard with intelligent operating controls, safety indication layouts, adjustable load step resolution, and ease of installation. It is the perfect solution for regularly scheduled testing and commissioning of mission-critical standby emergency power systems.
2.Main features and advantages
Power consumption components adopt special alloy resistor, high-temperature resisting, small thermal drift, safe and reliable. Running temperature is 1/3 of design temperature.
Industrial heavy duty blower, horizontal inlet, vertical exhaust, low noise.

Weather-proof structure, suitable for abominable environment.

Multiple control mode: (1)Local panel control, (2)Remote control box/cabinet(3) Intelligent control(by PC software)

Multiple protection function: overvoltage, overcurrent, overheat, low over blowing rate, blower overheat, blower phase sequence reverse protection, smoke alarm etc.

Integrated design, easy to installation.
3.Technical Parameter of 400VAC 1600KW ac variable load bank
AC400-1600kW Automatic Load Bank

Rating Voltage/Frequency

400AC/50Hz, 3 phase 4 wire, 230V each phase

Rated Load Power

Resistive load: 1600kW

Installed Capacity

Resistive load: 1600kW

Load Step

Resistive load: 10 steps, 100 kW *4, 200 kW *6, min step: 100kW

PF(Power Factor)

1

Load Tolerance (each step)

±5%

Load Tolerance(overall)

±3%

Display Precision

0.5 class

Control Power

3 phase 4 wire 380V/50Hz

Wire Connection

Load power supply input——Copper bar (star coupling)

Control power supply input——Connector-bar

Insulation

F

Max Protection Grade

IP54

Way of Working

Continuous Working

Cooling

Forced air cooling,Horizontal inlet air,Vertical cooling

Aeration

About 160,000 cubic meters per hour

Casing Structure

Container, with a ladder, air inlet and outlet with mesh enclosure and protection door

Transportation

Hoisting, there are lifting lug in top of casing

Casing Color

Grey(RAL7035)or as per customer's requirement

Dimension

About 6058 mm×2438mm×2591mm(length*width*height)

Weight

About 1700kg

Operating Environment Parameter

Workplace

Outdoor

Ambient Temperature

-10℃~+50℃

Relative Humidity

≤95%

Altitude

≤2500 meter

Atmospheric Pressure

86~106kPa

Space Required

About 14.77 square meter

Ground load-bearing requirements

About 406kg/square meter

Aeration Distance

3-5meters no obstacle from air inlet, more than 3meters no obstacle from air outlet

Safe Working Distance

There must be isolation lairage 1 meter from load bank, and when load bank is working, no person allowed in 3-5 meter from load bank

Brands of Main Components

Contactor

Schneider

Fuse

DELIXI

Alloy Resistance

Kaixiang(self-developed)

Data Processing Software

Kaixiang(self-developed)
4.Pictures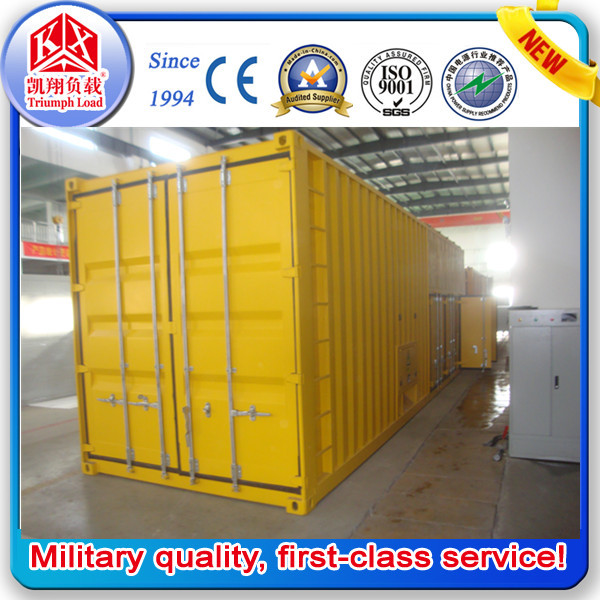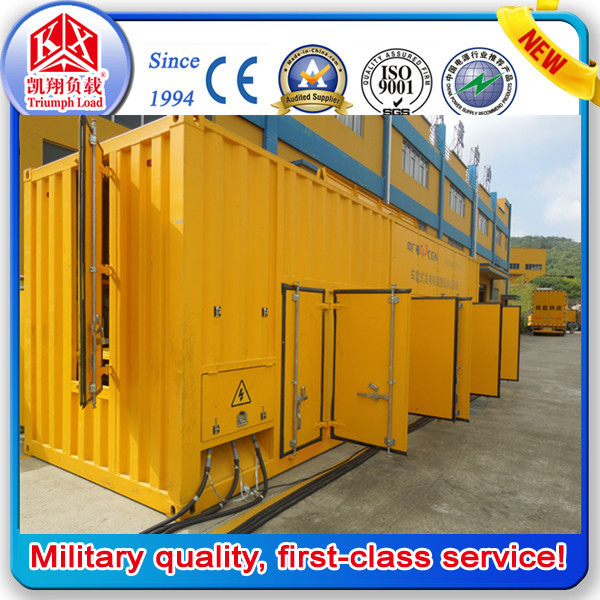 Hebei Kaixiang Electrical Technology Co., Ltd is a leader in emergency power supply test & maintenance industry. Specialized in the design, R&D, manufacture of the high capacity AC & DC load bank, it owns the largest intelligent power supply testing equipment R & D centre in China. We offer one-stop solutions to generator set & battery & UPS power manufacturers. Our products are widely used in data centre, shipbuilding, offshore platform, state grid, nuclear power, hospital, communication, railway, war industry etc filed. We are strategy partner of many famous company, such as Cummins, Caterpillar, Kohler, Jiangnan Shipyard, CSSC,CSIC, State grid, China mobile, Tecent, Baidu, Sinopec, CETC etc. Some of our products have been exported to Singapore, Japan, United Kingdom, Saudi Arabia, Australia, South Korea, Thailand, Angola etc. Through years of development, "Triumph Load" already first brand in power supply detection industry in China.