aluminum chlorohydrate powder for drinking water
Aluminum Chlorohydrate (ACH) Solid
What is

Aluminum Chlorohydrate(ACH)

?
Trade Name: ACH
Active Ingredient: High concentration of Al2O3
Chemical Name: Aluminium Chlorohydrate
CAS No.: 12042-91-0

Aluminum Chlorohydrate (short name is ACH) is Aluminium-based Coagulant , the most concentrated material of the PAC family, it offers the maximum alumina and basicity available in a stable solution form. ACH liquid is typically defined as at least 46% Al2O3 and 83% basic. As it has the highest polynuclear content and highest level of neutralization, it can deliver the benefits of PAC to the ultimate degree.

ACH is a workhorse product in drinking water and industrial wastewater applications, as it can provide performance across a wide variety of water conditions. With it's high alumina content, it is the least freight sensitive of any of the PAC products.
What's the Advantage of Aluminum Chlorohydrate ( ACH )?
It is accepted as the replaced product of PAC (Polyaluminum Chloride) used for the water treatment ,to reach the same result when treating water.

It is less consume quantity than PAC, very friendly to environment .

It can lead to quick formation of flock with big size and rapid precipitation.

It has widerange adaptability to thewaters at different temperatures and a good solubility.

The solution of ACH is slightly corrosive and suitable for the automatic dosing and convenient for eperation.
What's the Application filed of Aluminum Chlorohydrate (ACH)?
1) Urban and industrial water treatment
Removal of heavy metals such as chromium, cadmium, lead, mercury and other Metals removal, Phosphate removal and other floating objects

It is generally employed as the primary coagulant in potable water and industrial water treatment plants.

For TSS (Total Suspended Solids) removal, COD (Chemical Oxygen Demand) reduction, BOD(Biological Oxyen Demand) and TOC(Total Organic Cabon) removal.
2) Cosmetic raw materials and resins manufacturing
3) ACH widely used antiperspirants
What's the Aluminium Chlorohydrate ( ACH ) TDS?


Appearance:

Solid powder, white to off-white

Powder odor :

Odorless

Aluminium as Al:

22 -24%

Al2O3 :

46%-49%

Chloride :

18% max

Al:Cl Molar Ratio:

1.90:1-2.10:1

pH(15%aq.) :

3.9-4.6

Basicity :

80-90

Insolubles:

<0.01%

Aluminum Chlorohydrate /ACH Liquid, CAS: 1204
COA
Product Name: Aluminum Chlorohydrate

CAS: 12042-91-0

Reference Standard: USP-34

No.

Items:

Specifications:

Results:

1

Appearance:

Clear, Coloress Liquid

Clear, Coloress Liquid

2

Total Aluminium as Alumina (Al2O3), w/w %

22-24

23.46

3

Chloride , w/w%

7.9-8.4%

8.10

4

Al:Cl Molar Ratio

1.90:1-2.10:1

2.02:1

5

Sulfate (SO42-), ppm:

≤250

Not detected

6

Basicity , w/w%

82-85

84.5

7

Total Iron, ppm

≤100

65

8

As, ppm

≤1.0

0.04

9

Heavy Metals, %

≤0.001

<0.001

10

Mercury(Hg)

≤0.1

<0.1

11

Specific Gravity , g/ml

1.330-1.350

1.336

12

PH Value(30w/w)

4.0-4.4

4.36

13

Light transmittance (30%aqueous)%

≥90

95
Aluminum
2-91-0
Ultrafloc 3000, Aluminum chloride hydroxide
Package and Storage:
25kg/plastic enhanced paper bags or WHITE PE bags with inner plastic bag

Should be stored in original packaging in cool and dry place, away from sources of heat, flame and direct sunlight.

Shelf life: 2 years.

uminium-based Coagulant
South Africa Drinking Water Treatment
Alumin Ultrafloc 3000 um Chlorohydrate /ACH Liquid, CAS: 12042-91-0
Africa Drinking Water Treatment, Aluminum Chlorohydrate
Company Information:
Bluwat Chemicals is a professional supplier of water treatment chemicals and oil field chemicals in China. We provide our customers of both traditional and innovative products to ensure optimum control in a wide variety of applications including the treatment of drinking water, wastewater, process water, and also including oil/gas drilling and oil production.
Our core products are inorganic coagulants and organic flocculants for the treatment of water and polymer, PHPA/Polyacrylamide for oil/gas drilling and EOR (enhanced oil recovery). We also supply PAC and CMC for drilling application.
Our main business is for foreign market, we provide competitive products and efficient operation according to requirements from our customers, we also provide professional application support.
We are exporting our chemicals to more than 30 countries in the world, including Europe, USA, South and Central America, South-East Asia, Middle East, CIS and etc. We have good cooperation with many chemicals companies and water treatment companies on our products in different market, and we have had good cooperation partners as agent in some important market.
Main Products:
BWD-01 Water Decoloring Agent , for color removal for textile dyeing wastewater treatment and for other wastewater .
Poly Aluminium Chloride(PAC) , for drinking water treatment for wastewater treatment.
Polyacrylamide (PAM)/Polyelectrolyte , for water treatment, for suldge treatment.
PHPA(Partially Hydrolyzed Polyacrylamide) For Drilling , for drilling mud additive in the oilfield.
Ferric Sulphate , for drinking water and wastewater treatment.
PolyDADMAC , for water treatment and for paper mills and for cosmetics.
Polyamine, for drinking and wastewater treatment, sludge dewatering, paper making and oilfield
ACH(Aluminum Chlorohydrate) powder & liquid, for water treatment, for comestic etc..
How to find us?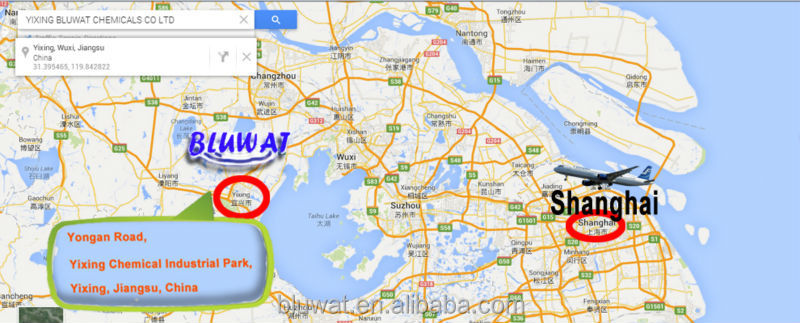 Aluminum Chlorohydrate, ach, ach liquid, Aluminum Chlorohydrate /ACH Liquid, CAS: 12042-91-0, Ultrafloc 3000, ACH 23, South Africa Drinking Water Treatment, Aluminum chloride hydroxide, Aluminum Chlorohydrate, Aluminium-based Coagulant, ach water treatment