cnc glass laser engraver used laser cutting and engraving machines

Feature
The following materials can be cut or engraved by a laser cutting machine smoothly with a perfect effect.
Material

Cut

Engrave

Acrylic

, Plexiglass, Pmma, Perspex, Organic board, Double color plate

Yes

Yes

Plastic

, PP, PET, PC, PMMA, PS, PES, PA, Plastic Foils&Films, Polycarbonate, polyester or polyimide membrane keyboards

Yes

Yes

Wood

, Bamboo, Veneer, MDF, Blasa wood, Plywood

Yes

Yes

Leather

, Pig leather, Cow Leather, Sheep leather

Yes

Yes

Textile

, cotton, silk, felt, lace, synthetic & technical textiles, aramid, polyester, fleece

Yes

Yes

Foam & Filter, Mats Polyester (PES), Polyethylene (PE), Polyurethane (PUR)
Neopren®

Yes

Yes

Paper

, Cardboard, Chipboard, Press Board

Yes

Yes

Stone

, Ceramic, Granite, Marble, Natural stone, Pebble stone, Slate

No

Yes

Rubber stamps, Synthetic & Silicone Rubber, Natural rubber, Microporous foam
Silicone rubber, Synthetic rubber

Yes

Yes

Glass,

Pressed glass, Float glass, Crystal glass, Mirror glass

No

Yes

Model

TM-L1390

TM-L1690

TM-L1325

TM-L1830

TM-L9060

Table size

1250x900mm




49"x35"

1600x900mm




63"x35"

2500x1350mm




98"x53"

1800x3000mm




70"x118"

900x600mm




35"x23"

Laser power

60w/80w/100w/120/150w(Optional)

Laser source

CO2 glass sealed laser tube / RF metal sealed laser tube

Working speed

0-800mm/s

0-800mm/s

Cutting speed

<200mm/s




0-24000mm/min

0-800mm/s

Worktable

Aluminum Slatted work table OR Honeycomb work table

Sensitivity

<±0.025mm

Supported Formats

CorelDraw X2 thru X4, AutoCAD,AI, DXF, PLT, DST, DSB, BMP, GIF, JPG, PNG, MNG, ICO CUR, TIF, TGA, PCX, JBG, JP2, JPC, PGX, RAS, PNM, SKA, RAW

Min. engraving size

English letter:1.0*1.0mm

Interface

USB 2.0

Working environment

Temperature:0-45°C, Humidity 5-95%(No condensate water)

Power supply

220V/110V, 50Hz/60Hz, 1Kw

Main configuration

1set CNC CO2 laser cutting machine

1set Water chiller

1set Air pump

1set Blower

Optional




Devices

Rotary device

Red dot pointer

Lifting work table

Auto-focusing device
Acrylic cutting Laser machine acrylic cutting machine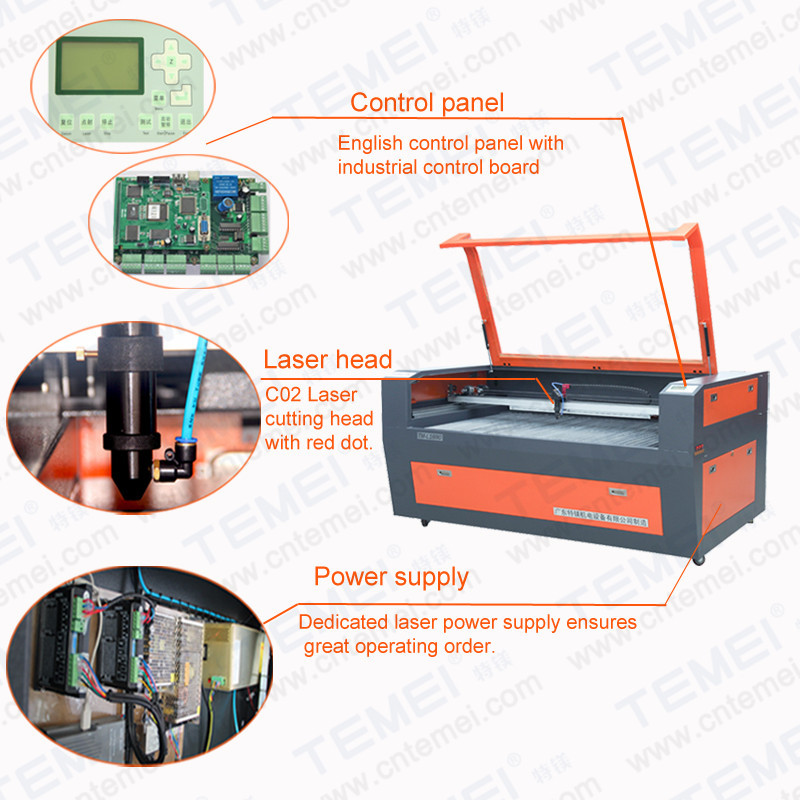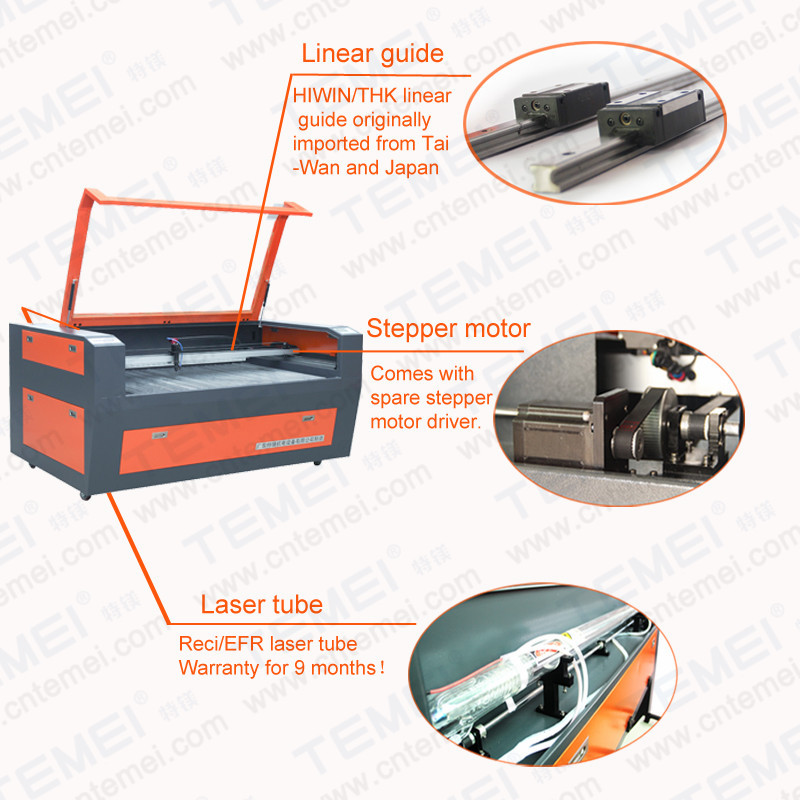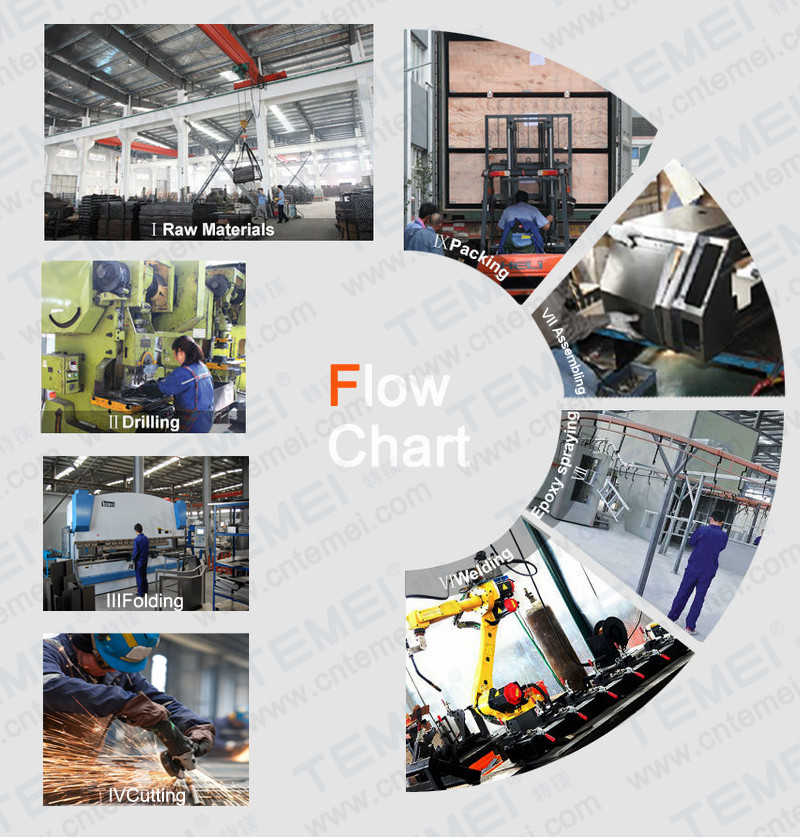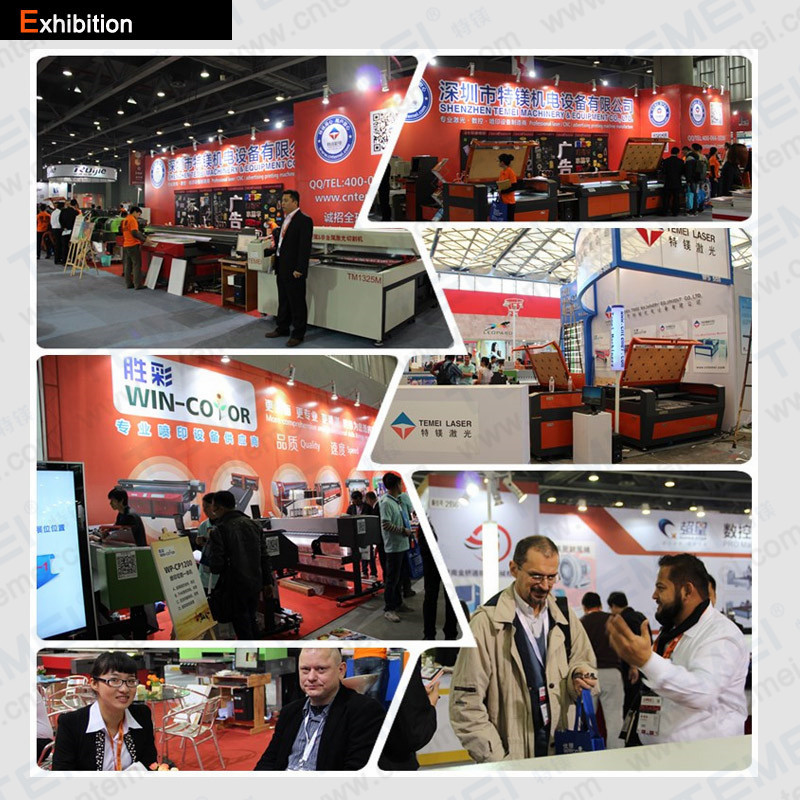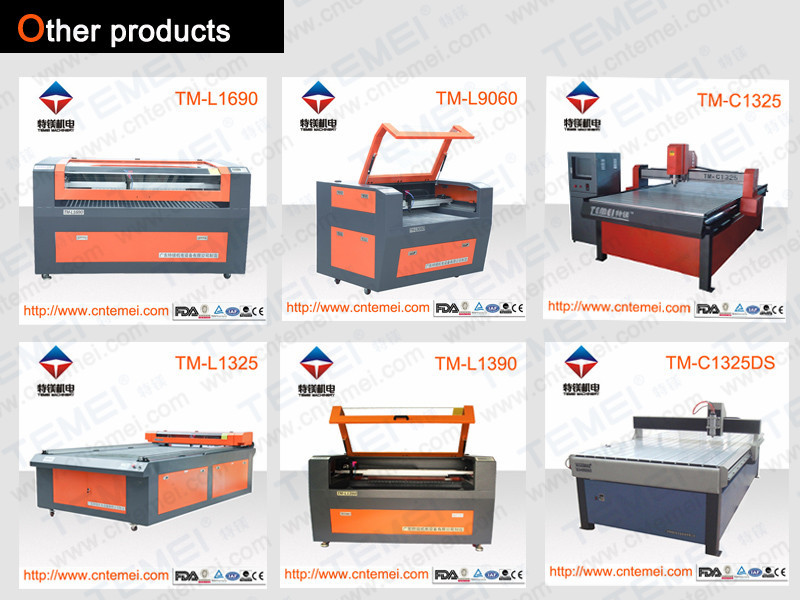 Acrylic cutting Laser machine acrylic cutting machine
General Conditions:
1- 24 hours technical support by email or calling.
2- Friendly English version manual and operation video CD disc.
3- Come to our company take the general training would be highly welcomed.
Our engineer go to your company give training is Ok, based on you bear the addition cost.
Why choose TEMEI Serial product?
1. TEMEI produce the best in China. Welcome to visit us. Welcome to asking a sample test before everything.
2. TEMEI provide the best service for you, with proffessional sles-engineer.
2. TEMEI give the most reasonable price to our customers. We are manufacturer, no middle man.
4. TEMEI company has all kinds machines in store, the delivery time is much shorter than other companies
5. TEMEI Company can provides 24 hours online service and tech support for customers.
TEMEI Products Serial Introduction:
We are manufactuering all kinds of
Laser Machine (Cutting & Engraving & Marking machine)
CNC Router (CNC Engraving & CNC Cutting)
Welcome to visit our website: www.temeilaser.net | www.cntemei.com