QINGDAO FREEDE INDUSTRAIL & TRADING CO.,LTD
as one of leading home/ hotel textile supplier in China, has more than 15years experience in fabrics and finished products. more professional, more reliable.
Wish to cooperate with your for bright future! Pls feel free to contact us:
We can supply you : Fabric / Sheet sets / Towels /Duvet
1.Fabric
In

plian / stripe/dobby/jaquard one (white , colored and printed)

for home , hospital and hotel , diffirent
styles and diffirent
compoaition (cotton /polyester/tencel/modal etc).
And all products are in high quality , if need , a sample can show u everything !
(1).Pattern : plain / different stripes 1cm,2cm 3cm ETC is available /dobby/jacquard
(2).Density : thread counts from 180TC to 1000TC.
(3).Color: bleached white / dyed solid color/printd
(4).Composition: 100% cotton or cotton/polyester , tencel, modal,viscose etc.
(5).Size: according to your needs
Composition

T/C 80/20 , T/C 60/40 , T/C 50/50 , 100COTTON ...

Yarn Counts

10S - 120S

Density

180TC - 1000TC (Thread Counts)

Pattern

Plain , Plaid , Stripe , Dobby check , Jacquard

Style

Bleached white , Dyed , Printed

Detailed Specification

Width

32x32 78x65

57"-126" any width according to your requsts

40x40 110x70
40x40 110x90
40x40 133x72
40x40 133x95
40x40 133x100
40x40 140x90
40x40 140x92
40x40 140x100
60x40 173x115
60x40173x120
60x40 173x124
60x60 173x156
60x40 200x98
60x60 200x98
50x50 173x124
80x80 200x183
80x80 200x195
100x100 230x230
80x120 230x(63x4)
80x120 230x(75x10)
... ...
2.Sheet set : ( Size : twin ,full, queen ,king )
Bedding Set Size:
ITEM
SIZE
QUANTIY
TWIN BEDDING SETS
FALT SHEET 66*96"+4"
1
FITTED SHEET 39*75"+15"
1
PILLOWCASE 20*30"+4"
2
FULL BEDDING SETS
FALT SHEET 80*96"+4"
1
FITTED SHEET 54*75"+15"
1
PILLOWCASE 20*30"+4"
2
QUEEN BEDDING SETS
FALT SHEET 90*102"+4"
1
FITTED SHEET 60*80"+15"
1
PILLOWCASE 20*30"+4"
2
KING BEDDING SETS
FALT SHEET 106*102"+4"
1
FITTED SHEET 78*80"+15"
1
PILLOWCASE 20*40"+ 4"
2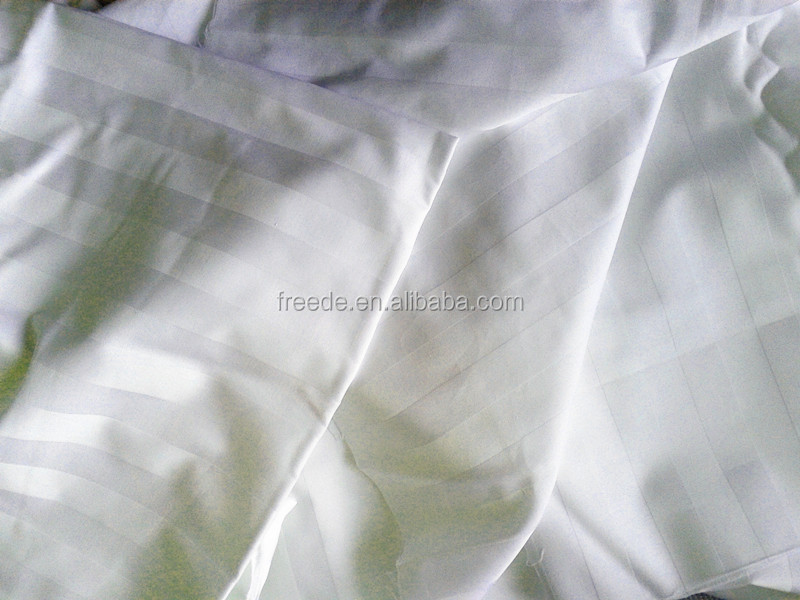 3.Towels
Towel / terry fabrics and finished products.
4.Duvet
Microfiber filling / Duck/ goose down quilt,duvet,mattress pad.
Duck/goose down 5%,20%,50%,80%,95%.
Pls Send your details specification to me , we will offer you our best quality,best price & best servince. Looking forward to hearing from you.
1.More than 15 years experiences in offering cotton bedding fabric which is mostly for hotel.We produce more than 2 million of this stripe fabric per year for hotel use.
2.A variety of quality available,different pattern,different TC,different width,all these can be cusotmized unpon cutomer request.
3.Good finish,nice hand feel,shrinkage rate below 3%.
Packaging details: rolls (fabric) / cartons(sheet sets)
Loading port: China port.
MORE PHOTOES TO KNOW US