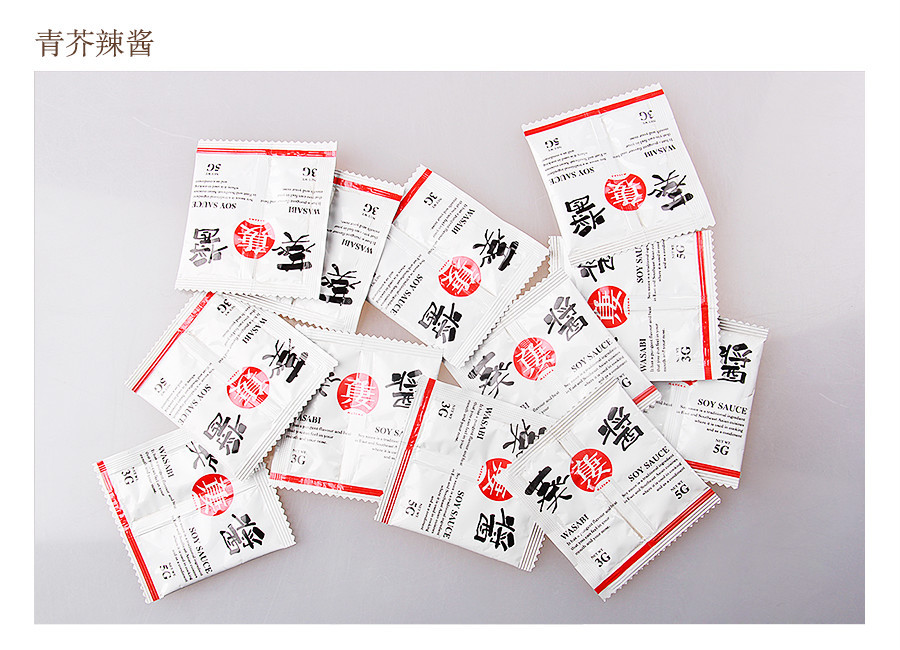 wasabi paste
2 norm 8G*1000 wasabi /CARTON
3 Durability 1 year
4 NGREDIENTS:wasabi,water,sorbitol, Mustard OIL,food color
WASABI PASTE
norm 8G*1000/CARTON
Durability 1 year
INGREDIENTS:wasabi,water,sorbitol, Mustard OIL,food color and so on
Wasabi is a great compliment to almost any asian dish. wasabi is a root vegetable that is grated intou a green paste m. wasabi powder has to be mixed with water to become a paste . wasabi has astrong. hot flavor which dissipates within a few seconds and leaves no burning aftertaste in your mouth
Wasabi is a great compliment to almost any asian dish. wasabi is a root vegetable that is grated intou a green paste m. wasabi powder has to be mixed with water to become a paste . wasabi has astrong. hot flavor which dissipates within a few seconds and leaves no burning aftertaste in your mouth

Wasabi is packaged with Standard export packing carton
Our features
1, reply to your mail within 24 hours
2., we are willing to help you finding ingredients upon your request
About sample:
If you request, you can get free sample. But freight fee will be paid on your side.
If you need more sample, we send you invoice from Paypal.
About delivery
1. If order is less than 10 cases, you can get within a week after you paid us
2. If order is more than 10 cases, please check with us delivery date
Our high quality House Wasabi paste is extracted from finest quality wasabi. we do add a minimum of additives and preservatives to maintain the fresh wasabi quality of taste and color.
This product has a one year shelf life, once opened the product should be used in 30 days.