Airfoil blade louver aluminum
DEXONE® offer all kinds of fixed or motorized system architectural louver aluminum in China, such as Airfoil aluminum extrusion blade, Aerowing curved louver, Aerobrise, Celoscreen, Box louvers, Aeroscreen series in china. Louver aluminum in different shape, size, and color. (RAL or wood grain color)
Airfoil louver blade aluminum details see below:
Ell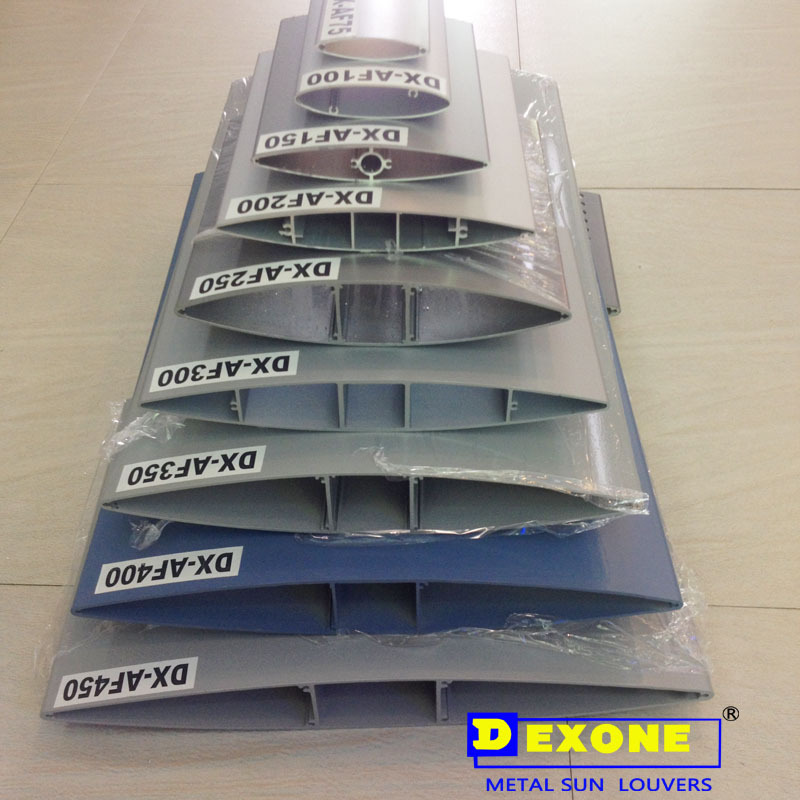 Aerofoil louver aluminum project in fixed and horizontal
DEXONE Aerofoil louver blade


Part number

Size: Width*Height*Thickness

DX-AF450

450*60*3.0mm

DX-AF400

400*60*3.0mm

DX-AF350

350*60*2.5mm

DX-AF320

320*45*1.8mm

DX-AF300

300*45*3.0/1.8mm

DX-AF250

250*50*2.0mm

DX-AF200

200*30*1.5mm

DX-AF150

150*25*1.5mm

DX-AF100

100*22*1.0mm

DX-AF75

75*12*1.1mm

DX-AF60

60*12*1.0mm

The above sizes are our existing dies, any other dies can be opened if your project required. Please feel free to contact us.
This Airfoil louver aluminum extrusion blade can be installed by Horizontal, Vertical, Roof pattern, With Fixed, motorized or manual system. / Fi
Horizontal / Fixed project pictures
Facade louver aluminium extrusion blade project, it looks very grand, and reduce sun light, reduction of temperature of the building
Vertical / Fixed project pictures
Louver alumium extrusion blade Motorized / Horizontal Project pictures
Manual / Vertical project pictures
Louver aluminum extrusion blade could be installed in horizontal or vertical system( including stationary), suitable for various of plane, facade and bevel indoor and outdoor sun shading of modern commercial buildings large-scale glass curtain wall, windows, and glass roof as awning, with grand building structure. The choice of slats color is as the designer, architect or owner requirements, harmonized with the buildings decoration perfectly.
Aerofoil louver ellipse aluminum extrusion
Material Aluminum alloy

Type: Fixing and adjustable installation

Installing: horizontal / vertical

Feature: Energy-saving, heat insulation

Surface treatment: Powder coating (Akzo Nobel) / PVDF finish/Anodized
Louver Aluminum Advantages:
Protect from the strong sun light

Heat insulation

Easy installation

Low maintenance cost

Long life

Up grade the building
Airfoil louver ellipse aluminium extrusion blade Application:
Government building

Air port, Hotel

Exhibition hall

Commercial building
DEXONE® Airfoil aluminium extrusion blade louver are based on aluminum extrusion, mainly in elliptic shape, width vary from 75mm to 600mm, maximum length 6000mm. The length depends on wind load and clients requirement.
DEXONE FACTORY & SAMPLE ROOM
Packing and Loading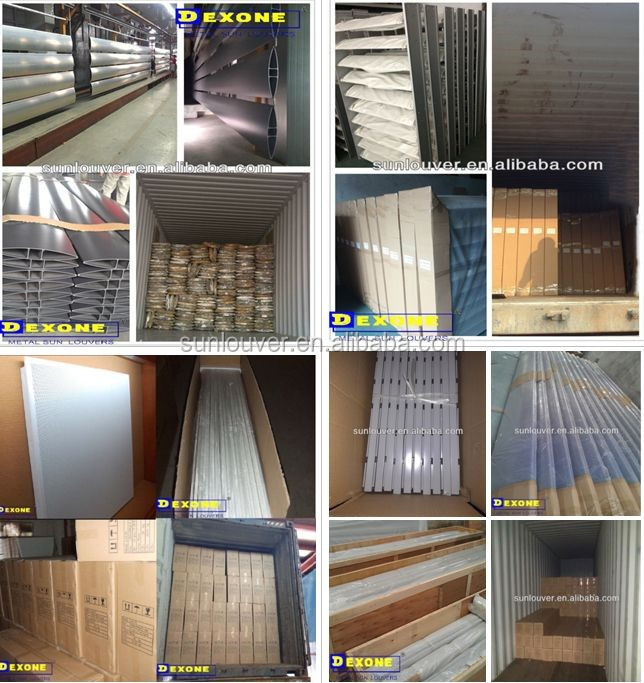 More similar louver aluminium we supply, please click it and contact us.
aluminum curved perforated/plain louver
Aerofoil aluminum extrusion section for louver