Equipment Introduction:
SparkShred Rubber Powder Machine for Waste Tire Recycling are designed by our experienced professional engineers team according to American and European technologies. These sysetm we designed is specifically for recycling tyres, including TDF system, wire-free mulch system, rubber crumb system, and rubber powder sysetm.
The following equipment system I will introduce you is our Standard Used Tyre Recycling Rubber Powder Plant. Our recycling equipment system is proven turn scrap used tyres into high quality, nylon free, metal free and uncontaminated rubber granules. This plant is designed to shred and recycle passenger car, truck tyres and OTR tires and have a capacity ranges from 500kg to 10Ton in one hour and process 1-6mm rubber granules. The Rubber crumb system also utilize a variety of conveying and separation technologies to minimize product losses, maximize efficiency and maintain a clean operating environment.
Spark Shred Rubber Powder Plant produce a fine wire free rubber granules that can be used for floor mat, mud flaps, sporting arenas, molded products, modified asphalt and more.
Spark Shred uses its experience and success to continually improve the design and manufacturing of our tire recycling systems to make them more effective and efficient throughout the reduction process. The reduction from whole tires to rubber powder is accomplished through our:
1.Tire Shredder
Specially designed for used tyres, low speed, high torgue operation miniminze the noise and power consumption whist high throughput rates. The shredder blades are made from best quality steel and heatreated by Bodycote for optimal shredding performance. All the shredder blades thinkness ranges from 25mm-152mm depending on type of tyres, output, final product.The Shredder can process OTR tires, big truck tires,passenger car tyres at a rate of 2t-20t in one hour.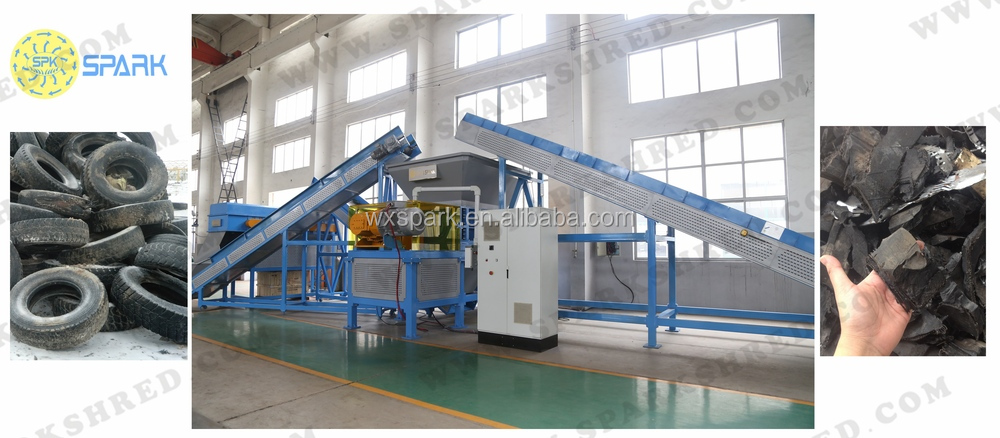 2.Rasper
Specially designed for tire secondary shred and steel separation. It can process pre-shreded tires chips and produce 10-30mm wire free chips, the steel wire will be separated by rasper and attracted by magnet. The rasper blades are D2 steeel, made from best quality steel and heatreated by Bodycote for optimal shredding performance. The blades can be turned to use once before sending them to sharpen or replace, miniminze your operate cost. The capacity for rasper ranges from 300kg to 6000kg per hour.
3.Granulator
Specially designed for fine-stream grinding and nylon removal. It can shred the wire free mulch from rasper to 1-6mm rubber granules, the nylon will be separated by granulator and removed by zig zag classifier. During the granulation process 99.9% of fiber will be removed, leaving a contaminant free crumb rubber ready to be further processed. The granulator blades are D2 steeel, made from best quality steel and heatreated by Bodycote for optimal shredding performance. The capacity for granulator is ranges from 300kg-1500kg per hour.
4. Pulverizer

Specially designed for milling to fine rubber powder. Granules of size 1-6 from granulator is fed via feeder to the rotating high speed serrated disk to produce a powder product in the required 30-120mesh range and where the final size is determined by adjustable centrifugal screen.
The demand for rubber powder in global market are getting better and better, there is a great huge demand for rubber powder, it can be used to mix with asphalt to be modified asphalt in highway application and water-proof industry. Also it can be used in reclaiming rubber, which is very popular in the world. Also it can be used in new rubber insdustry.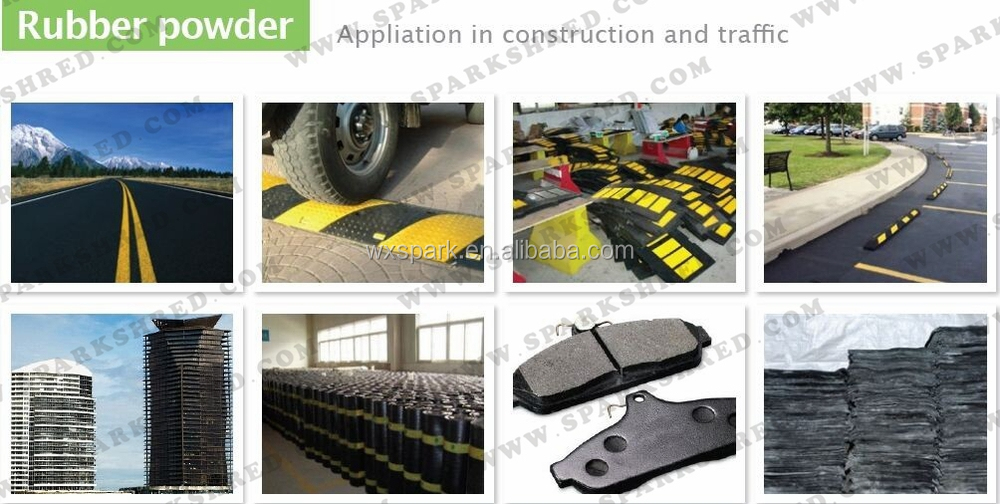 1.Best pre-sales service to make customers know all details about our high-tech tire shredder works. All our sales people are engineers which can easily commucate with customer and know the customer real demands on tire recycling shredding details. 24 hours service is provided.
2.Best production service to make customer knows everything in the shredder for tyres in production process, the technical report on everything material, the production schedule and weekly report is provided by us to warrenty the customer get best quality machine in time.
3.Best after-sales service to make customers no any risk on our tire shredding reycling machine. Excellant logistic team to guarantee the shredder machine to be safely shipped to customer warehouse, no extra fee on export or import on custom. 2 engineers will be provided for installing and commission service, also traning the worker is included inside. Liftlong quality gurantee and engineer sent service.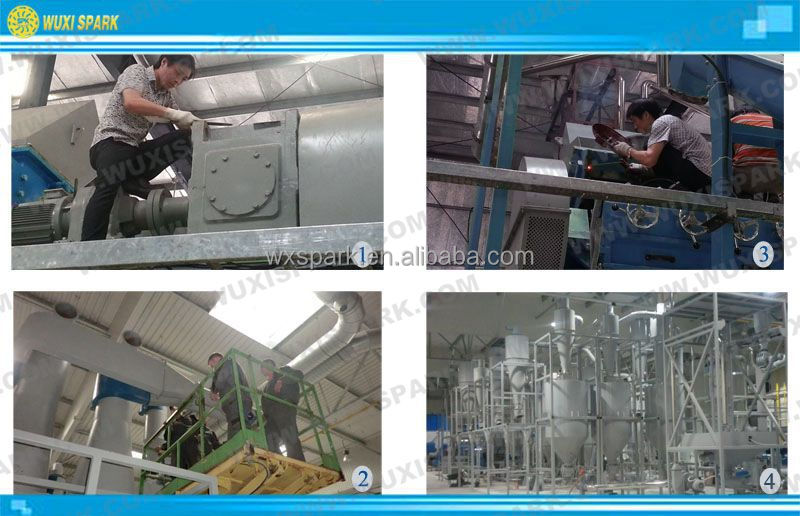 Packing: Our Tire Recycling Plant packed with a ayer of plastic wraps to protect machine from dust,moisture and corrosion. Wooden case as the outside package. Or depends on customer's special requirements.
Shipping: have our own logistics company, cooperate will all the big shipping company, guarantee all the recycling machinery can get best container and to be saftly transported to our customer workshop and start to recycle.
Spark shred is located in Wuxi, China, covering an area of more than thirty thousand square meters, and has the modernized technology center and all kinds of processing and testing equipment with more than 200 experienced staff over 30 professional engineers. Our main focus is to provide our customer cost-effective tire recycling system ranges from TDF system, Wire-free Mulch System, Rubber Crumb Sysetm, Rubber Powder Line etc, the main products are single shaft shredder, double shaft shredder, four shaft shredder, grate, granulator, miller etc.
Our company has an efficient management and service team comprises of multi-culture and bi-lingual professionals fluent in English, Spanish and Mandarin Chinese. Our experienced logistics team can transport our products to major ports with the best quality service all over the world, and our perfect service system and experienced after-sales service team can ensure the most timely installation, commission and training work in customer workshop. Our mission is to provide our customers the best recycling solutions with our best quality service and technology!