About Waystone:
QINGDAO WAYSTONE TIRE CO.,LTD is located in the beautiful coastal city Qingdao. Products range from PCR (UHP/4x4), TBR, TBB, LTR, OTR, AGR with total annual throughput of 150,000,000 sets.
The tire machines are imported from Germany, Holland and Japan. Tires are produced under strict quality control systems accredited with ISO/TS 16949:2002 and ISO 9001:2000.
All tires are approved by DOT, ECE, S-SMARK, REACH, TIRE-LABELING, INMETRO, GCC, LATU, SONCAP.
We're also the professional mud terrain and all terrain tires designer and manufacturer in China. For 4x4 field, we have set up an independent R&D department, with experienced technician from Maxxis and Giti, to customize and design the pattern for you. Till now we have successfully developed some sizes for customers from Italy, Portugal, Russia, America, Australia etc.
Our group has 2 subsidiaries, which are BAOFENG PAWN and ZINC OXIDE FACTORY.
About pattern and sizes:
| | | | | | |
| --- | --- | --- | --- | --- | --- |
| SIZE | LOAD/SPEED | QTY/40HQ | SIZE | LOAD/SPEED | QTY/40HQ |
| 205/55R16 | 94R | 1050 | 225/60R17 | 99Q | 850 |
| 215/65R16 | 102R | 900 | 225/65R17 | 102Q | 794 |
| 235/65R17 | 108R | 700 | 235/55R17 | 99Q | 750 |
| 155/70R13 | 75T | 2090 | P235/65R17 | 108H | 700 |
| 165/70R13 | 79T | 1840 | 225/45R18 | 91Q | 890 |
| 175/70R13 | 86T | 1620 | 235/60R18 | 103H | 720 |
| 165/70R14 | 81T | 1700 | 255/55R18 | 105Q | 720 |
| 175/65R14 | 82T | 1580 | 245/55R19 | 103H | 750 |
| 175/70R14 | 88Q | 1570 | 265/65R17 | 112T | 560 |
| 185/60R14 | 86T | 1400 | 275/55R20 | 117T | 470 |
| 185/65R14 | 86T | 1350 | 275/60R20 | 119T | 480 |
| 195/60R14 | 86T | 1230 | 215/65R16C | 109/107Q | 900 |
| 185/60R15 | 84Q | 1350 | 185/75R16C | 102Q | 1150 |
| 185/65R15 | 92T | 1280 | 185R14C | Q | 1250 |
| 195/55R15 | 85H | 1230 | 195/70R15C | Q | 1100 |
| 195/60R15 | 88T | 1160 | LT225/75R16 10PR | Q | 800 |
| 195/65R15 | 95T | 1120 | LT245/75R16 10PR | Q | 650 |
| 205/65R15 | 94T | 1050 | LT245/70R17 10PR | Q | 600 |
| 205/55R16 | 91H | 1050 | LT265/70R17 10PR | Q | 540 |
| 205/70R15 | 96T | 1080 | 275/65R18 | 116Q | 470 |
| 215/70R15 | 98T | 930 | 185/75R16C 8PR | Q | 1150 |
| 215/75R15 | 100S | 900 | 205/55R16 | 94T | 1050 |
| 235/75R15 | 105Q | 750 | 235/65R17 | 108T | 700 |
| 215/55R16 | 93T | 950 | 195/65R15 | 95T | 1120 |
| 215/60R16 | 95H | 950 | 215/65R16 | 102T | 900 |
| 215/65R16 | 102T | 900 | 175/65R14 | 82Q | 1580 |
| 215/70R16 | 104Q | 900 | 185/65R14 | 90T | 1350 |
| 225/60R16 | 98S | 890 | 185/65R15 | 92T | 1280 |
| 225/70R16 | 103Q | 900 | 195/65R15 | 91Q | 1120 |
| 235/70R16 | 106Q | 770 | 205/55R16 | 94Q | 1050 |
| 255/65R16 | 109Q | 680 | 205/60R16 | 96T | 1030 |
| 215/55R17 | 94H | 950 | 215/65R16 | 102T | 900 |
| 215/60R17 | 96T | 900 | 225/60R17 | 103T | 850 |
| 225/45R17 | 91H | 980 | P235/65R17 | 108T | 700 |
| 225/50R17 | 94H | 950 | 235/60R18 | 107T | 720 |
| 225/55R17 | 97Q | 890 | 265/60R18 | 110T | 680 |
About quality control: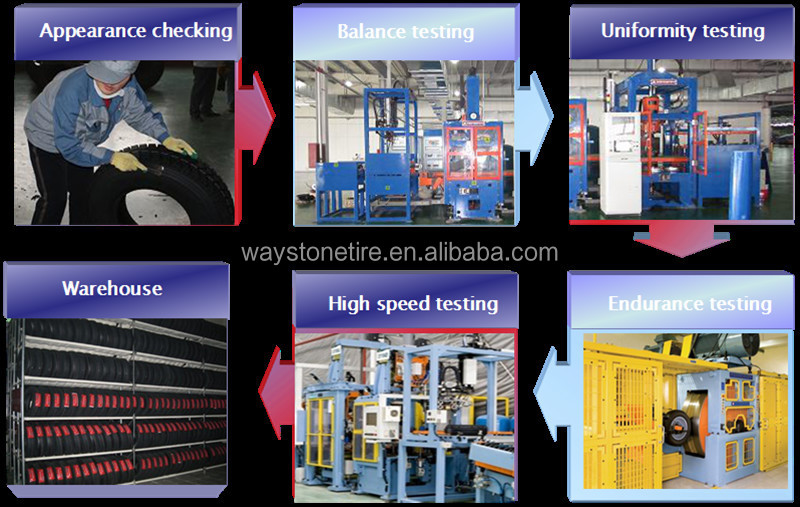 About tire EXPO: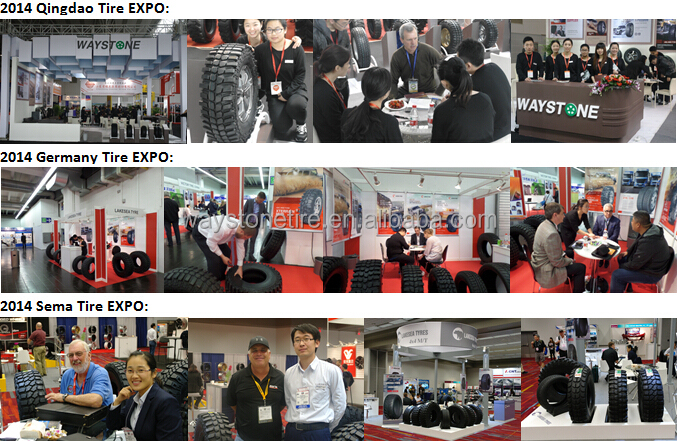 2015 will Attend:
Tyrexpo Asia 2015 Singapore H28/Hall2 24th-26, March

Qingdao Tyre & Wheel Fair, April 9-11,2015, Hall 4, E8

North American Tyre & Retread Expo, April 15-17,2015, New Orleans, No.

523

Guangrao Tire&Auto Accessory Dongying, China No. W1-W17 15th-17th, May

Autopromotec Italy 2015 Italy No. H15-G1 20th-24th, May

Automechanka Dubai 2015 Dubai NO. S1-542 2nd-4th, June

Latin American & Caribbean Tyre Expo Panama NO. G317 16th-18th, July

CIT Shanghai Tyrexpo Shanghai,China No. 303/Hall 2 19th-22nd, September