| | |
| --- | --- |
| Brand Name | DEXE |
| Product Name | Black Hair Shampoo (ABC-888-01) |
| Ingredient | Herbal extracts,Chinese Ginseng Extract, Ginger Extract |
| Function | Dye hair black |
| Certification | GMP/GMPC/ISO/, SGS, MSDS, HALAL |
| OEM/ODM | OEM/ODM/Private Label Available |
| Payment | T/T, paypal |
| Capacity | 25ml*10,25ml*24,200ml+200ml,25ml*10,100ml+100ml |
| QTY'/CT | 64boxes,24boxes,36boxes,64boxes,48boxes |
| CTN Size (MM) | 633*390*300,680*435*333,600*510*198 /etc. |
| Delivery Methods | UPS/FEDEX/DHL/TNT/EMS |
| Delivery Time | Within 25 days after receiving deposit |
Description
Dexe Black Hair Shampoo is a kind of shampoo which can dye your hair into black in 5 mins and specially designed to make your hair black shinning just through the ordinary process of washing hair at bathroom.Black Hair Shampoo in non-toxic with high technology. It is also nourishes, protects and repairs scalp. Compared to the traditional hair dye, it has the advantage of low cost, time-saving convenience.
Magic !!! black hair shampoo
1 minute:you can see the effect
3 minute :you can see the hair become black.
5minute:you can see the shiny black hair shampoo
We are original factory to produce the subaru black hair shampoo and dexe black hair shampoo(we can offer you best price and original one in China)
We focus on these :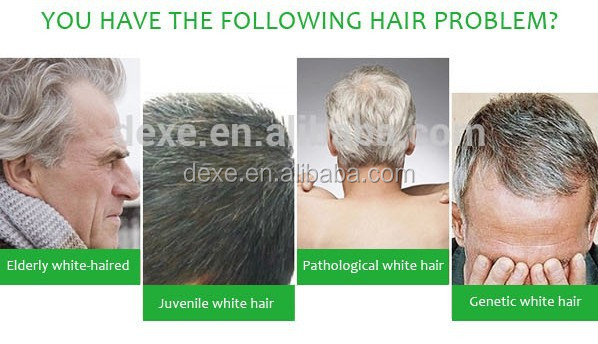 How to use
1. Put on gloves (otherwish the nails will be dyed grey,although that does not affect health)
2. Make your hair wet with both your hands.
3. Wipe off the water on the hair.
4. Promptly put the shampoo on the hair and rub it until it reaches the bottom of the hairs, then rub the hair for 5-10 minutes so that the shampoo moistens the bottom of each hair.
5. Wash the shampoo away.
6. The hair will become dark and shining.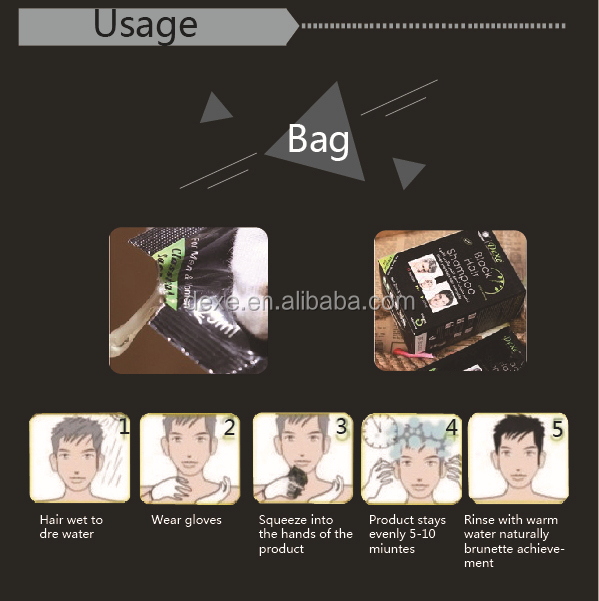 Tips for use:
1. As the DEXE black hair color shampoo is a kind of nutrition shampoo, especially for the one who has gray or yellow hair.
2. If continually used for three times monthly, it will give you ideal pitch-black hair.
Amazing Outcome
Ingredient
Herbal extracts,Chinese Ginseng Extract, Ginger Extract, Ganoderma Lucidum Extract Colors.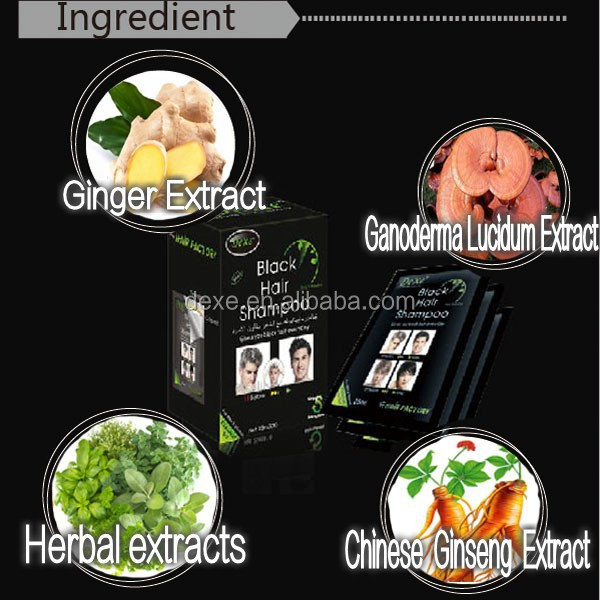 Features
1. Convenient
Easy in operation, just like using normal shampoo.
2. Time saving
Only one sachet can give you black shininghair in 5 minutes.
3. Cost saving
Compared to the expensive cost for dyeing hair in the hair salon,the hair black shampoo is more than 10 times cheaper.
4. Natural and mild
Best hair shampoo is a hair-care product in a formula ofnatural luxurious e, there will be no side effect to your hair nor scalp when it gives you black and shining hair.
Advantage
1.Best price and good quality-------we are factory, not trade company.
2.Fast black in 5-8mins---------------specializing in it more than 10 years.
3.Last at least 30days-----------------the customers give us feedback.
4.Simple to use--------------------------like normal shampoo.
5.Do not hurt hair root------------------herbal product.
6.Hot in the market----------------------market feedback.
Hair Darkening Shampoo-Natural & Shine Color Black Hair Shampoo
Black Hair Shampoo make you so self-confident with your youth hair
Black Hair Shampoo provides shiny and silky smooth black hair
Black Hair Shampoo caring and darkening your hair is time-saving
Cautions and Warm Tips
The product is not suitable for allergic person. Therefore, please do an allergy test-massage some on the root of the ear, feel free to use it if no red itches within 24 hours.
Black Hair Shampoo Products