Dear friends

Welcome to visit our website and spend your valuable time to know our products, if you are interested in our products , you can contact me, let me answer it for you.
Thank you
Classification

Use can be divided into: paper roller, printing rollers, printing rollers, hulling roll, metallurgy and mimeographed Cots Cots;

Press the surface morphology can be divided into: flat roll and patterns cot;

Press materials can be divided into: Butyl rubber roller, nitrile rubber roller, polyurethane rubber roller and silicone rubber roll.

Cots and generally consists of an outer layer of plastic, hard layer, metal core, roll neck and vent, whose roll core processing including sandblasting, bonding processing, plastic molding paste, cloth, wire winding, autoclave curing and surface processing and other processes. Cots mainly used in papermaking, printing and dyeing, printing, food processing, metallurgy, plastics processing.
Rubber roller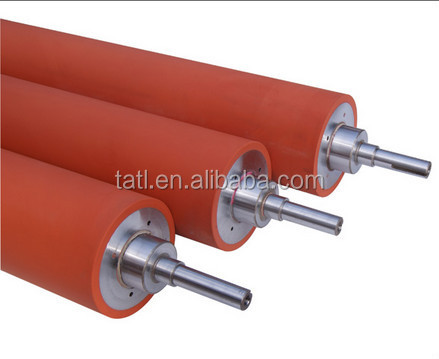 Rubber roller
Rubber roller
Rubber roller
Matters needing attention

* printing rubber roller is the main ink on offset press. Therefore, daily cleaning the rubber roller must be carefully cleaned, or rubber roller surface layer and paint, resin is easy to oxidize to a layer of smooth, hard film, surface vitrification and impact the ink. If often cleaning not net, long rubber roller surface uneven effect use. Therefore, when stop rubber roller should be washed away.

* in offset printing operations for big ink "" water ink emulsification, on a smooth rubber roller formed the basis of hydrophilic, deinking. Solution is shoveling emulsion ink, deinking rubber roller washed with gasoline, with 5% naoh aqueous solution mixed with pumice polishing, to metal roller (or hard roll) at the same time also should make corresponding processing. Hard roll can also be in the condition of spray water pipe, with fine sand grinding, note cannot be fixed for the yankees in the same place, otherwise it will damage the rubber roller. Fundamental way or liquid pH control a vase, do well the ink balance.

* rubber roller used for aging, coupled with chemical erosion, cause a bad glue "slag", so don't use the rubber roller, or seriously affect the quality of printing quality.

* in order to guarantee does not affect the production and printing quality, must have a spare ink roll, but don't store too much to avoid aging. Rubber roller deposit environment and rubber cloth. In addition, the rubber roller should be in shaft neck straight well, and don't touch each other or surface contact with the other items, so as to avoid deformation of rubber roller.

* rubber roller should not be stored in the nearby large motors, generators. Because of these devices to produce a large amount of ozone can make rubber roller surface aging and cracked.

* when the weather is cold, ink not divide evenly, can be appropriately in the printing ink to add auxiliary materials, prohibit using infrared heater equipment such as baking ink roller, prevent the oxidation of the rubber roller.

maintenance

* new cast rubber roller should not be put into use immediately.

As a result of the new cast rubber roller stable internal structure is not enough, if immediately put to use, easy to reduce the service life. So just out of new rubber roller should be placed a period of time, make the rubber roller after contact with the external environment temperature and humidity, maintain a relatively stable state, this will increase the gel strength, so as to improve the effect of durable.

Idle roller * stored properly.

After being with rubber roller should be cleaned, the colloid with plastic film wrapped up, on the rubber roller frame, not a few root literally piled up in a piece or by conveniently set against the wall, so as to avoid undue of damage to gel. Waste of transportation of the rubber roller to the processing and casting process, don't throw the place pressure or weight, keep the roller core core shift, bending, normal use to ensure that the roller core.

* rubber roller head, bearing should keep good lubrication.

We know that the glue roller head, the precision of the bearing directly, directly affect the ink, the ink transfer effect. If the poor lubrication of glue roller head, bearing wear, clearance, inevitably lead to the printing ink is not uniform. Also due to the jump rubber, rubber and other adverse situation caused printing mark. So, at ordinary times should be diligent to glue roller head filling grease, bearing, in order to prevent the parts wear the normal use of rubber roller, to ensure the quality of printing.
Packaging Methods:
Inner by the plastic bag, outer by the carton; or as the customer's demands.

Shipping Methods:
By International Express: DHL, UPS, TNT, FEDEX.
By Sea (Loading Port: QingDao, China)
By Air
(1)We are very willing to product it according to your specifications, materials, requirements and so on,
(2)We will work with you in good trusting cooperation and sincere friends.
(3)we would be very happy to serve you to all aspects.
(4) We accept your advice and guidance.
Our company is the leading manufacturer of rubber products in China, and we have more than 20 years of experience and credibility.we have a good reputation among customers.our products and the mark have been exported to more than 30 countries and regions.
Our Products include:
the Oil seal,rubber O ring, hydraulic seal ring,rubber ball, rubber damper with metal, flange gaskets,dampers,wipers, washer, rubber sheets, rubber rollers,rubber coupling spiders, rubber rods,speed bumps, rubber hoses, rubber spring damper, rubber tube, rubber strip, rubber sleeves, rubber wheels, rubber stopper, conveyor belt, timing belt, car mat, mining products,etc.
Please feel free to contact us if you have any further questions.
Thanks for your time and consideration
Sales manager: Amanda Fang
Email: tailongseal#gmail.com
Trade Manager ID: cn1001250248
Skype ID: tailongseal
Landline telephone : +86-0538-3160233
Sincerely I wish you had better every day. ^_^