New Desinged high speed tyre mould making Wire Cut EDM/wire making machine BM600x500
Tyre mould making Wire Cut EDM BM600x500
1. New designed machine for tyre mould manufacturers.
2. Solve the problem of the new technology for tire mold processing.
3. This model is also suitable for annular parts or mould index curve and other non-standard processing
4. Tyre model making wire cut machine expand the tyre mold processing method, making it more efficient, more energy-efficient, also greatly reduces the processing cost
SPECIFICATIONS
1,Table Travel

600 mm×500 mm

2,Swing Table Size

Φ630 mm

3,Max Cutting Thickness(mm):

500 mm

4,Max Cutting Taper

0°/100mm

5,Wire Diameter:

φ0.15—φ0.20mm

6,Max Cutting Speed

(Material Cr12 need quench)

80 mm2/min 40mm

7,Roughness

Ra≤2.5μm 40mm

(Cutting Speed 30mm2/min)

(Material Cr12 need quench)

8,Precision

Cylinder:φ12mm

Radian:≤0.015mm

(Material Cr12 need quench)

9,X Repeated Positioning Accuracy

0.013mm

10,Y Repeated Positioning Accuracy

0.013mm

11,W Repeated Positioning Accuracy

4'

12,X Y Positioning Accuracy

0.025mm

13,W Positioning Accuracy

20'

14,Load of table:

500kg

15,Screw and guide way

High quality ball screw and, linear guide way

16,Machine Power

5kVA

17,Machine size (L×W×H):

2301 mm×1211 mm×2162mm

18,Machine weight

14000 kg

19,Machine Voltage

3~AC380V/50 Hz

20,Machine Noise

≤80DB
BM250*120F wire cutting machine Fumigation Certificate: No need (plywood packing, not wood packing)
Delivery Detail: 60 days after getting your down payment.
1. The casting for the main machine bed, using high rigid HT250, which made by a famous Japanese manufacturer. Integrated structure design, all casting parts are made with the procedure of resin-send and twice heat treatment to improve the max load weight and keep a good precision for long time and avoid the distortion.
2. Cantilever is symmetrical frame, which tension the electrode Molybdenum wire suitably to reduce the rate of wire-broken.
3. The controller equipped the BMXP Intelligent software, which integrates the program and control and based on Windows XP. This new designed BMXP software is the unique software for WEDM running on the condition of windows XP.
4. Using the PCI slot controller card and the High-tech Industrial computer, which greatly enhanced the stability of control and greatly reduced the computer the failure rate
5. To achieve a fast and convenient computer communication network, through network technology, graphics, data and program transmission, can be directly controlled by the technical design department since the first establishment of a program
6. Embedded Control system can be connected with many design software smoothly.
7. The search function of mechanical origin enable the transmission screw pitch compensation, in order to greatly improve the positioning accuracy, especially in Servo control system.
8. The control parameters of pulse power is directly by the software, in order to not only improve anti-jamming capability in pulse power output, but also increase the roughness of work piece.
9. Variety of pulse power can be chosen, which is suited for a number of processing conditions to improve the cutting ability of the high precision parts.
10. With a large database storage capacity, which accumulated from many experiences. User can choose the suitable parameter according to deferent working conditions. Users can adjust machining parameters to establish a database at any time according to their own experience
11. Three layer filters can prolong the using life of the working solution and improve the finishing, with BAOMA series working solution can achieve a better performance and PRO-environment.
12. Can be equipped with the close-loop control system, use the MITSUBISHI, YASKAWA servo control system and servo motors.
13. The wire moving is controlled by EMERSON transducer, which adopts unlimited adjustment.
14. The processing components involve godet mechanism, the best roughness Ra≤ 1.5μ M (the finishing can be improved greatly by using the BM working solution)
15. Customrized extra-big machine can be manufactured in our company.
Main performance indexes and technical requirements
1, BMXP software Functions:
(1)Coordinate system: Absolute coordinate, incremental coordinate (relative coordinate)
(2)Functions of coordinate transforming, zooming in and zooming out, rotating and tracking display in real time
(3)Functions of interpolation of straight line and circular arc
(4)Function of taper processing
(5)Function of processing different top and bottom abnormities parts
(6)Auto-handle for short circuit and wire-break
(7)Functions of memorizing when power was cut and auto-stop after processing
(8)Functions of auto edge-touching position and auto center finding
(9)Function of auto-adding transitional arc (Arbitrary angle)
(10)Function o Functions of menu technology and auto-programming ward
(11)Functions of menu technology and auto-programming
(12)AUTOCAD can be used to program directly in the software.
2. CNC system configuration and technical performances
(1) CNC Hardware configuration:
(A) Industrial Computer: P4 or above
(B)EMS memory: 1G
(C)Fixed DisK: 160G
(D)USD and Internet
(E)15" liquid crystal display (LCD)
(F) RS232 and Keyboard and mouse
(1)CNC technical function:
4. Axis processing
(2)Running environment
(A)Temperature: 5-40 degree
Relative humidity: 40%~80%
PICTURES: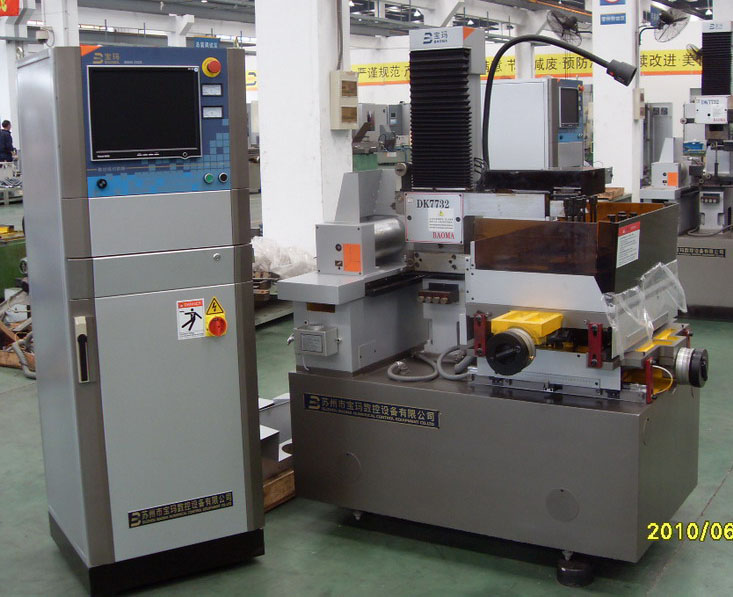 FEATURES:
Control System
Pump and Tool Box
PACKING:

Cooperate company:
Factory Picture: