New Fashion Pet Product Par38 80w reptile uvb lamp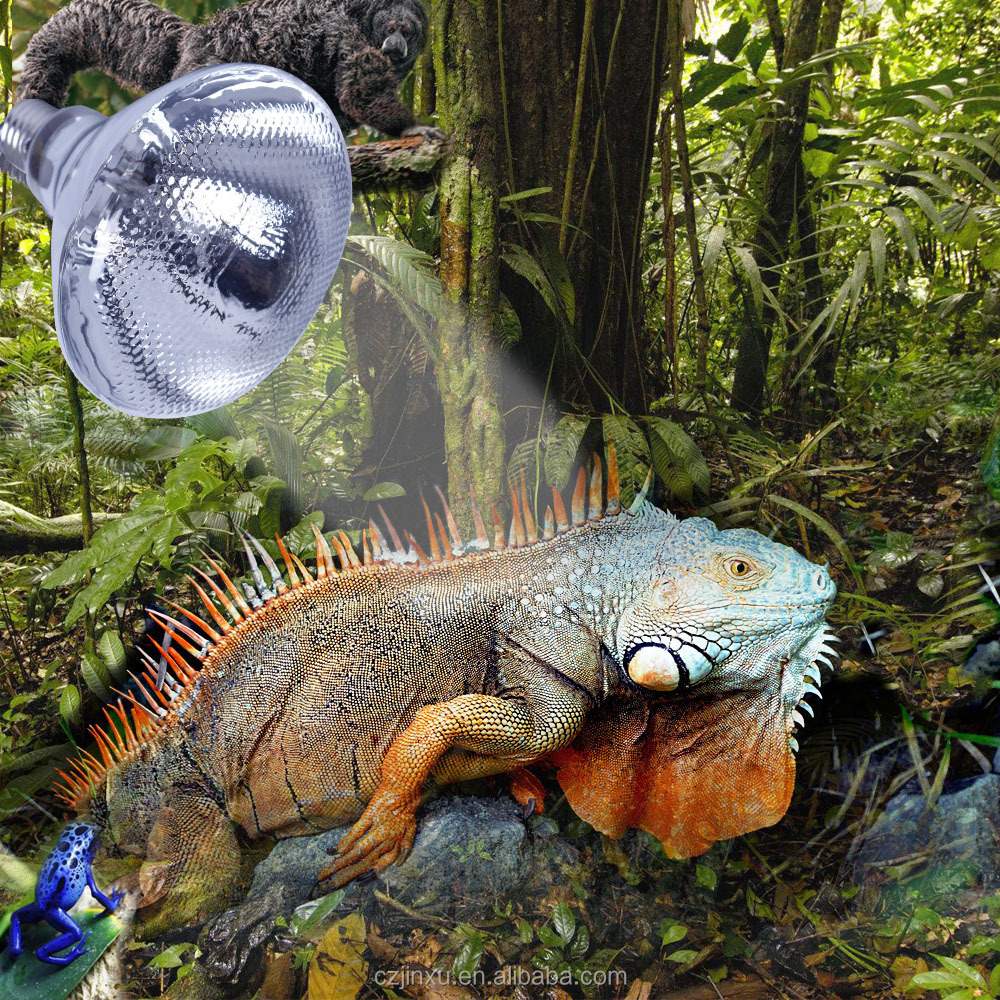 Features:
1. self-ballasted mercury vapor bulb with two main components. The first is a standard incandescent
filament, which is the first to light;
2. Self-Ballasted mercury vapor UVB bulb;
3. Contribute to the animal's overall wellbeing;
4. Tungsten filament or halogen provides infra-red radiation, mercury vapor provides ultra-violet
radiation;
5. Optimal levels of visible light, heat and UVA and UVB;
Applications:
1. Suitable for desert dwelling reptiles;
2. Provide essential UVA, UVB light & heat all in one lamp for reptiles and birds in terrarium;
3. UVB: produce vitamin D3, promote calcium absorption, prevent the crawler MBD disease ;
4. Infra-Red: provides the warmth that cold-blooded animals are used to in nature;
5. Make meaty plant dwarf, compact, appearance more beautiful and increase resistance;
6. Keeps your reptiles healthy by preventing metabolic bone disease
Dimentions: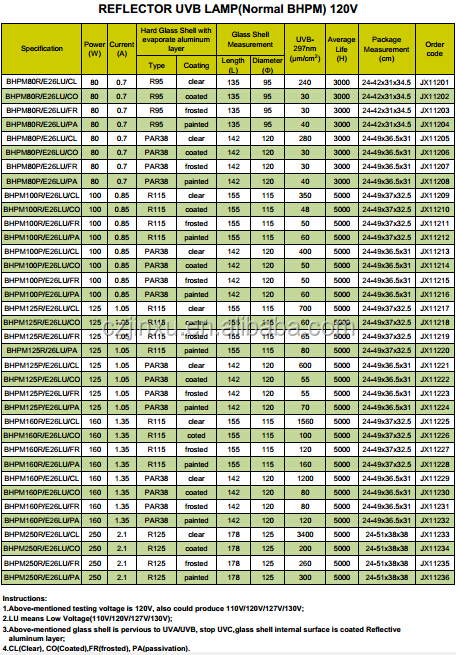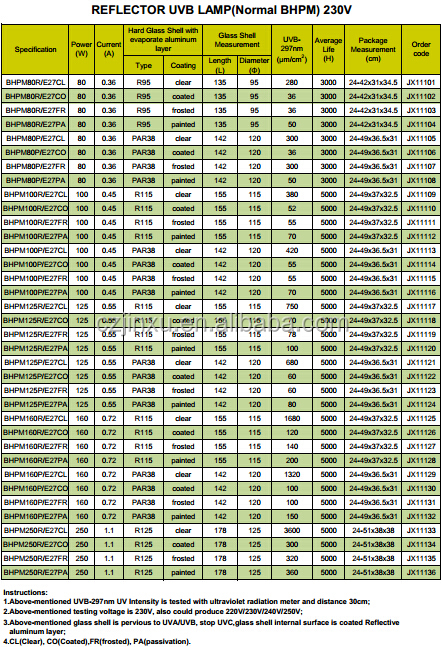 Advantage:
Self ballast high intensity discharge lamp, radiation spectrum including UVB, UVA, visible light and infrared which need by health. The spectral characteristic of light is similar to solar spectrum in alpine country. The glass shell is pervious to UVA/UVB, stop UVC, glass shell internal surface is coated reflective aluminum layer to improve the task performance, the bulb surface is frosted or passivation finished in order to achieve the best working state;
Products Show: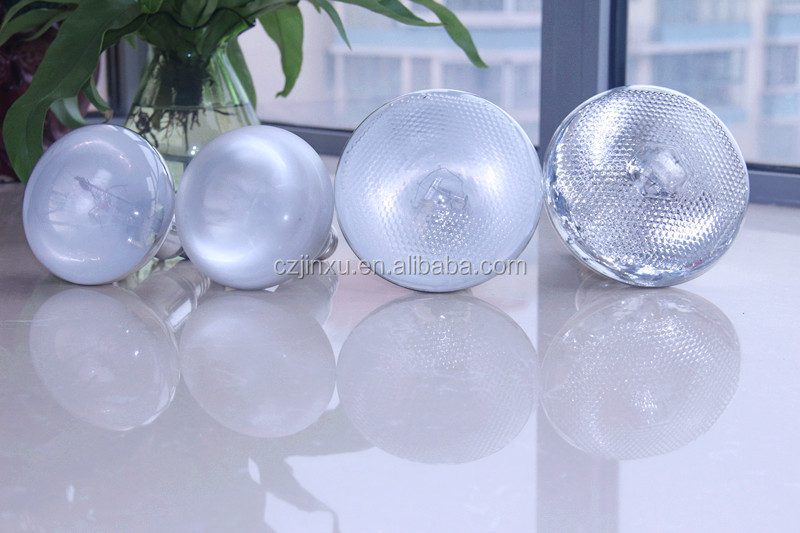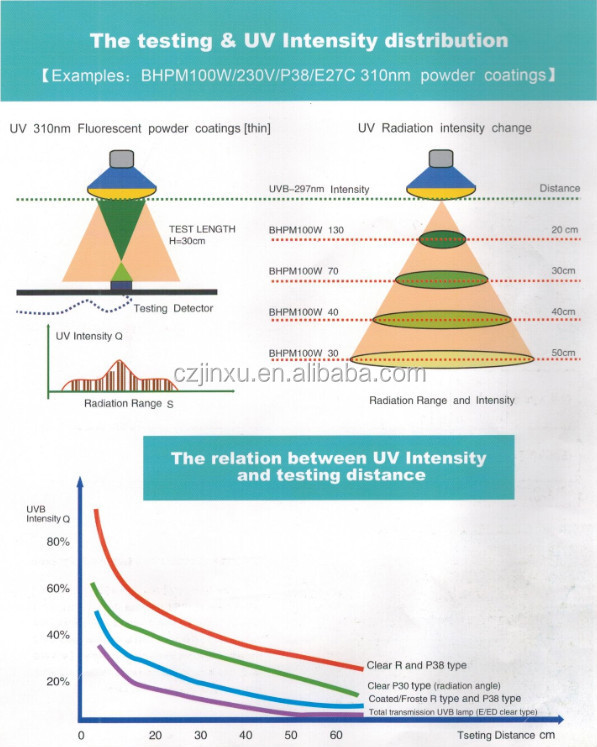 Packing:
We are professional in packing and pay attention to every small detail during packing. Make sure the customer receive round condition goods in time.
Packaging Details:1pc per inner white box, color box or OEM color box, 24pcs/carton;
Delivery Detail: 15-25 days after payment;
FAQ: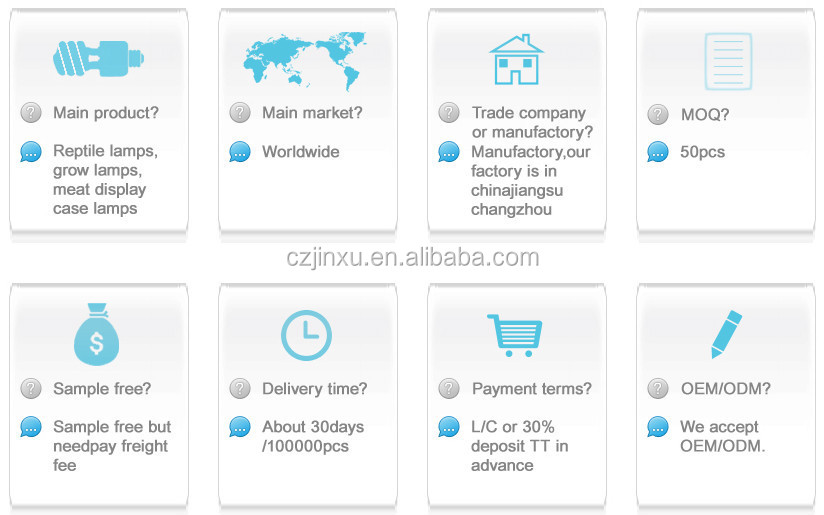 Company information:
Changzhou JInxu Special Lighting Technology Co., Ltd. is a manufacturer which Specialize in reptile Lamps, plant lamps, meat lamps. We have much experience in producing reptile lamps, such as reflector self-ballasted mercury lamps, compact fluorescent.

We also have our marketing, technical research and aftersale service center inside the factory. we have three groups of professional: a group of dynamic salesmen a group of experienced inspectors who are fully responsible for QC before shipment and aftersale service and a group of mechanical engineers, who can develop and design new or customized lightings by optimized CAD according to OEM/ODM customers' requirements.
Workshop photo: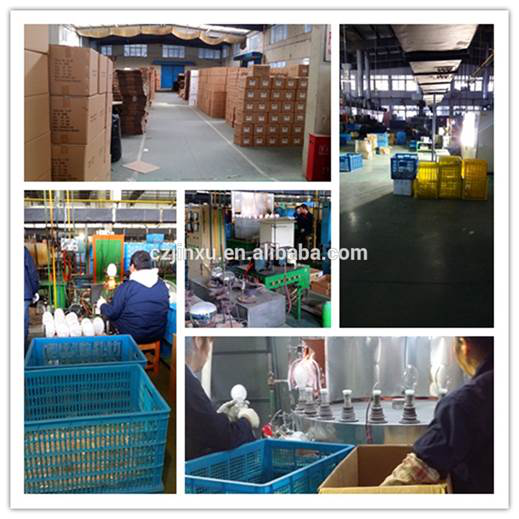 Certification:
Contact:
Please contact us by trade manager or send email to sales2 at jx-lighting dot com or Skype: sales2_1325, more products pls visit our website: Web:www.czjinxu.en.alibaba.com.