Cree XLAMP CXA1304 LED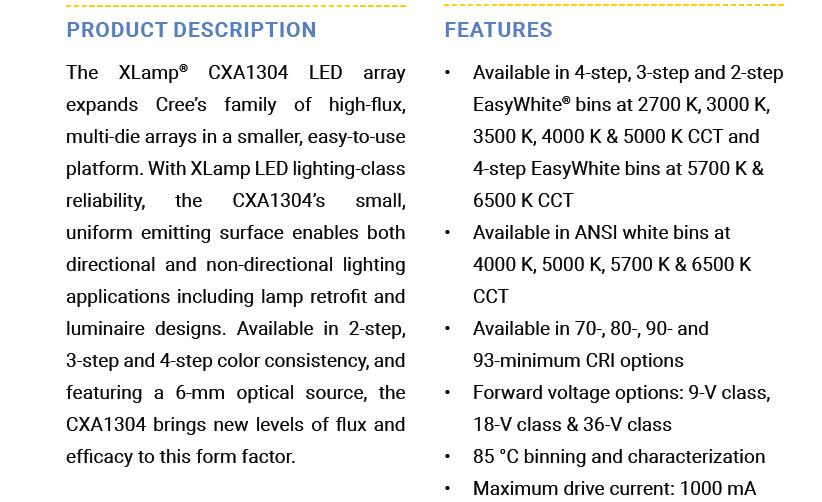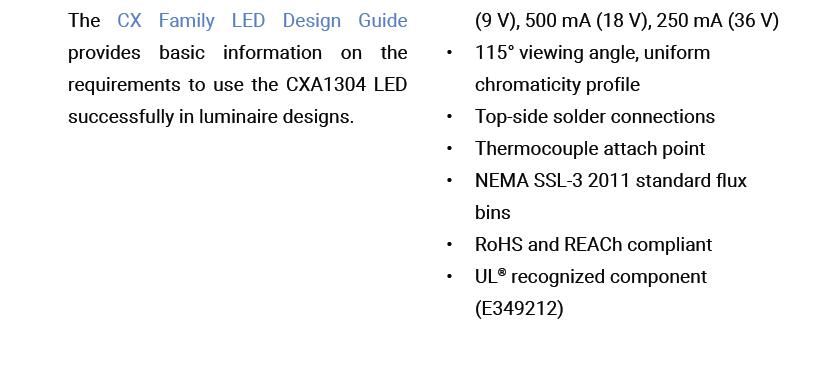 High lumen output and efficacy from a compact, easy-to-use LED array
The new XLamp® CXA1304 LED Array is the most compact member of the CXA family, delivering up to 1034 lumens in a 6-mm optical-source size and enables lighting manufacturers to rapidly address small-form-factor lighting applications. The XLamp® CXA1304 LED Array delivers high lumen output and high efficacy in a single, easy-to-use package that eliminates the need for reflow soldering. Optimized to simplify designs and lower system cost, the CXA1304 LED Array can enable system-level performance of 250 to 800 lumens.
SPECIFICATIONS:
Size
13.35 x 13.35 mm
Product Options
9 V
18 V
36 V
High-CRI
Maximum Drive Current
1.0 A (9 V)
0.5 A (18 V)
0.25 A (36 V)
Maximum Power
10.9 W
Light Output Range
300 - 1000 lm
Light Emitting Surface (LES)
6 mm
Viewing Angle
115 °
Binning
85°C
ANSI (White)
2- and 4-Step EasyWhite®
RoHS Compliant
Yes
REACH compliant
Yes
UL recognized
Yes - Level 4 Enclosure Consideration
Package Size
13.35 x 13.35 mm
For more details, pls contact us, or visit: http://www.cree.com/led-components/products/xlamp-leds-integrated-arrays/xlamp-cxa1304-8def74
Applications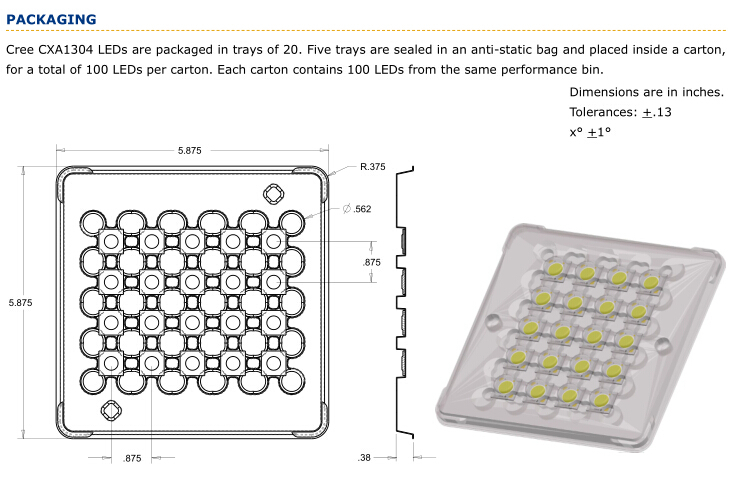 Payment Terms: T/T, Western Union, PayPal, L/C etc.
Shipping Ways: DHL, FedEx, UPS, TNT, Aramex, Hong Kong EMS etc.
Contact Information:
Contact Person: Mr. Carl Lai
Telephone: +86755-23701282
Fax: +86755-29489755
Email/Skype: tongruicn(at)126.com
WeChat/Mobile/WhatsApp: +8613510607340
QQ: 157526072
Address: 6089 Mintai Building Minzhi Road,Longhua District,Shenzhen., P.R.C