Chinese Supplier 1000mm HDPE Large Diameter Corrugated Drainage Pipe
Introduction to HDPE Corrugated Pipe:
HDPE double wall corrugated pipes (double-layer twisted pipes) are one mould profile two layer extrudings. Applies to rain water drainage, sewage drainage in residential district, or pollutant and exhaust gas discharge as well as sewage drainage for mine industry, or organic pollutants drainage from people's life, agricultural drainage, low pressure irrigation and coalmine ventilation.
Features of HDPE Corrugated Pipe:
1. High tensile strength, compressive resistance and well impact resistance;
2. Anti-uneven settling property, and can be applicable to soft clay shifting sand foundation;
3. Convenient for connection with non-breakable joint.
4. Smooth inner wall, high friction resistance, large quantity of water flowing.
5. Decay resistance, "green pipe", avoid secondary pollution.
6. Light weight, easy for carrying and transporting, convenient for construction with low comprehensive cost.
Advantages of HDPE Corrugated Pipe:
1. High density, good compression resistance and good impact resistance;
2. Good resistance of asymmetrical bedding, available being buried in the mollisol and quicksand;
3. Rubber ring connection, easy but no leakage in the joint;
4. Smooth interior wall and low friction, high flow capacity;
5. Good corrosion resistance and no environment pollution;
6. Light weight, easily transport and install, low construction cost;
7. Application: municipal sewage; rainwater discharge; floodwaters drainage; irrigation; ventilation for mine and buildings; industrial waste discharge.
Application of HDPE Corrugated Pipe:
1. Civil engineering
2. Agricultural irrigation
3. Conveying system for sewage plant
4. Pre buried piping under highway
5. Ventilation piping for chemical industry and mine
6. Power telecommunication cable conduit
7. Bridge construction
Physical Properties of HDPE Corrugated Pipe:
| | |
| --- | --- |
| Item | Data |
| Ring stiffness S1, S2 | ≥4.0KN/m², ≥8.0KN/m² |
| Impact strength | TIR ≤10% |
| Flexiblity | Smooth, no reverse bend and crature |
| Inside Heating Box Test | No multi-layer and crature. |
| Moving Rate | ≤4 |
Specification Table of HDPE Corrugated Pipe:
Inner diameter

DN/ID(mm)

Outer

diameter

Depth of

socket

200

230

150

225

255

150

300

340

210

400

460

250

500

575

300

600

690

340

800

925

340

1000

1210

400

1200

1430

400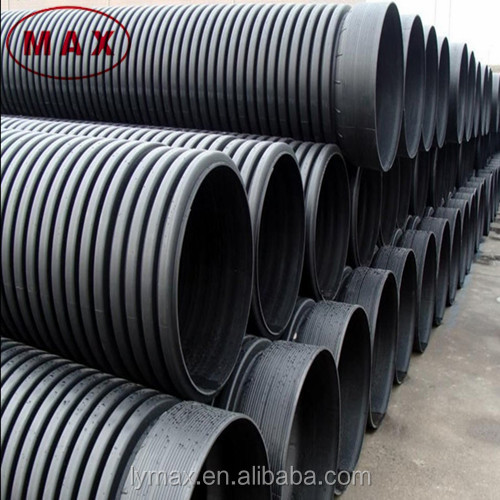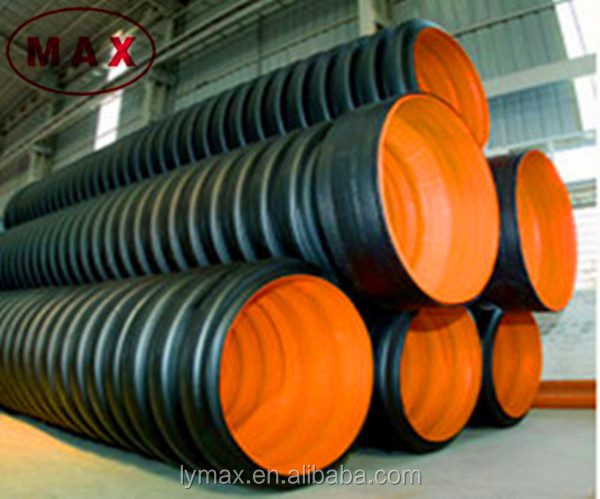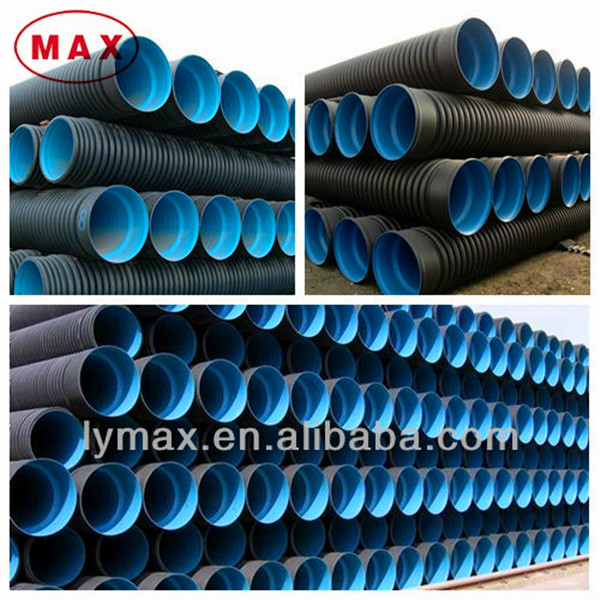 Customer Visit: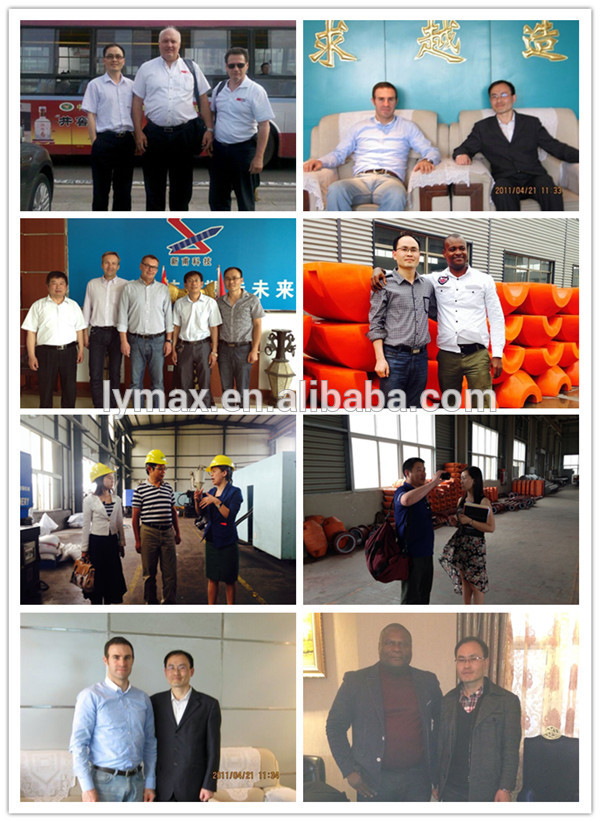 FAQ:
We believe quality is our culture,with us your money in safe,and your business
in safe.
For more information,pls do not hesitate to contact us.