CNLIGHT big factory auto tuning 9004(9007) bi xenon hid bulbs

CNLIGHT, your best choice:
1. A professional manufacturer for HID xenon products since 1992, now a listed company in China(stock code:002076)
2. ISO/TS16949, ISO9001, ISO14001 manufacturer with 2 factories and over 2000 workers.
3. The only HID manufacturer in China qualified to provide the vehicle matching service for automaker.
4. Products with CE, Emark, RoHs, other certificate, and international patent, especially original patent ball-shaped bulb.
Products Features
1.Our HID lamp offers color temperature of 3000K to 12000K,which is available in light blue,dark blue,turquoise,orange,green,purple,pink,and more.
2.The lamp is made of superior materials imported from overseas.For example,we use anti-UV quartz glass tube from Germany,metal halide from the US,as well as electrode from Australia,to ensure superiority of our products.
3.According to ECE R.99(Economic Commission for Europe),the distance between electrodes is set 4.2mm,which complies with international standards and is also our patent advantage.
4.There is less than 40% light decay even after it has been used for 2,250 hours.
5.CNLIGHT HID lamp comes with round bubble design,which helps ensure thermal stability and extended lifetime.In addition,the lumen output is increased by 5%,and the glare,reduced by 14%.

Application
The HID lamp with 3,000K golden light offers extremely high brightness,and is mainly used for auto lighting when there is rain or fog.
The HID lamp can be used for standard 4,300K,yellow-tinged white,auto lighting,which has high color rendering and luminous flux and can alleviate fatigue after long time driving.
The 5,000K(all white light)is the maximum color temperature according to European standards.
The HID lamp with 6,000K gives out bright bluish white light.
With color temperature of 8,000K,the lamp comes with blue white light.
As the lamp with color temperature higher than 8,000K provides very low light intensity,it is often used for cool play.
Parameters

Brand Name
Cnlight
Model NO
9004(9007)
Light source
light bulb
Power Cable Length
45mm
Power
35W/45w
Voltage

35W voltage: 85 ±17V

45W Voltage: 100 ±17V

Color Temperature

3,000K-1,2000K light blue,

dark blue,turquoise,orange

green,purple,pink and more

Box Size
57.5*29.3*38.6
Packing
100Pcs/Cartons
The original HID Xenon Bulb "Ball Shape" More Focused: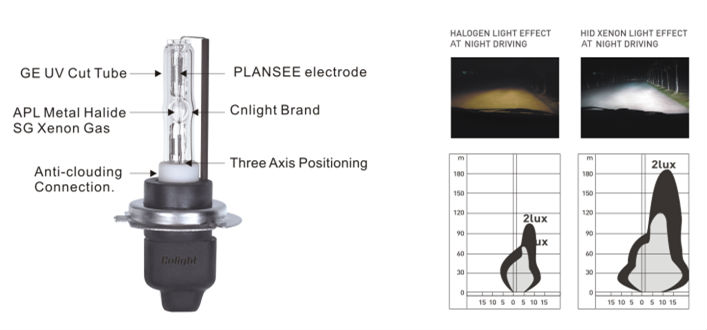 Color Tempreture:
Available: 3000k,4300k,5000k,6000k,8000k,10000k,12000k,15000k, Bule, Purple, Green, Pink
3000k - Golden (Yellow)
4300k - OEM White (Amber)
5000k - Extreme white (Closest to OEM/4300K)
6000k - Diamond White (Pure White)
8000k - Iceberg Blue (Blue/White)
10000k- Blue White (Close to 8000K)
12000k- Brilliant Blue
15000k- Deep Blue
Others- Blue, Green, Purple, Pink.
Note: Color will vary when installed on different vehicle,
due to the housing condition, geometry, size, and refector coating
Cnlight Co., Ltd is a public company list in Shenzhen stock market (stock No.:002076) with R&D and manufacturer LED and Compact Fluorescent lamp.
Honor:
1.China Famous brand
2.China top 10 LED Brands
3.Specialist in LED jewelry lighting
4.Leader of Health LED lighting in China
5.China Potential Enterprise listed on Forbes (2008 and 2009)
Our Showroom:
R&D Center:
certificate: