Acoustically Transparent Fixed Frame Screens are perfect for cinemas or any places where you need to fix the screen. It makes you speakers disappear just as a commercial cinema does. Placement of speakers behind the screen reproduces the closest design aspect of the cinema experience with accurate projection of sound. This screens are of the highest versatility, its easy and fabric spring system enable users to set up in seconds. Perfectly tensioned screen fabric ensures the very flat screen surface. The screen is widely used in home cinemas, digital cinemas etc.
Features of Acoustically Transparent Fixed Frame Screen
*Aluminum frame with black velvet borders to absorb over projected images
* Use 4k acoustically transparent fixed frame screen fabric let sound penetrate through screen
* Special angular connections, frames can be assembled
* Easy to attach screen fabric to the frame by spring system
*Ease of installation, mount to wall come with brackets
* Brackets hidden after screen installed
* Floor stands can be available for large frame screens
* 8Cm,10Cm,15Cm width frame for choose
Main applications
Home Cinema,Digital Cinema,Business presentations,Entertainment venues etc
Fabrics are available on our Acoustically Transparent Fixed Frame Screen
Perforated White
3D Perforated Silver
Acoustically Transparent Woven
Parameter of Screen
Model No.

Size

Format

View Area

Length of Frame

Packing Size

Weight

Unit: mm

Unit: mm

Unit: mm

Inch

(W)

(H)

(W)

(H)

mm

Kgs

FFV84

84

4:3

1710

1280

1910

1480

207x21x16

19.00

FFV92

92

1870

1400

2070

1600

222x21x16

21.00

FFV100

100

2030

1520

2230

1720

239x21x16

22.00

FFV120

120

2440

1830

2640

2030

280x21x16

26.00

FFV150

150

3050

2290

3250

2490

3370x21x16

30.00

FFV180

180

3660

2750

3860

2950

3980x21x16

35.00

FFV200

200

4060

3050

4260

3250

4380x21x16

42.00

FFH84

84

16:9

1860

1050

2060

1250

228x21x16

19.00

FFH92

92

2040

1150

2240

1350

246x21x16

21.00

FFH100

100

2210

1240

2410

1440

264x21x16

23.00

FFH106

106

2350

1320

2550

1520

278x21x16

24.00

FFH120

120

2660

1500

2860

1700

308x21x16

27.00

FFH133

133

2950

1660

3150

1860

3270x21x16

29.00

FFH135

135

2990

1680

3190

1880

3310x21x16

31.00

FFH150

150

3320

1870

3520

2070

3640x21x16

32.00

FFH180

180

3990

2240

4190

2440

4310x21x16

37.00

FFH200

200

4430

2490

4630

2690

4750x21x16

45.00

FFW100

100

2.35:1

2340

1000

2540

1200

274x21x16

23.00

FFW106

106

2480

1060

2680

1260

291x21x16

26.00

FFW120

120

2810

1200

3010

1400

324x21x16

28.00

FFW133

133

3110

1320

3310

1520

3430x21x16

30.00

FFW135

135

3160

1350

3360

1550

3480x21x16

32.00

FFW150

150

3510

1490

3710

1690

3830x21x16

35.00
Size and specifications are subject to the actual product size, will be changed without notice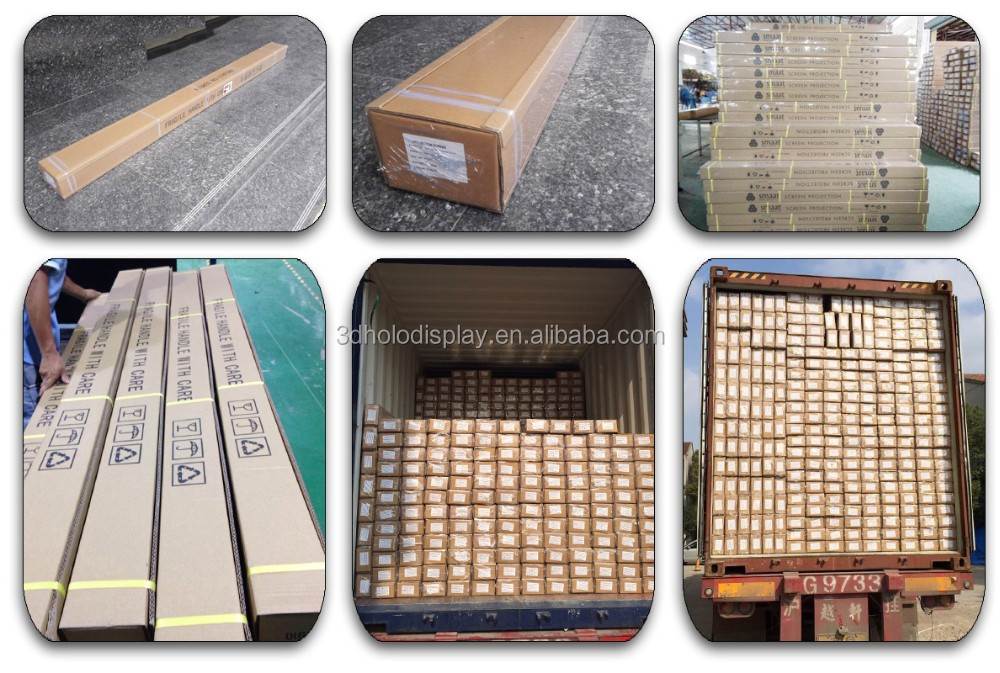 Because the focus, So Professional!
We provide effective services for our customers!
We believe that only we do our best to provide creditable service can win customers!
Only by creating the perfection, to build brand!
Racking our brains to provide customers with personalized service!
To help customers achieve their goals and win their respect and confidence!
1. We are focusing on Projection Display Industry more than 10 years and 3D Holographic system more than 6 years, we are real professional manufacturer.
2. 10 years OEM&ODM Experiences, we can 100% ensure the stable and high quality
3. Professional after-sale service for customers
4. Low price and high competitive on same kind of industry
5. Special discount for new customer, double discount for regular customers
SmxDisplay offers a wide range of design services for their Hologram Display Showcase. We can customize different design for your required hologram showcase. The showcase frame color and dimensions can be changed to meet a client's individual needs and decoration requirements. If you desires a customized video content, all you need to do is request SmxDisplay's design services to make something up for them.
The only limit is your imagination.
Our products include:
Stage Holographic Projection System: Pepper Ghost Holographic Reflection Foil, 3D Holographic Foil, Net Holographic Screen
Projection Films: Rear Projection Film, Holographic Projection Film, Mirror Film, 4K Film and Short Throw Film.
3D Holographic Displays: 180°/270°/ 360° Hologram Pyramid Showcase, Inverted Hologram Showcase
Projection Screen: Motorized Screen, Manual Screen, Tripod Screen, Motorized Tab-tensioned Screen, Fixed Frame Screen, Curved Fixed Screen, Fast-fold Screen, Eyelets Screen, Rear Screen, Customized Large Screen etc.
Experience the Magic of SMX Displays
Pre-sale service:
•We provide presales service in various forms, for example, making investment budget, manufacturing, planning so that customers can make a reasonable plan with less cost.
•Investment budgeting: We provide services of product profit analysis, recommendation of machine and auxiliary equipment and relevant budgeting, human resources allocation and budgeting.
•Plant Planning: We provide the mounting dimension of the equipment base, design of equipment layout, workshop ventilation, water transmission etc.
•Offer information of peripherals

In-sale service:
•Detailed design of lay-out that is the position of the procession
•Technological information of provided products
•Schedule about design, manufacturing and installation
•Working & producing progression
•Training course for the technician so that the installation is safe and standard

After-sale service:
•For customers buying our products, we provide them free training so that they can use and maintain the machine independently.
•We will answer customer's question on technology in time. If needed, we will offer on-site guidance and assistance.
•We can provide free technical guidance if customers need new equipment, add or rebuild equipment.
•We will prioritize the product upgrade of former customers.
E-mail: info@3dholodisplay

info@smaxscreen

Tel: 0086-755-29127281
Whatsapp: 0086 13760256420