Wuhan hasary 0.01 accuracy calling card yag laser engraving machine
Product Details
Commodity

wuhan hasary 0.01 accuracy calling card yag laser engraving machine

Stock size

85.5*54,70*40,73*23, 50*50,45*45,43*26, 36*20, 35*35, 30*15,

32*32, 37*25, 32*27, 19*35, φ25,φ30, φ45,φ50,etc

Chip Available

Type 1-Topza512

Type 2-Ultralight,Ntag203/213/215/216,Ultralight C

Type 4-N Desfire 4k/8k

Other-N S50,FM1108,I code Sli

Material

PVC/PET/PAPER Anit-metal layer

Print of pvc card

- Full color offset printing- Silk

- Screen printing- Silver/Gold silk

- Screen printing background

Optional Technique

- Special function option Anti-metal layer

- Custom logos/artworks printing/ Laser engrave

- ID Number Printing Jet dot printing

-URL,text,number.etc encoding/lock to read only
Chip Options
The chip type that works best for you is often determined by what you want to write to the pvc card.
PVC card is measured in bytes. The chip type and data size for each product is
listed in the Excel Sheet below:
wuhan hasary 0.01 accuracy calling card yag laser engraving machine
Chip

Memory Size 1

(bytes)

User Memory 2

(bytes)

Max URL3

(characters)

Best Use
Ultralight
64
48
41

Cost effective chip for short URLs in products

(smart card, wristbands, keyfobs, etc).

NTAG203
168
144
132

Popular, established all-round NFC chip.

Cost-effective with good memory capacity.

NTAG210
80
48
41

Cheap, general NFC use with short URLs.

Limited availability

NTAG213
180
144
132

Next generation chip, will eventually replace

NTAG203.Great ScanStrength.

NTAG215
540
504
492

The 'one in the middle'. Good memory but

limited availability compared to the NTAG216.

NTAG216
924
888
854

Large memory and full feature set. Higher price

makes it suitable for vCard and

larger memory use only.

Ultralight C
192
148
132

Specialist applications requiring encryption only.

Poor scan distance with mobile phones.

MF 1k
1024
716
710

Legacy applications only. Not recommended

for general mobile phone NFC usage.

Desfire 4k
4K
4094
2000

Specialist applications requiring strong

data encryption only.

Topaz 512
512
454
449

Universally compatible chip available in only

a limited number of products.

Useful for vCards or small data storage.
wuhan hasary 0.01 accuracy calling card yag laser engraving machine
Product
Picture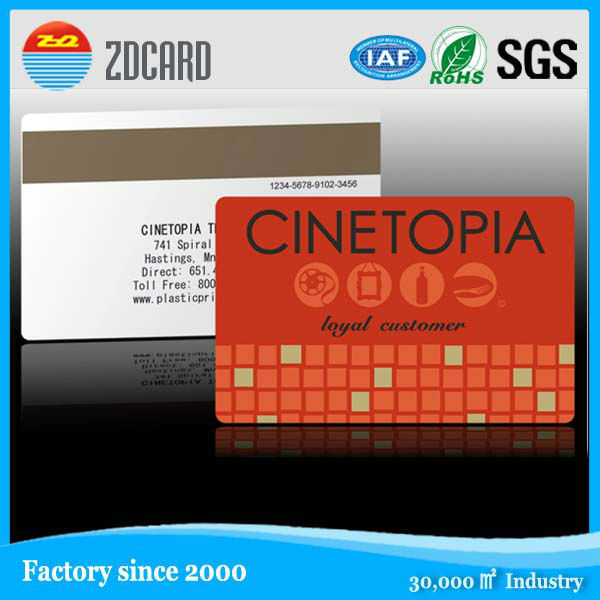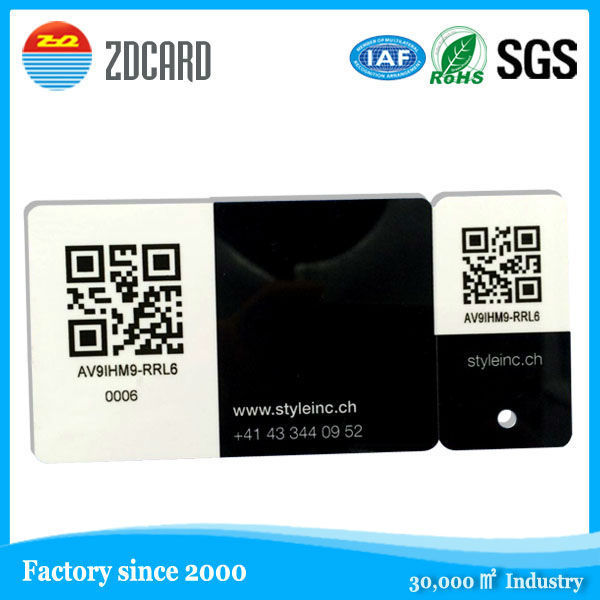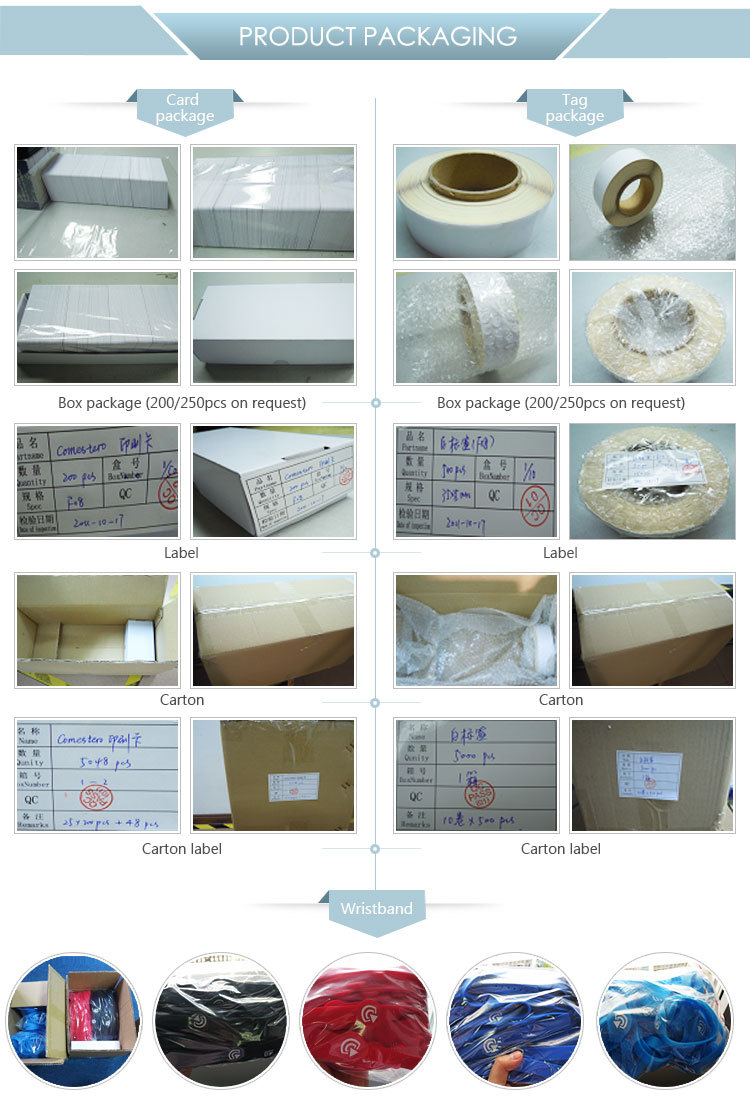 Shipping of PVC card wuhan hasary 0.01 accuracy calling card yag laser engraving machine
1. FedEx/DHL/UPS/TNT for samples, Door-to-Door; Smart Card and Smart Card
2. By Air or by Sea for batch goods, for FCL; Airport/ Port receiving;
3. Customers specifying freight forwarders or negotiable shipping methods.
4. Delivery Time: 3-7 days for samples; 5-15 days for batch goods.Smart Card and Smart Card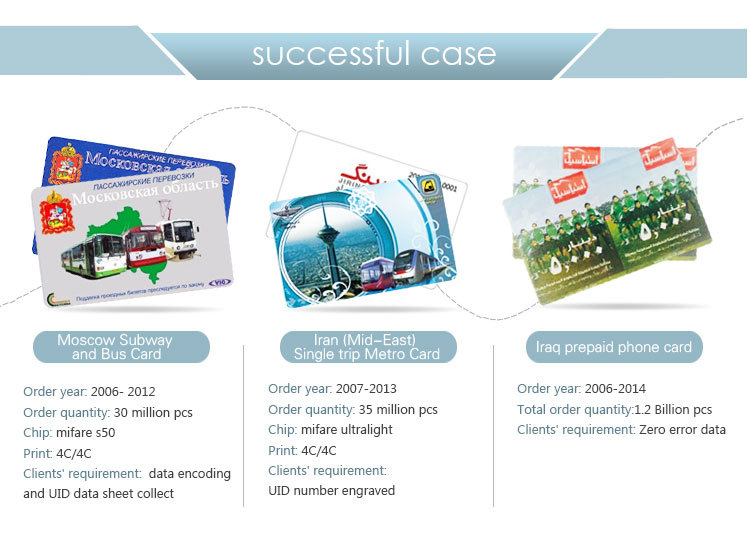 1.Can i get pvc card samples for testing?
Yes,free samples are always available on request.
2.Are you factory or trader of pvc card?
We have the biggest RFID factory in Shenzhen with 4 productions available for kinds of OEM products.And
visiting are always warmly welcomed.
3.Can i get free designs of pvc card?
Yes,share us your ideas and our designers will provide solution
Our successful case wuhan hasary 0.01 accuracy calling card yag laser engraving machine
1. Moscow Subway and Bus
Contactless IC card, 12 million pieces, from 2006 to 2008
Clients' requirement: High out put and quality
PVC Card
2. China Mobile, China Unicom
Scratch card, 500million pieces, from 2004 to 2007
Clients' requirement: Strong print capacity
PVC Card
3. Vietnam Mobile
Scratch card, 900million pieces, from 2005 to 2009
Clients' requirement: High security of data processing
PVC Card
4. Iraq Telecom Asia Cell
Scratch card, 900million pieces, from 2007 to 2011
Clients' requirement: Zero error data
PVC Card
5. Nigeria votter's card
Contactless IC card, 80 millioon pieces, from 2012 to 2013
Clients' requirement: Powerful ability of order quality control
PVC Card
6. Latvia government cards
Contactless IC card, 1.5 million pieces, finished within 25 days with all crafts
Clients' requirement: fast speed for the production
7. Iran bank gift card
Magnetic stripe cards 6-8 million every four months
Clients' requirement: Powerful ability of order quality control