Wholesale PressDome Food Sealer /Food Cover / Plate topper / Vacuum Seal Lids (Refrigerator, Freezer, Dishwasher & Microwave Safe
)
PressDome :Keeping Air Out Keeps Food Fresher Longer
Air is the enemy of food freshness. The oxygen and moisture in air cause food to degrade over a short time and lose flavor and nutritional value.The bacteria and pollutants in air further accelerate such degradation. Conventional containers and plastic wrap actually trap air inside with food.But the innovative Pressdome vacuum packaging process removes air from your existing dish
Size Notes:
PressDome™ Jumbo (

25cm D X 9.5cm H)

:ideal for our customers want to store or save high profile food like cakes, roasted whole chickens, stacks of grilled meat, bananas, avocadoes,

even half or whole cantaloupes and watermelon. PressDome™ Jumbo is designed just for that

PressDome™ Universal ( 25.4cm D X 6.25 H )makes for quick cleanup of leftovers after dinner. Just vacuum seal directly to the dinner plate to stack and store in the fridge for leftovers you'll WANT to eat again or seal larger serving platters and bowls of leftovers without transfering to another container. It's also great for preparing meals in advance for the week directly onto dinner plates. Imagine how excited your friends or relatives will be when you arrive at their door with a stack of meals ready to eat for the week. Often an elderly parent or friend that is ill or children with a newborn in the home are not able or don't have time to cook. PressDome™ is a welcome solution!
PressDome™ Junior (19cm D X 5.75cm H/ 7.5cm ) is perfect when kids or grandkids never seem to be able to finish their meal. Just seal their leftovers with PressDome™ Junior and now they'll have leftovers they'll want to eat again. Or, if you're health concious or want to save time & money, you can now vacuum seal a healthy portion of lunch on a plate or

bowl to take to work or school
Product details
•Patented Vacuum Sealing Technology, worldwide patents
•Product Dimensions: PressDome® Classic Universal 10" Diameter x 2.8" H
•To vacuum seal, place over any smooth surface and press the Built-In Vacuum Pump once
•To release the seal, pull up on the pump, let go and watch the pump rise as air rushes back in
•Keeps food fresher up to 3X longer.
•Vacuum seal leftovers quickly, directly on plates or serving bowls and platters.
•Prepare meals in advance for the week, stack and store until ready to eat.
•Take a healthy lunch to work or school, save money and eat a real meal on a real plate.
•Transport food easily to parties, potlucks and picnics
•Vacuum insulates to keep meals warm
•Marinate in minutes as the vacuum opens pores and draws flavor in faster.
•Leak-proof, airtight, vacuum seal
•Microwave safe, top rack dishwasher, refrigerator & freezer safe
•BPA free
•Made in China
•Certification: SGS, TUV
PressDome™ can be used in one of two ways...it's your choice
A) For an AIRTIGHT SEAL, just place PressDome™ over food on any smooth surface. In this case, there is no need to press the built-in vacuum pump. This method of use works particularly well when keeping prepped meats and veggies fresh on your cutting board during the cooking process.
B) For a VACUUM SEAL, place your PressDome™ over food on any smooth surface and press the built-in vacuum pump. To release the vacuum, simply pull UP on the pump, let go and watch the pump rise as air rushes in.
----------------------------------------------------------------------------------------------------------------------------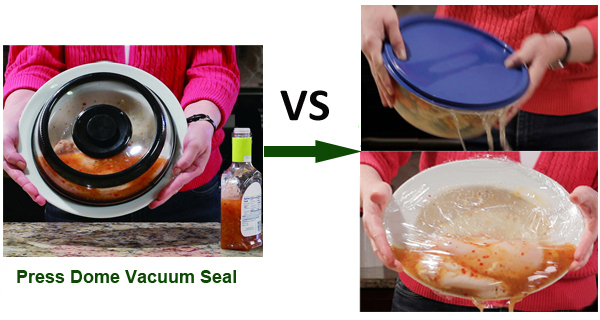 microwavable