moka pot / cofee machine / espresso maker
Espresso coffee maker(moka pot) is an Italian steam-based stovetop espresso maker that produces a dark coffee almost as strong as that from a conventional espresso maker.
Moka coffee is produced using only steam's natural pressure.It's suitable for gas stove,electric and induction cooker.
Always keep the water level0.5cm below the safety valve.
As a safety measure,the safety valve will automatically release the pressure when the pressure inside the bottom container is too high.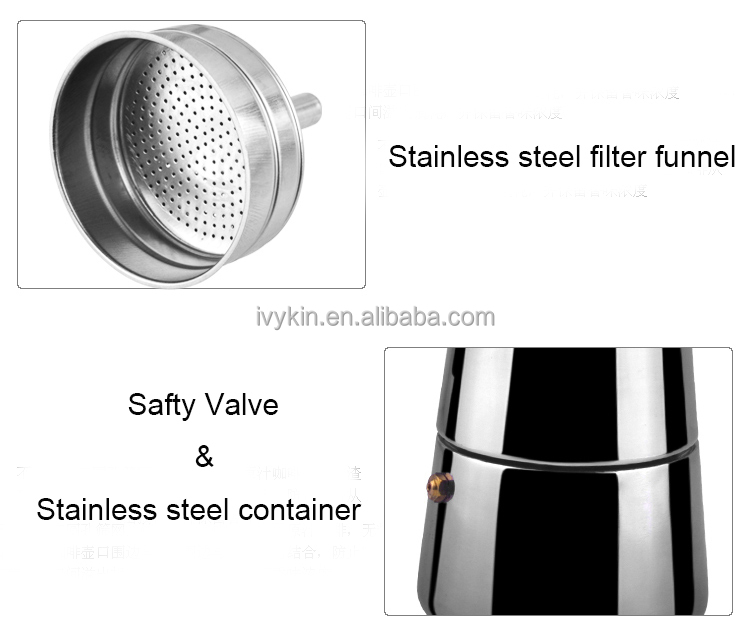 | | | | | | | |
| --- | --- | --- | --- | --- | --- | --- |
| Item No. | Cpacity | Material | QTY(pcs)/CTN | Carton Size(cm) | Net Weight(kg) | Gross Weight(kg) |
| D17000800-1 | 200ml/2cup | S/S | 36 | 58*33*33 | 10.8 | 12.5 |
| D17000800-2 | 400ml/4cup | S/S | 30 | 49.5*36.5*38 | 10.5 | 12 |
| D17000800-3 | 600ml/6cup | S/S | 24 | 41*38*45 | 10 | 11.5 |
| D17000800-4 | 900ml/9cup | S/S | 6 | 36*34*26 | 6 | 7.5 |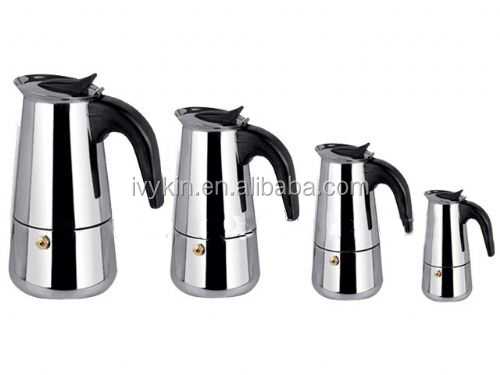 Using Instruction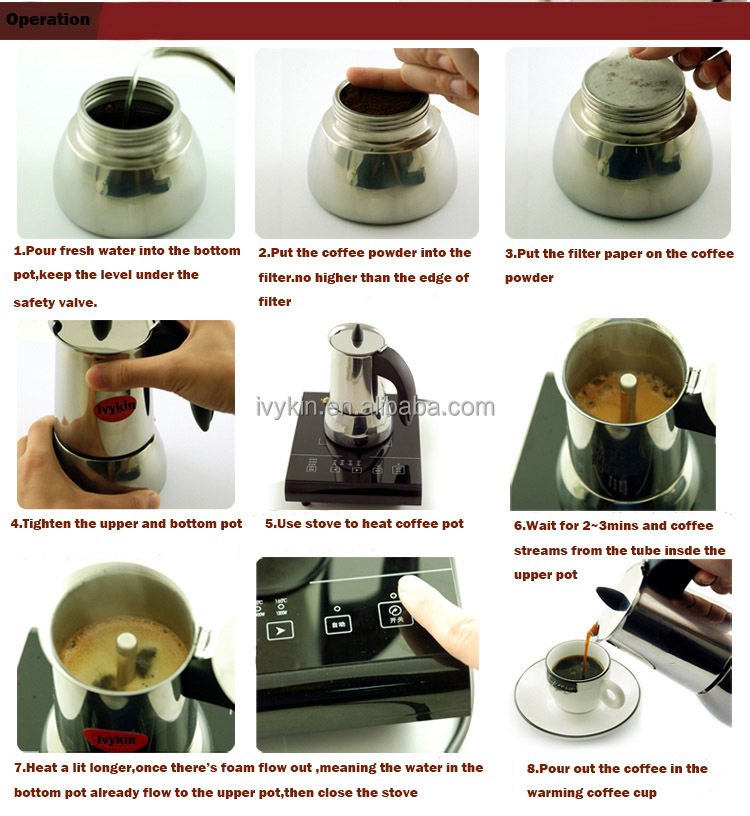 Q:How long does it takes to brew?
A: It takes about 15 minutes.
Q:How to judge it brew well?
A: All the water comes into up chamber
First using: Put some unwanted old used coffee grounds and brew. The first pot of coffee should be thrown away. The intent is just to clean the machine out before using it for the first time and to make sure the pressure relief valve is working ok.
Trouble Shooting:
If the coffee is not brewing properly, check to see if any steam is escaping from the area where the top and bottom parts screw together.
If you see steam escaping, this can be the sign of two things. If the grind of the coffee is too fine or the coffee is too compacted, the steam cannot force its way through the coffee. You need to screw the top and bottom together more tightly.
Jiangmen Wingkin Household Appliances Co., Ltd specializes in producing espresso machine and coffee accessory. And we can also OEM and ODM the best products to you.
We are a professional espresso machine manufacturer. And each month, we are able to turn out 100,000 units to meet all your volume orders, which is thanks to our spraying lines, as well as injection, stamping and testing workshops in our 19,000 sq.m. factory.
And please allow me to do some introduction about our R&D. Each year, 50% of our revenue goes back into our R&D.. This allows our Italian designer and other engineers to offer you the latest features in coffee and espresso machines. And our Italian engineer has more then 15 years experience on espresso machine R&D.
For customized orders, send us your requirements or speak to our English-proficient R&D team directly. Contact us today to get your order started