Dog training system with 5 meters waterproof function long distance control dog shock collar
Remote Wireless Dog Training System With LCD Display
Functions: Light/Beep/Static shock/Vibration
300 meters range
Rechargeable Receiver
Totally waterproof
Self sleep feature for saving battery or power for long-time using
Can be used for 3 pets training system with extra collar
This remote wireless product is submersible receiver which is perfect for outdoor training. With 5 meters waterproof function even if your dog is swimming or play outside in rainy days. But please note when the collar is in the water, only tone & vibration is available, no static corrections.
Features:
1. Designed in USA, used for mild-mannered to stubborn pets.
2. Rechargeable and totally waterproof receiver.
3. Remote transmitter with 3 AAA batteries.
4. Multifunction training together, LED light, Tone, Vibration and Static shock.
5. 4 level of vibration and static shock can be displayed easily visible LCD screen.
6. Dog training system with 5 meters waterproof function
7. Multiple dog handling and training facility, up to three dogs. Easy switch mode between dogs.
8. Vibration induction power switch in the collar receiver.
How this system works
1. The pet behave remote training system utilizes a warning tone, vibration or static to get your pet's attention or transmit a correction.
2. The remote transmitter will transmit up to 980ft.
3. At the push of a button, the remote transmitter sends a signal, activating the receiver collar.
4. Using the trainer consistently and correctly, many misbehaves that your pet exhibits can be corrected or any basic obedience commands can be taught.
Tips:
The trainer has a range up to 980ft. Depending on the way you hold the remote transmitter, the range may vary. Hold the remote transmitter in a vertical position away from your body and above your head to achieve optimum range. Terrain, weather, vegetation, transmission from other radio devices, and other factors will affect the range of your trainer.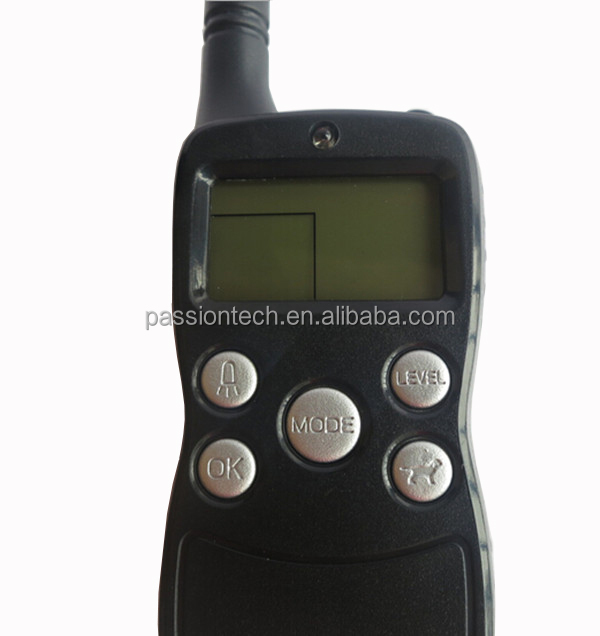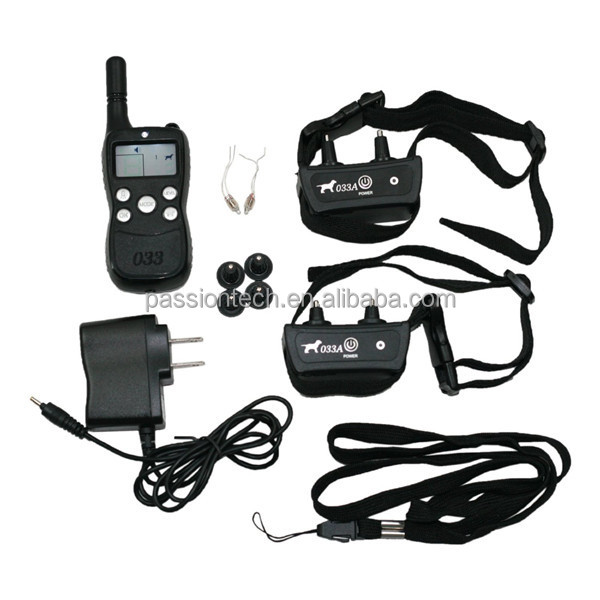 Power Adapter for choose !
| | |
| --- | --- |
| 1 × Remote Transmitter | 3 × AAA Batteries |
| 1 × Receiver Collar | 1 × Power Adapter |
| 1 × Testing Light | 2 × Sets of Metal Probes |
| 1 × Lanyard for Holding Remote | 1 × Owner Manual |
Packing list:
G-Box Size: 21.0*13.5*5.5cm
CTN: 43*35*29cm
Qty/CTN: 24pcs/ctn
N.W: 7.5kg
G.W: 8.2kg
Volume Weight: 10kg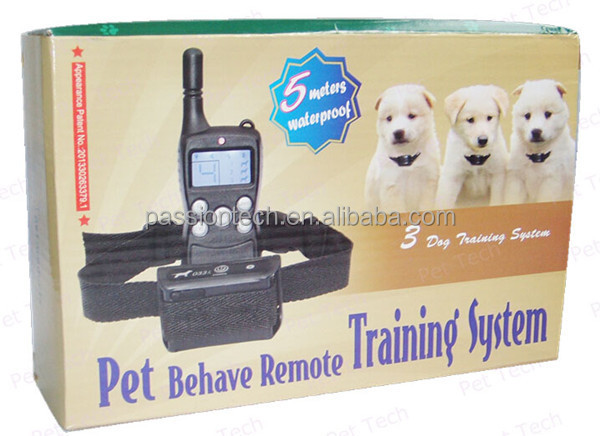 Shipping ways can be choose as following !

About Us !