Carbon fiber front bumper for BMW X6 bodykit good quality
Carfly Carbon Inc. is committed to designing, manufacturing and marketing carbon fiber products that are of high quality. We also manufacture customized products out of carbon fiber only if providing us original samples or CAD files, the process as follows:
1. Original samples or CAD files (igs, stp, step format)
2. Composite mold or metal molds
3. Carbon products.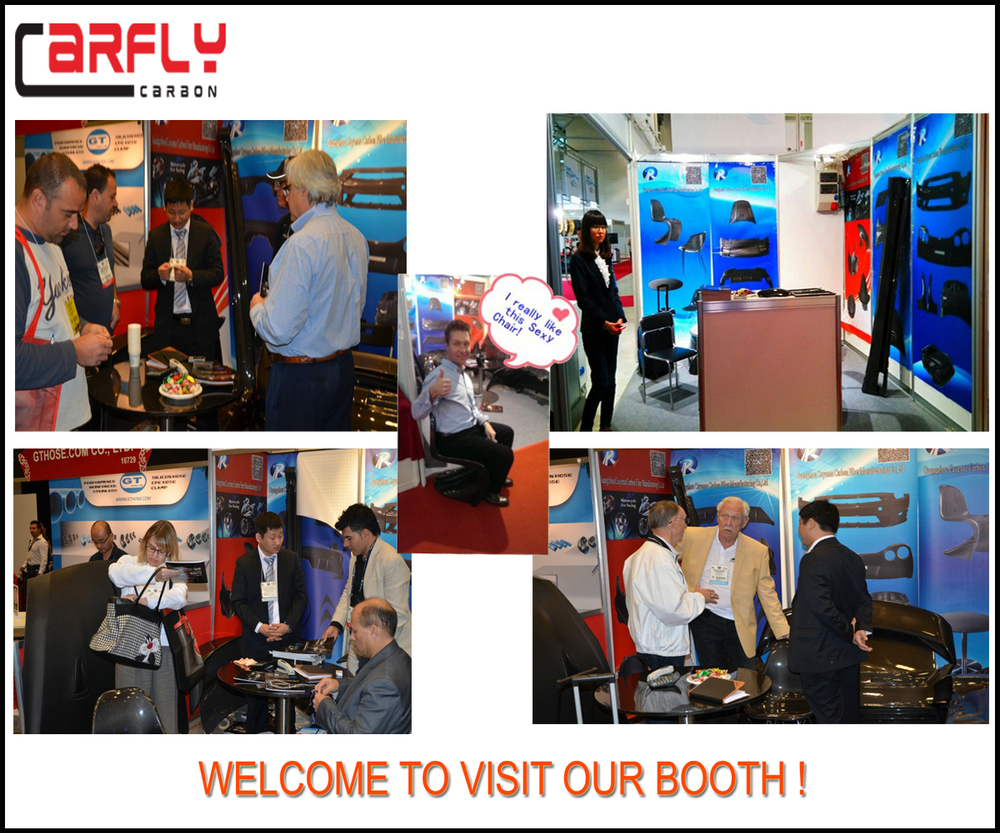 1. Process: Vacuum infusion or prepreg dry carbon technology, which will make parts nicer look, stronger and lighter weight.

2. Material: High Quality 3K Twill/Plain Carbon Fiber Fabric, 200G/M² With UV coating protection. We also have 6K/12K Twill/Plain carbon fiber fabric available if you have special requirement.

3. Finish: Clear coated & UV protected for that non-fading hi-gloss look. Matte is also available.

We have thousand kinds of carbon fiber car parts with molds in stock, and it's kept updated every month, which will help you to catch and lead the market, you can buy from us directly.
Inner foam, outer wooden crates for hoods, trunk lids,bumpers, side skirts, doors etc...
Inner foam, outer carton for small size parts.
2. Shipping:
Generally speaking,
For small size products, we use Fedex/DHL/UPS/TNT/EMS.
For the big size wooden crates goods, we suggest Sea way or Airship.
1. Finest materials
Carfly Carbon uses only the highest-grade carbon fiber raw material in all its products. The same materials used in aviation, battleships, satellites, and rockets.
2. Craftsmanship
Carfly Carbon's production team has over 15 years of experience, and their skills show in the details. Every component is constructed using a one-piece carbon sheet for a consistent weave pattern. Our production processes allow exceptional carbon/resin ratio, creating high product stiffness that also leads to extra strength. For a stunning finish, our products are coated with a glossy clear coat that does not chip or flake.
3. Cutting-edge technology and commitment to R&D
Carfly Carbon offers vacuum infusion method and proprietary dry carbon production techniques that incorporate the use of pre-impregnated materials.
4. Commitment to quality
Carfly Carbon stands firmly behind its products. We offer both fitment guarantee and clear coat guarantee, so that customers have peace of mind when purchasing a genuine our product.
B) What is your advantage or benefit for your products?
1. Smooth weave
One-piece carbon sheet construction for consistent weave pattern.
2. Shiny clear coat
No clear coat chips or flakes, and special mix of high-tech resin yields excellent transparency.
3. Strong and durable
Carfly Carbon's production formula allows for exceptional carbon/resin ratios, leading to high stiffness and extra product strength.
4. Weight reduction
When compared to original stock panels, dry carbon offers up to 70% in weight savings and standard carbon fiber offers up to 50%.
5. Customer service
Friendly and knowledgeable reps, high inventory levels, accurate handling of orders, fast turnaround, and thorough packaging.
6. Style and performance
All of our products are aerodynamically designed to generate maximum performance. As a result, many of our products are widely used by professional race teams all over the world.
With our strength on carbon fiber technology and manufacture, we are expecting to work with you and turn your ideas and designs into new carbon fiber products!