* TO SEAL ANY KIND OF PLASTIC BAGS, PP, OPP, PE, PET, NON-WOVEN, PVC, POF.
* OPERATED BY 2 AA ALKALINE BATTERIES ONLY!
* SEALS UP TO 300 BAGS WITH NEW BATTERIES
* STANDARD COLOUR: WHITE (OEM COLOR AVAILABLE)
* CE, GS, TUV, WEEE & RoHS
* WORLDWIDE PATENTED AND TRADEMARK REGISTERED
The 'HANDY SEALER' is a revolutionary heat sealing product that will reseal any plastic bag in seconds! It uses revolutionary heat sealing technology "MICRO-THERMAL" to seal or reseal bags that are up to 0.3mm thick. The main advantage of this product is that no matter what bag you seal, it will be air & watertight!

https://youtu.be/Gw29Gn6yCxQ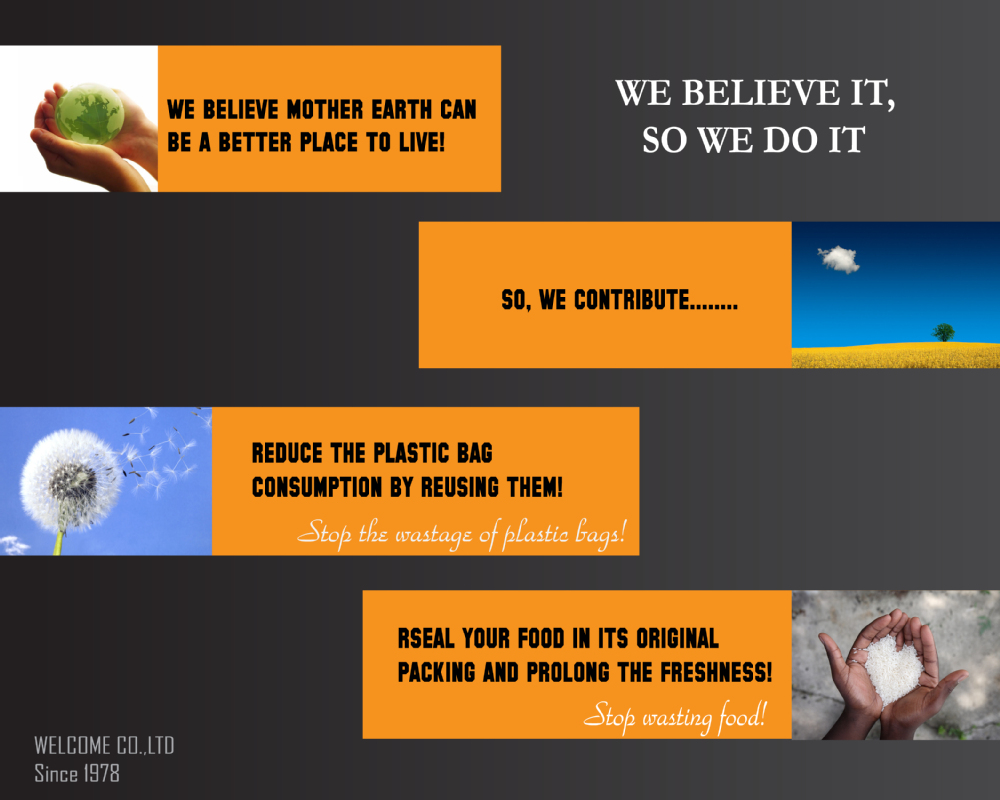 Welcome Co., Ltd. established in 1980, is an export manufacturer, designer of Hand Tools and Household Appliances that provide people with comfort on daily life. In 1988, our company has invented the first hand-held bag sealer in the world still known as Handy Sealer that was able to reseal any plastic or foil bag completely. In 1997, Welcome introduced a second generation of hand-held bag sealer in close collaboration with a U.S. firm.
This sealer, known as EuroSealer has become the best-selling electrical kitchen product in the US in 1998.
Finally in 2008 Welcome Co., Ltd. has developed and launched its latest model QUSEAL. With its breathtaking design and being multifunctional, QUSEAL has captured the hearts of our clients and potential customers in a very short time.
Welcome Co., Ltd. holds the patent rights, registered trademarks and a large number of various approvals including ISO 9001, GS/TUV/CE/ ROHS, PAHS, WEEE and REACH for all of the plastic bag sealers.
OEM/ODM CAPABILITIES AND SERVICES

We offer various OEM/ODM services:
1. Original design logos and product names
2. Original design packaging
3. Assist customers with trademark registrations and patent rights
In addition, we have received numerous patents on our innovative product designs and functions. Because we are strong advocates of patent rights, all our OEM customers' product designs are held strictly confidential. We are constantly developing innovative products in order to meet our customers' needs. Minimum orders are negotiable.
Detailed Information:
Number of Production Lines: 4
Size of Factory: Total Area of 4649.00000 sqm
Production Staff: 150
QC Staff:5
R&D Staff:4
Years of OEM Experience: 25
Materials/Components
1.Plastics: Japan, USA, Taiwan
2.Stainless Steel: USA
We use a series of semi-automated machinery to meet our customers' OEM needs. We also offer special original logo designs for our customers. In addition, our exclusive plastic packaging machines can handle a variety of packaging needs.
1 PC/SLIDE ON CARD, 12 PCS/INNER BOX,
120 PCS/CTN/ 2.35' / 77.9 X 26.4 X 32.4 CM
N.W.: 10.5 KGS - G.W.: 11.5 KGS
1 PC/WHITE BOX, 30 PCS/INNER BOX
120 PCS/CTN/2.13'/ 36.4 X 30.3 X 54.8 CM
N.W.: 10KGS - G.W.: 10.8 KGS
1 PC/COLOR BOX, 30PCS/INNER CARTON,
60 PCS/CTN/ 2.45' (61X30.5X39.5 CM)
N.W.: 9.80 KGS G.W.: 11.80 KGS
PVC TRANSPARENT BOX / HANDY SEALER USB
1 SET/PVC TRANSPARENT BOX = 10.5 x 4.5 x 9.5 cm
20 SETS/INNER BOX = 48 x 14.6 x 11.6 cm
60 SETS/OUTER CARTON = 50 x 16.6 x 37.5 cm (Cuft 1.1')
N.W./G.W. : 8.2KGS / 9.2KGS
OEM PACKAGE AVAILABLE
----------------------------------------------------------------------------------------------------------------------
How to use Handy Sealer or Smart Sealer?
This appliance works with 2 AA LR6 batteries. Only use LONG LIFE ALKALINE or RECHARGEABLE batteries. The appliance is on when you slightly press with the thumb (about 1 to 3 sec.). DO NOT PRESS TOO HARD, you might compress the plastic and will not get the appliance to slide, adjust the velocity to the thickness (fast for thin plastic, slow for thicker plastic and Mylard packets).
Why you cannot use sealer to manage to seal perfectly?
You may be starting the seal from the very edge of the plastic bag.

Check your batteries: Is the resistance overheating?




Your batteries will turn down faster if…
You are waiting too long when you are sealing the bag. An average size of plastic bag (20cm in length) will be completely sealed within 6-7 seconds.

You are applying too much pressure when pressing down the press-bar.

You are not sealing straight.

You are sealing too fast or too slow.

Tilt the device on the side during the sealing process.
How to install batteries?
Open the Press Bar and pull the Safety Bar clock-wise.

Simply lift the Press-bar of Sealer all the way back in order to have enough room to remove the Battery Cover easily.

Press on the Battery Chamber and apply some pressure until you see a small gap between the Battery Cover and the lower part of the Sealer..

Pull up the Battery Cover upwards with the other thumb.

You may now easily lift the Battery Cover and insert the batteries.
How to use Smart Sealer
Open the Bag Opener on the back of the sealer.

While holding the sealer in your hand, use the tip of the index finger on your other hand to flip-open the Bag Opener.

Smooth the bag to be opened and insert the edge of the bag into the slot of the Bag Opener Holding the bag to be opened in one hand.

Start to move the Bag Opener across the bag to the other side of the bag or across the bag then upward. Opener re-opens the sealed product in seconds.
Important points to know...
Use some practice bags to practice before you get the "feeling" of using sealer.

The time you take to move the sealer across should be determined by the thickness of the bag. It takes less time for thinner bags; takes more time for thicker bags.

During usage, if the sealer creates a hole or too many wrinkles on the bag, move more quickly.
Important Safeguards...
When using appliances, please pay attention to below basic safety precautions:

Read all Instructions.

NEVER TOUCH THE HEATING WIRE OR TOUCH ANOTHER PERSON WITH THE HEATING WIRE. INJURY MAY OCCUR AS A RESULT!

Close supervision is necessary when any appliance is used by or near children.

Do not place on or near a hot gas or electric burner, or a heated oven.

This appliance is for Household Use Only. Do not use this appliance for other inappropriate purposes.

Never store in a drawer of confined area when the batteries are installed in the Sealer. If the Heat Pad is depressed, the unit will turn-on and cause a potential fire hazard and will certainly be damaged.

Your sealer (Smart Sealer) is equipped with a Safety Bag Opener however it is still suggested to prevent small children to come in close contact with the blade of this opener.
Things to remember...
Light touch.

Preheat 3 seconds.

Move slowly or quickly depending on the thickness of the hag.

Seal half the bag then flip the bag over and cross the initial seal line when sealing the second half.

Have patience when first using your sealer. It takes some practice to become comfortable with the sealing motion. It is a little like dancing. Soon, you will have the "feel of the seal."

During usage, if the Sealer melts a hole in the bag being sealed, move more quickly.
If any part of the bag is not sealed entirely when the sealing motion is complete, simply re-apply the sealer to the unsealed part and move it over the area until a seal is achieved. Make sure that the interior walls of the bag are clean and that the opposite interior walls of the bag are touching one another.
BAG SEALER, HANDY SEALER, SMART SEALER , SEALERS, BAG SEALER, MINI SEALER , EURO SEALER , PLASTIC BAG SEALER , TV SHOPPING.Elegant Design and colors.