Herb Medicine Wolfberry Extract/Wolfberry Polysaccharide/Goji Extract With Free Sample
| | |
| --- | --- |
| Name | Wolfberry Extract |
| Botanical Source | Lycium barbarum L. |
| Maker Compounds | Polysaccharide 40%/50% |
| Molecular Formula | C5H11NO2 |
| Molecular Mass | 117.15 |
| Test Method | UV |
| Color | Brownish-yellow |
| Part Used | Berry |
| Appearance | Fine Powder |
| Ash Content | ≤5% |
| Extract solvent | Ethanol & Water |
| Drying Method | Spray Dying |
| Particle Size | NLT100%Through 80 mesh |
| Loss on Drying | ≤ 5.0% |
| Bulk Density | 40-60g/100ml |
| Arsenic | ≤2ppm |
| Lead | ≤2ppm |
| Total Plate Count | ≤1000cfu/g |
| Total Yeast & Mold | ≤100cfu/g |
Description:
Wolfberry(GojiBerry) is known to contain abundant wolfberry polysaccharides(amylose),detaine,zeaxanthine,physalein,Ascorbic acid,Carotene,Riboflavin,Nicotine,Thiamine,Betaine,taurine,VitamineE,Vitamine C,Vitamine B1,Vitamine B2. It contains as rich Vitamine C as orange in addition to 19 kinds of amino acid,and 21 kinds of minerals such as K,Na,Ca,Mg,Fe,Cu,Mn,Zn,Se. And the content of Beta-carotene in wolfberry is even higher than in carrot. Besides, it contains more protein than bee pollen does. Every 100g fresh wolfberry contains crude protein 5.8g,wolfberry fat 1g,Calcium 155mg,phosphor 67mg,Fe 3.4mg,carotene 3.96mg,Vitamine B 10.23mg,Vitamine B 20.33mg,Vitamine C 3mg; Betaine about 1%.
Main Function:
(1) Wolfberry Extract can be used as good remedy for old people: it could help increase inside hormone and oxygen in plasma with no any side effect. Wolfberry extract can do benefits to health of old people by improving their sleeping quality as well as decreasing the chances to catch colds, it can also reduce the times of night emiction. In the meanwhile, clinical researches showed that wolfberry could decrease cholesterol and increase phospholipid level. The Betaine in wolfberry is one the best remedy against heart disease, hypochondria and illnesses related with old age.
(2)Wolfberry Extract is known to be good remedy on diseases related to kidney: it contains many useful nutritions, including Wolfberry polysaccharides, zeaxanthine, physalein, Ascorbic acid, Carotene, Riboflavin, Vitamine C, etc, all these substances are good natural antioxidant, and have good anti-inflammation, anti-infection functions. With so many effective contents, wolfberry can help increase the blood flow, blood vessel elasticity, decrease thrombus and blood aggregation. As a result, it can do benefits to human's heart, liver, kidney, it can also improve man's sexual ability.

Application: Used for
1) Pharmaceutical as capsules or pills;
2) Functional food as capsules or pills;
3) Water-soluble beverages;
4) Health products as capsules or pills.
Packing Detail:
25kg/drum (25kg net weight,28kg gross weight; Packed in a cardboard-drum with two plastic-bags inside; Drum Size: 510mm high, 350mm diameter) OR 1kg/bag (1kg net weight, 1.2kg gross weight, packed in an aluminum foil bag) OR as per your request.
Storage Situation:
Stored in a cool and dry well-closed container kept away from moisture and strong light or high temperature.
Shelf Life:
Two years under well Storage situation and stored away from direct sun light.
MOQ:1kg packed in aluminum foil bag,double plastic-bag inside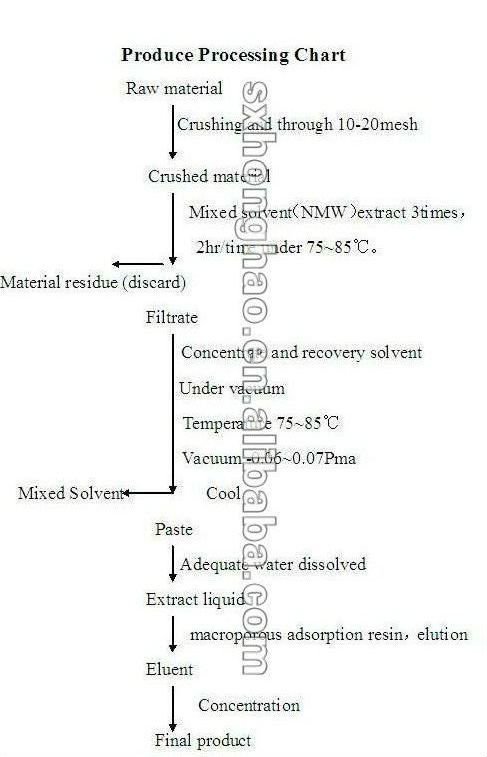 Advantages:
1)Material: Owning cultivation base as 100% Natural material stable source.
2)Production equipment: 8 extraction pots, 4 compression pots, 3 reaction vessel, 2 spraying tower, 1 drying oven; Testing equipment:UV, HPLC, GC
3)Supply Ability:
a. Production capacity: 5000kg/month, large stock available;
b. Supplying conventional and customized plant extract products.
4)Delivery Time: Usually within 3 working days after confirming your payment.
5)Sample:Free sample is available.
6)Supplying Irradiated and non-irradiated products.
We also produce Echinacea Extract, Feverfew Extract, Nattokinase, Artichoke extract, Amygdalin,Ginseng Extract, Blueberry Extract, Bitter Extract, Black Cohosh Extract, Cranberry Extract, Ginger Extract, Hawthorn Berry Extract, Saw Palmetto Extract, Green Tea Extract, Ginkgo Biloba Extract, Tribulus Terrestris Extract, Pomegranate Extract ,Grape seed extract and so on.
1.ISO Certification:
2.Advanced equipment
3.Strict Test
4.Fiber Drum