GSM Gate Door Opener, Open Gate Door by SMS or phone call CWT5005
Supports 3G WCDMA Version, Skype Contact: Glare.Wang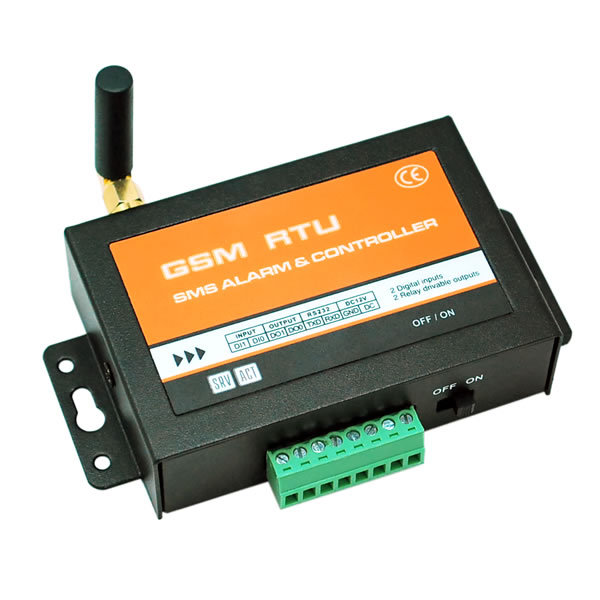 Our CWT5005 Gate Opener Advantage:
1. No call charges. CWT5005 GSM Gate Opener rejects the call from authorized number then carrys out the turn ON/OFF action on the first 'ring';
2. Once door open, CWT5005 will send SMS to notify users who and when open the door.

3. Add or remove users by SMS Text command;

4. Up to 1000 authorized phone numbers can be configured


5. Secure - Using caller ID for identification, unknown callers are ignored

6. Set the open time from 1 second to 9999 seconds

7. Can be operated from anywhere, no distance limit
8. Two Digital inputs for door sensor, motion sensors or other sensors to protect your door and windows, when any one of them triggered, will send SMS alert message you immediately;
9. one relay output with relay rating 3A/240VAC for connecting the switch of the gate, door or machines;
Flexibility - You can add or remove a number in a minute with an SMS. The system accepts up to 1000 program numbers

Affordability - Stop spending money to provide everyone with a remote control. Let him/her use their mobile phone as a universal remote.

Convenient - 84% of all people have a mobile phone. When leaving the house, we check three (3) things: Keys, Wallet and most importantly the Mobile Phone. No matter if you change your car, or if you have different gates to open, your phone will always be with you at all times.
Install Guide:
Specifications
| | |
| --- | --- |
| Parameter | |
| DC Power supply | 12-24V DC (Standard adapter: DC 12V/1.5A) |
| Power consumption | 12V input Max. 150mA/Average 50mA |
| Frequency range | Quad-frequency 900/1800/850/1900HMz |
| SIM Card | Supporting 3V SIM Card |
| Antenna | 50 Ω SMA Antenna interface |
| Serial | RS232 |
| Temperature range | -30°C ~ +70 °C |
| Humidity range | Relative humidity 95% |
| Digital Input | 2 digital inputs(Dry contact) |
| output | 1 relay outputs(open-collector outputs) |
| Output drive voltage | Equal to input DC voltage |
| Output drive power | Drive voltage ≤35V, drive current ≤500mA |
| Exterior dimension | 95×63×25mm |
| Weight | 256 g |