LASPEF STRETCH HOOD FILM
Product Advantage: (LASPEF STRETCH HOOD FILM )
1. Protect you product suface form pollution, damage & UV corrode, and scratch during the process of produce, transport, store and installation
2. 5 color over print to improve your brand image by having your logo & contact details on LASPEF STRETCH HOOD FILM
3. Durable, recyclable, health & safe, hot-tempterature endurable, anti-aging
4.Stable adhering capacity and special easy-peel & remove, no adhesive residue after LASPEF STRETCH HOOD FILM
6. A stated-owned factory producing LASPEF STRETCH HOOD FILM for nearly 12 years.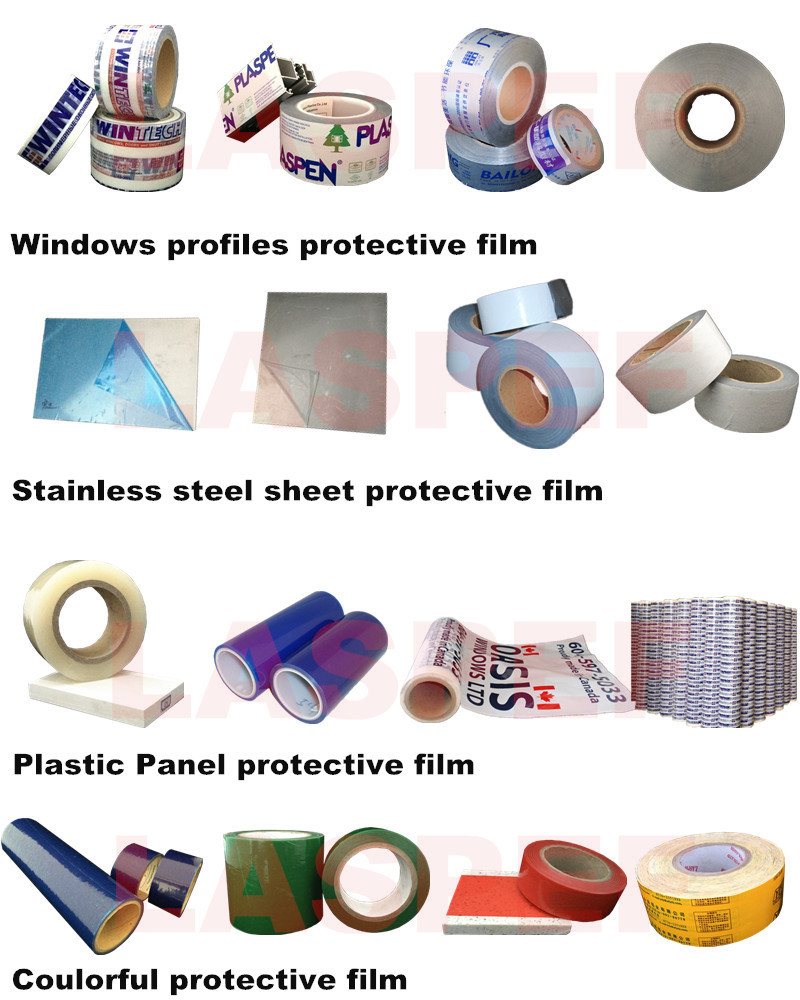 Specifications :
Item
Picture

Thickness

(um)

Width

(mm)

Length

(m)

Adhensive

Adhension

(g/25mm)

Usage
Clear Film
20

-200

10-1600

100-3000

Water Based Glue
10-600

Profile

Stainless Steel Plate

Plastic Sheet

ACP

Sandwich Panel Steel

Windows

Carpet

Glass

Other Surface

Blue

Film



Light Blue



20

-200

Dark Blue

20-200
White Film

20-200

White&Black Film


30

-200

Green Film

20-200

Red Film



20-200

Metal Film



PE


50

-200

PET

30

-200
Quality Test:
We can reply your inquiry promptly! protective film, pe film

a.Working time(Beijing Zone 8:00am to 22:00pm): within 15mins. high quality very competitive pe film price

b.During off hours (Beijing Zone 22:00pm to 8:00am) : with 8 hours.

We participated in making the Formulate national standards for LASPEF STRETCH HOOD FILM in China.

We do business with many companies world wide for many years.

Adhesion LASPEF STRETCH HOOD FILM is available in a wide range of size, and possible to select different types as the user's requirement.
It's better that you can send us the samples of your products that request surface protection for our testing. Our engineers will analyze the surface condition of your products, then provide you the appropriate protection solution and

LASPEF STRETCH HOOD FILM
Q. Are you a manufacturer with your own factory, or a trading company with a strong factory
relationship?
A.We are a manufacturer with our own factory.
Q. How many years has the factory been operational at the current premises ?
A.Our company was established in 2002.
Q.Do you have the whole production process?
A.We have two blown film machine, printing machines, three coating machine, rewinding machine, three two
cutting machine, one glue reaction kettle
Q.Why choose you ?
A.We have the price advantage and quality assurance.
Q.Why your prices are competitive?
A.We have a complete set of production equipment (cost savings), we are close to Qingdao port
(Save Freight Cost)
Welcome to visit our factory!( LASPEF STRETCH HOOD FILM )
Christy Jiang/
Sale Manager
Mobile:0086 18562515272
Skype: christyjiangm
Trade Manager:cn1510192888
Qingdao Laishun Plastics Co.,Ltd/Jinxiu Industrial Zone/Jihongtan Street/Chengyang District/Qingdao City