Biocaro Pharmaceutical Co., Ltd. is a leading GMP manufacturer specializing in natural health-care solutions. With over 20 years of experience, our technicians and staff are dedicated to providing the highest quality of nutritional supplements in a variety of forms utilizing the most pure, unrefined ingredients.

The factory is e quipped with the most modern machines and has a capacity of 10,000,000,000tubes/ years .Factory and products with quality assurance certified by GMP,HACCP,QS,ISO.

Our effervescent tablet products are divided into two part, one is nutrients supplement effervescent tablet, another is female care disinfecting effervescent tablet.
Nutrients products include various vitamin and mineral effervescent tablet, different scientific formulation with our own patent protected.

We accept your private label contract, offered necessary documents and certificates assist you to establish business. We also accept to develop new product according your special requirement or formulation, sign confidentiality agreement to protect your property
Vitamin c 1000mg effervescent tablets for enhance immunity
Functional Drink "vitamin c effervescent tablets" , GMP factory of effervescent tablets in China
Vitamin c content: 1000 mg , also as client's request
Usuage:dissolve one tablet daily into a glass of water.
Specification:3.5g x 20tablets/tube 100 tubes/carton, also as client's request
Shelf life: 24 months
Functional vitamin c effervescent tablets
Dietary Supplement

Vitamin C helps support healthy immune functions

,

it is essential for collagen production

Vitamin C is an important antioxidant that promotes health. Vitamin C maintains healthy bones, teeth, skin, cartilage and blood vessels
The Introduction of Functional Drink "vitamin c effervescent tablets" .
This product sells so well that it is common for many of our customers to place orders of 10,000 tubes or even 50,000 tubes - and even more!
To Place Your Order, Request a FREE Sample or to Get More Information, Please Contact us via Alibaba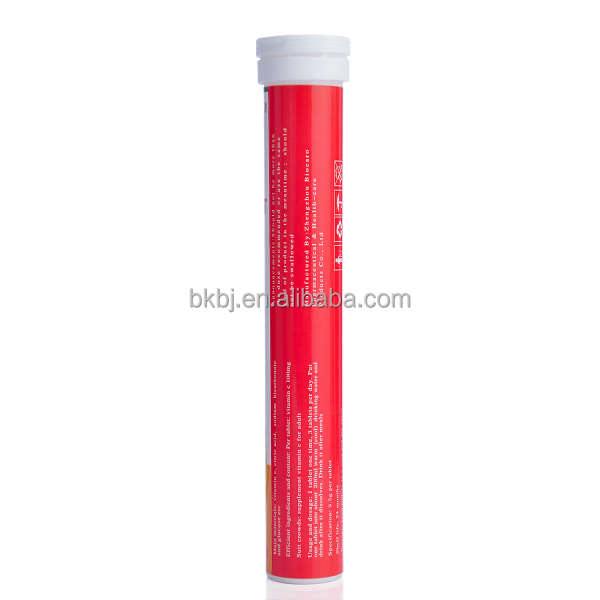 What Are Effervescent Tablets?
Effervescent tablets are tablets that are designed to break down rapidly when they are dropped into water or another liquid, releasing carbon dioxide in the process. The rapid breakdown causes the tablet to dissolve into a solution, and it often makes the solution frothy or fizzy. These tablets can be used for the administration of various drugs. They also are used to package some cleaning products, such as the enzymatic cleaners designed for wetsuits.
Why Effervescent Tablets?
Effervescent products offer a unique and advantageous delivery system
Bioavailable - easily absorbed into the blood stream
Multiple applications – dietary supplements, nutraceuticals, herbals, pharmaceuticals
Green – less plastic and petroleum used than traditional bottled drinks
Portable – customers can take them anywhere (airplanes! camping! bar hopping! work! home!) and use them with any water source
Why Choose BIOCARO Effervescent Tablets?
Zhengzhou BIOCARO, the leading GMP factory of effervescent tablets in China, we focused on effervescent tablets and certified by GMP,ISO,QS,HACCP.
We are the most professional manufacture of effervescent tablets in China.
We will expand our effervescent tablets business and will become the largest factory of effervescent tabs in China. with another new factory over 100,000M2 in 2014.