WELCOME TO YAOJING GLASS
1.Tempered glass
Tempered glass is made by heating flat glass to approach its softening temperature and suddenly chilling with jets of cold air to change the mechanical intensity strengthen and the stability of glass.
2.raw materials
Float glass, Glaverbel glass ,On-line coated glass,On line LOW-E,Off line LOW-E, On-line SUN-E and so on.
3.color
clear, royal blue ,ford blue, ocean blue ,F-green,Green ,dark grey, light grey, red bronze, golden bronze,and so on.
4.Feature
| | |
| --- | --- |
| Safety | Safety is the best advantage.After being crashed,the honeycomb pieces prevent people from harming. |
| High mechenical-resistant strength | The mechanical strength of tempered glass is as 3-5 times powerful as normal annealing glass, bending strength is as 2-5 times powerful as normal flat glass. |
| Thermal stability | The excursion of temperature that tempered glass endure is 250-320 degree. |
| Can not be cut down | Once tempered, can not be cut down or drilling hole. |
5.Specification
Size:Max 4200*2440Min300*300 Thickness:2-19mm
6.Advantage
•Our factory is located in the glass processing base in China -Qinhuangdao .
•The company has introduced advanced technology and equipment, including: automatic glass cutting production line, glass the bilateral mill production line, tempered glass production lines, automatic production lines of laminated glass,to make sure of on time delivery.Our products meets the quality ISO9001.
•Products at reasonable price, good service,welcome to choice our products.
7.Glass details
8.Processing Steps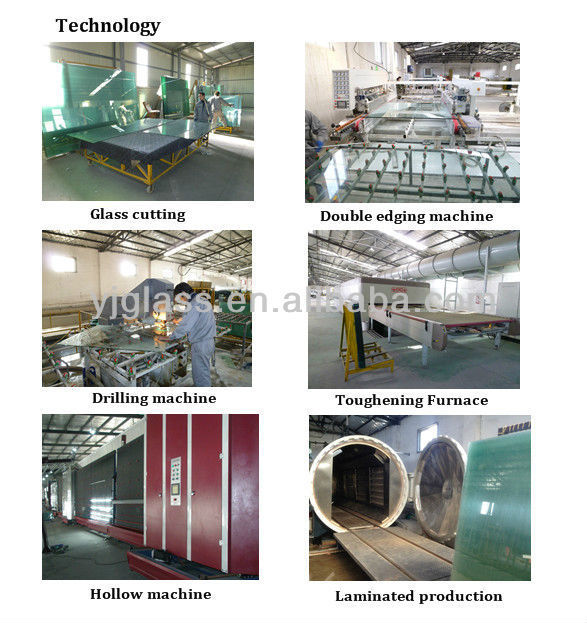 9.Packing