Vaginal speculum
Features:
Type : Inspection Type and Operation Type
Inspection Type : Big/middle/small Size
Operation Type: Enlarged big/ big
Type/ Spec. / Basic size
Type

Spec.

L1(mm)

B1(mm)

B2(mm)

H(mm)

Inspection

Big

118±5

33±3

36±3

110±8

Middle

95±5

28±3

28±3

108±8

Small

88±5

21±3

22±3

90±5

Operation

Enlarged Big

88±5

31±2

33±2

80±5

Big

80±5

30±2

32±2

80±5
B1—Up wing
B2—Bottom wing
L—Wing length
H--- Length Holder to Middle mouth of Dilator
Advanced for Sterile Vagina Speculum (Dilator) for Single Use
1. Divided into Inspection Type and Operation Type for Clinic requirements, meanwhile Inspection Type has Big/Middle/Small Size and Operation Type has Enlarged Big /Big size to suitable for difference Human body and Ages.
2.1Two parts instead of tradition three parts as to be simple working procedure, Internal &External Circular design as to smooth on the surface, which make to be easy and suitable by Doctor ,it's safety and no pain for Patient.
2.2 Adopt Special Mold design, it's high requirements for mold tooling and mold raw material.
2.3 Now it's popular design External Circular in the market ,but not for Internal Circular and is tartness surface, which cause patient pain and bleeding.
3.1 Adopt raw material named Special ABS to suitable vaginal mucous membrane tissue.
 3.2 Lighting Focus on Cervix Under Light refraction with Vagina Speculum wing parts and Shining in by Operation Lamp with Optics elements. Because 80% Women pathological changes focus on Cervix to be materialized with Gynecology, it's very important meaning of doctor inspector about Cervix discovered completely  
3.2 Now It's popular used raw material named PS( it's transparency raw material) ,the mainly defect is small force and easy to be broken and it's of elements for Light reflex by Operation Lamp of irradiation and effect glisten as to not see Cervix clear or fully.
3.3 Our company standard : Flexibility value<30mm under rated load 20N Functions
3.4 Vagina Speculum (Dilator) mouth <<30° , Wing Splay degree >40° as to Cervix discovered completely, no pain for patient ,safety and effetely. Both of Wing (Up and bottom) design with human body anatomy, forming Up wing short than bottom wing after Vagina Speculum opening completely , it's designing really suitable for Vagina Speculum (Dilator) configuration ( it's discrepancy 1-3mm between wing.) , it's be discovered completely for Cervix and it's easy to see fully for doctor.
4. Axle pin and Axle hole to prevent smooth and break off instead of traditional side Spire type, more safety.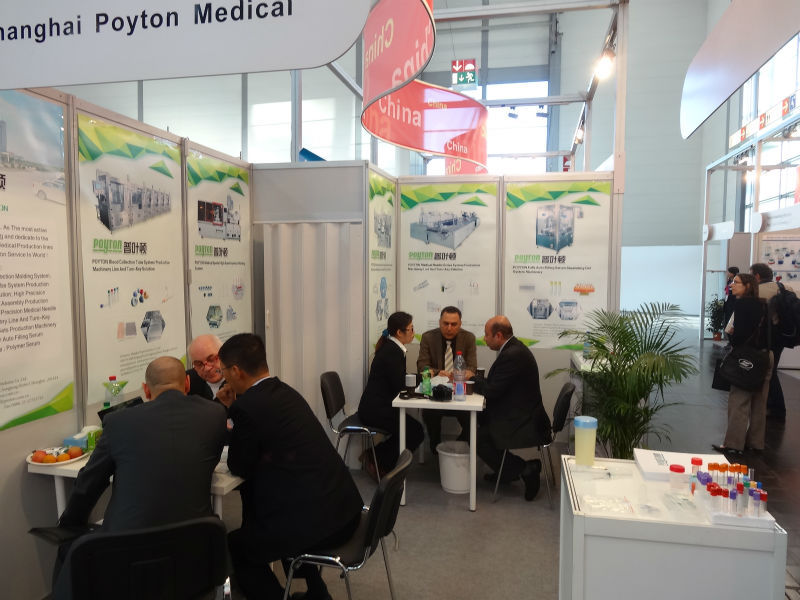 Poyton had provide the Turnkey solution for Vacuum blood collection tube projects in China, East European, Russia, Venezuela,
Brail, Kazakstan, Iran,Saudi Arabia, India, Africa etc. Zone and countries. Include machine installation, debugging, production
technology transfer, personnel training, raw material test and finished products test etc,which got the high praise and good r
eputation by general customers.