Food Grade Pure Bee wax
Bee wax Origin:
Beeswax is one of the most natural wax products available. Beeswax is the wax made by honeybees intended for the protection of their honeycombs.
Bee wax color varies from nearly white to brownish, but most often a shade of yellow, depending on purity and the type of flowers gathered by the bees. The Beeswax must then be clarified by a filtration processes and may then be used for candles, encaustic art, cosemetic applications, lubricants & polishes.
Our Process for Bee wax:
We receive the raw cappings from the beekeeper in barrels and rinse out the left over honey
with warm water. We then put the cappings into our melting tank with water and melt the cappings
slowly and gently over low heat.
When the wax is melted we pour off the beeswax and water into buckets through honey strainer cloth to filter out the large bee debris and allow to cool. Once we have enough blocks of pre-filtered beeswax, we then fill up the tank again with beeswax blocks and let sit on low heat for several days to allow the very fine suspended particulates to settle out of the beeswax. We then ladle off the beeswax through a filter material that removes all debris and impurities.
Raw Bee wax from beekeepers:
Refined Bee wax in our factory filteration processing: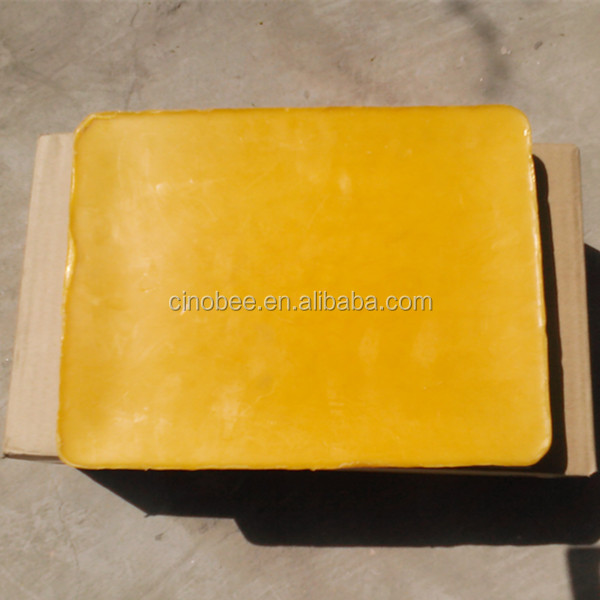 Pharmacy Grade Beeswax Applications:
Pharmacy
Cosmetics,
Lip Balm,
Shampoo,
Creams,
Depilatory,
Glamour Products,
Lotions,
Pharmaceuticals,
Ointments.
Specifications:
Item

Index

Hydrocarbon

16 - 18

Melting point

62–67°C

Density(20°C)

0.954–0.964

Acid value(KOH mg/100g)

Chinese bee

5.0–8.0

Italian bee

16.0–23.0

Iodine(iodine g/100g)

8.0–13.0

Saponification Value(KOH mg/g)

75.0–110.0

Refractive index(75°C)

1.4410–1.4430
Packing:
Bee wax slab packed in 25kg/bag, 1000kg on one pallet.
Bee wax pellet packed in 12.5kg/carton, 500kg on one pallet.