High pressure water pump cleaner
Featuring
13HP Key-Start gasoline engine

Heavy-duty grade direct drive brass manifoldtriplex pump,
pressure adjustable.

8mm(5/16in.) x 10m(30ft) high-pressurehose, 3/8in. QD.

Quick disconnectnozzletips size 4.0, spray patterns 0, 15, 25, 40, 60
and soap.

Professional triggergunwith safety-lock and 20inch stainless steel
wandwith 1/4inch quick connect.

10 inch pneumaticwheels.

Powder coating heavy-duty four wheelframe.

Down stream low pressuredetergent injector.

Key start, built with 12V/17Abattery.
Model
Max Pressure
(psi)-(bar)
Flow Rate
(gpm)-(lpm)
R.P.M
Pump
Power
High Pressure Hose
N.W/G.W
Carton Dimension

SML3600D

3600-248

4.8-18

3400

SML1510

13HP

8mmx10m

95/105

90*55*67 CM
Diesel High pressure washer machine
Detailed Description:
1. Performed, Stable OHV Engine
2. Friendly Environmental, Lower Emission
3. Commercial& Industrial Triplex Plunger Pump.
4. Brass Forged Cylinder, Ceramic Plunger
5. 4-Mode Nozzles, 0° ,25°, 45°, Detergent Applied
6. 8-10M High-pressure Hose
7. Stable Trigger Gun, Protection Lock Mounted
8. Wheel Mounted, Easy to Move
9. Powder-Coated Firm Frame , Nice Appearance
10.Stainless Steel Cover, Color Optional
11.Easy to operate, Maintainenace
12.Safety Always First
13.Accessory Service Available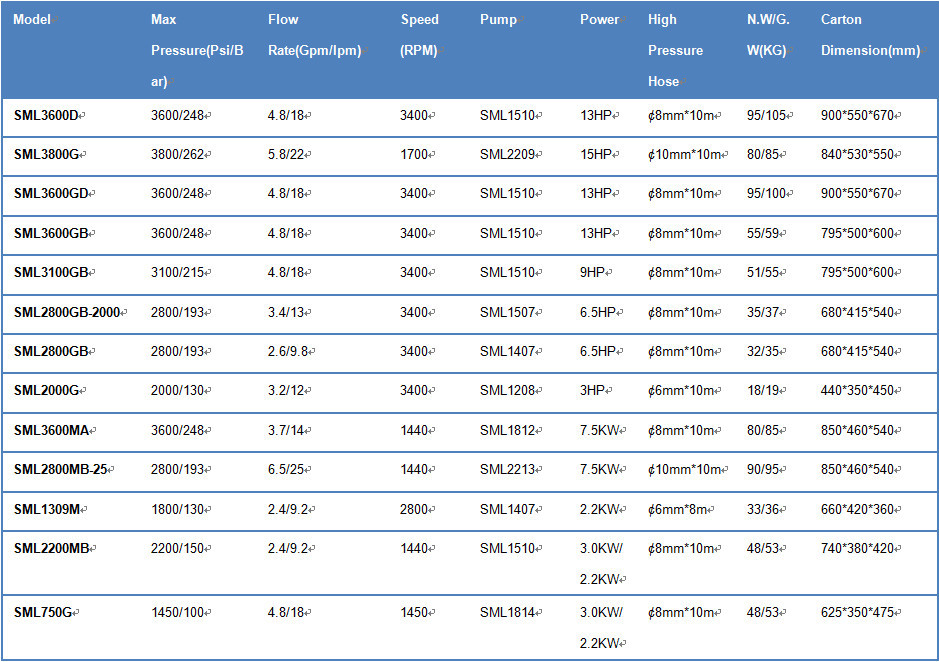 Applications
1.Pipe pressure test, hose pressure test, hydro pressure test, etc.
2.Shipyard rust removal, paint removal
3.Breweries yeast, sediments and fermentation residues on vats, pipe and facilities cleaning.
4.Aviation: expansion joints, grease, rubber and hydraulic fluid on runways cleaning.
5.hydropower station/ dam/dike concrete work treating.
6.Casting clean scale removal rust removal paint, removal sand.
7.Industrial pipe cleaning, such as starch factory, cement plant, etc…
8.Municipal Environmental Cleanings
9.Woodworking, Stone Factory
10.Mould Industry
11.Househould General Cleaning
12.Car Cleaning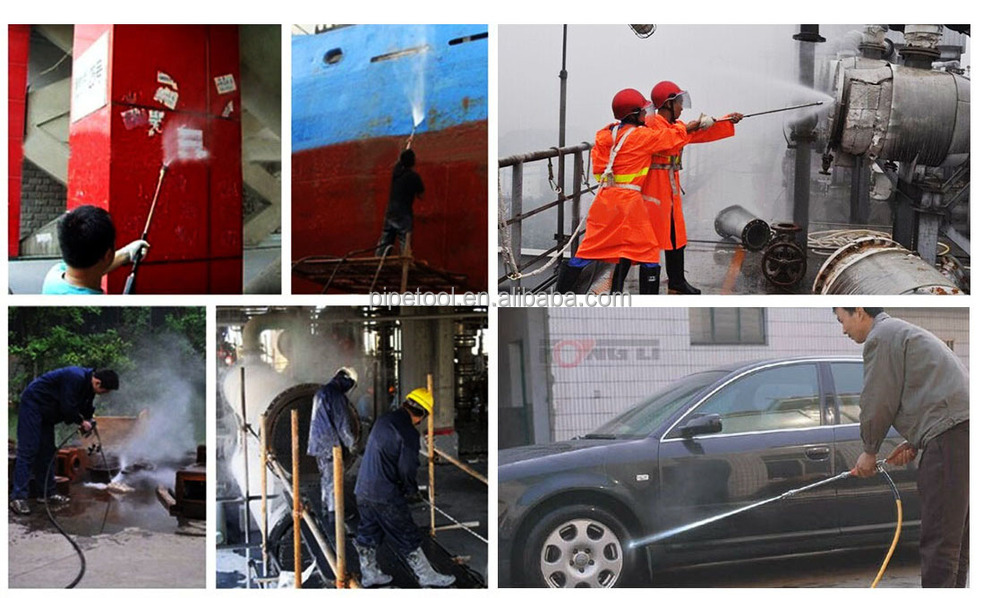 Work shop
Contact me without hesitate!
Name:Melissa
Tel: 0086-571-86260006
Fax: 0086-571-86260893
website: www.pipetool.com.cn
Wechat: melissazl
Skype:zhangmelissa89
trade manager: cn1000532365
QQ:809461038

Hope you win more business!