25KG/CARTON Breezweet natural sugar substitute stevia erythritol tablet
1. HS.code: 2932999099
2. 0.75 times sweetness than cane sugar
3. White crystalline Powder or granular
4. Direct factory
Specification:
SPECIFICATION:

Components:

Guaranteed Analysis:

Appearance

white crystalline powder

Purity (by HPLC)

98.0-102.0

Odor

Odorless

pH

5.0~8.0

Residue on Ignition

NMT 0.70%

Hydrolysis Substances

Pass tests

Related Substances

Pass tests

Moisture

NMT2.0%

Methanol

NMT 10mg/kg

Heavy Metals

NMT 10mg/kg

Lead(Pb)

NMT 3.0mg/kg

Arsenic (As)

NMT 3.0mg/kg

Total plant count

NMT 250 cfu/g

Yeast & moulds

NMT 50 cfu/g

Escherichia Coli

Negative

Salmonella

Negative

Staphylococcus Aureus

Negative

Pseudomonas aeruginosa

Negative
Product Photos: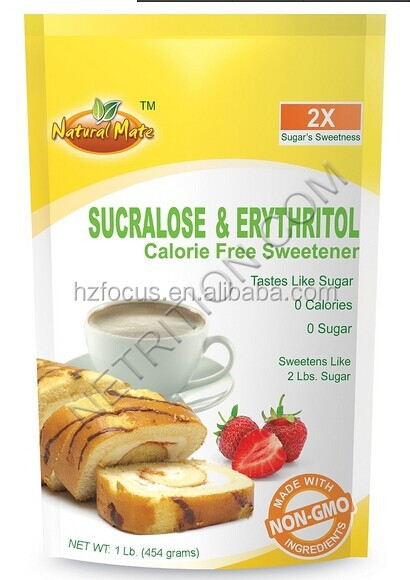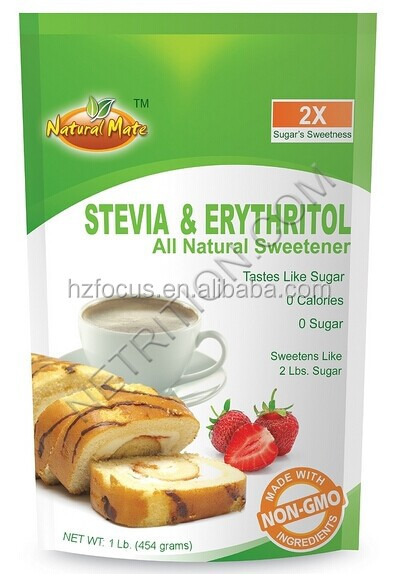 Features:
Tastes Like Sugar——Sucralose tastes very similar to sugar and has no unpleasant aftertaste.
Can Help Control Caloric Intake——Sucralose is not metabolized, thus it has no calories.
Advantageous for People with Diabetes—— Sucralose has no effect on glucose utilization, carbohydrate metabolism, and the secretion of insulin, or glucose and fructose absorption.

Does Not Promote Tooth Decay—— Sucralose does not support the growth of oral bacteria and does not promote tooth decay.
Extraordinary Heat Stability—— Sucralose is exceptionally heat stable, making it ideal for use in baking, canning, pasteurization, aseptic processing and other manufacturing processes that require high temperatures.
Long Shelf Life—— Sucralose is particularly stable in acidic products, such as carbonated soft drinks, and in other liquid based products (e.g., sauces, jelly, milk products, processed fruit drinks). Sucralose is also very stable in dry applications such as powdered beverages, instant desserts, and tabletop sweeteners.
Application:

Food additives,Widely used in beverages,such as cola,fruit and vegetable juice,seasoning milk;seasorbed such as sauce,mustard sauce,fruit sauce,salad sauce,soy sace,vinegar,oyster sauce.baking cereals,soy-milk powder,sweet milk powder;chewing gum,syrup,confection,preserved fruits,dehydrate fruits.
Also used in pharmaceutical and health care products.
Sucralose is a food grade sweet used in food industries.
The distinguish of artificial sweeteners:
Services we can provide:
1. We can provide mixed containers with different mixed items in one container.
2. We will control the quality, and offer free samples for test before shipment. After shipment, we will keep the samples for 1 years.
3. We can arrange shipment promptly with professional documents.
4. We can make the packages as you request, and send you photos before shipment.
Our Advantages:
Rich experience in loading a great amount of containers in Chinese sea port
Fast shipment by well-reputed shipping line
Packaging with pallets according to buyers' special request
Providing best service after shipment by e-mail
Cargoes together with container sales service available
Rich experience in Canada & Japan export
Providing photos of cargoes before and after loading into container
Raw materials from Chinese origin
Professional Loading:
1. We will provide you with professional loading service.
2. We have one team that supervises the uploading of materials. We will check the containers and the packages.
3. We take pictures and make records in every step.
4. We will make a complete Loading Report for our customers of each shipment.
Maybe you are still interested in these related product as following, we can also supply:
After you browse our product, If you have real need, just email me at any time.Thank you,my friend.