Quiet 6 Inch Centrifugal Fan Inline Fans Silent Duct Fan HF-100S
Product Features:
The shell is made of polypropylene plastic, one-time disposable molded, with high anti-acid function.
Using ABS blades, design by hydromechanics to reach the optimal air and pressure.
Two-speed motor, imported NMB ball bearing, it's life expectancy up to 50,000 hours.
IP44 Protection class, waterproof and dustproof more effective.
Can be designed with a delay function, temperature sensors and humidity sensors, more of user-friendly features design.
Run the ambient temperature range: -20°C~60°C.
Performance Parameter:
Model NO.
HF-100S
Tuyere dimension
246*140*97MM
Motor style
Series pole motor
Speed
High Low speed
Weight
2000g
No.of.Blade
8
Rotating Direction
CCW
Rated voltage
230V/50HZ
Rated current
0.26
Rated input power
35/24±10%W
Rated speed(range)
2600RPM±10%
Maximum air flow
236M3/h
Maximum static air pressure
185PA
Operating voltage range
230V/50HZ
Staring voltage
184V/50HZ
Operating temperature
-20-80℃
Environment humidity
10%(RH)45℃ for 24 hours & 98% (RH)
45℃ for 24 hours
Mean Time To Failure(MTBF)
50000H
Acoustic sound level
31db
Outline Dimension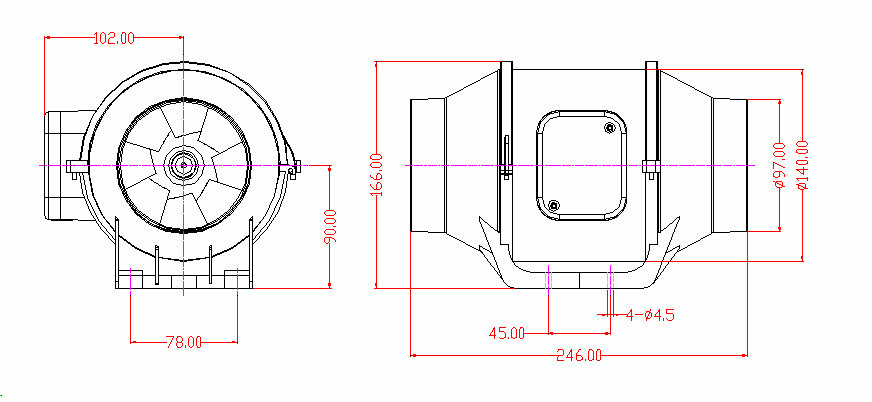 Mixed Flow Fans vs. Axial & Centrifugal Fans:
Application:
Practical examples of installation of the HF mixed flow fans range The HF fans provides a large number of solutions for small and large ventilations.
Residential-Kitchen, Domestic-Range Hood Exhaust, Commercial-Office, Industrial-Republic Restroom, School-Dining Hall, Industrial-Locker Room Health-Waiting Room, Meeting Room, Catering, Gym, Bathroom, Study Room.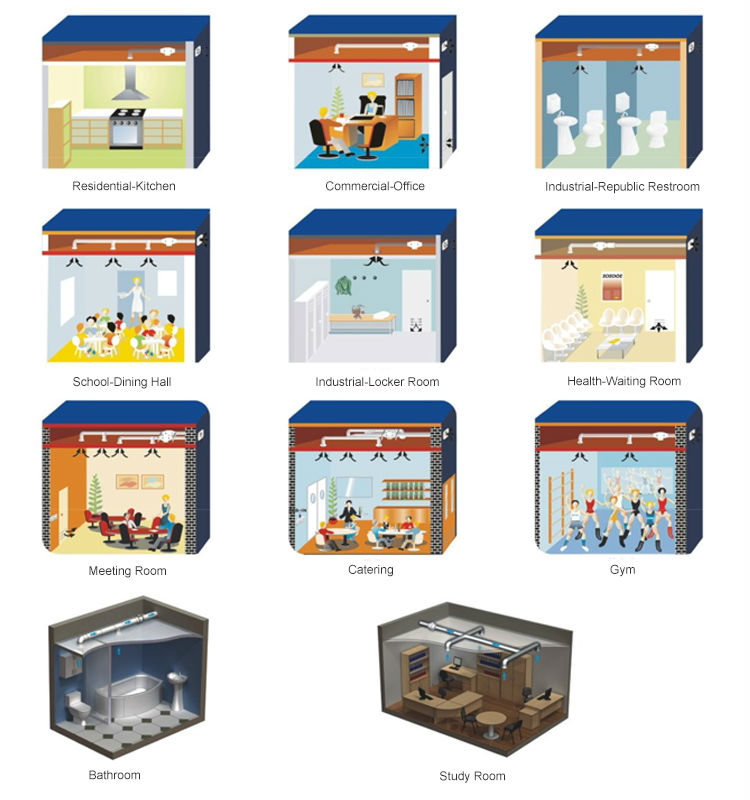 Installation and Maintenance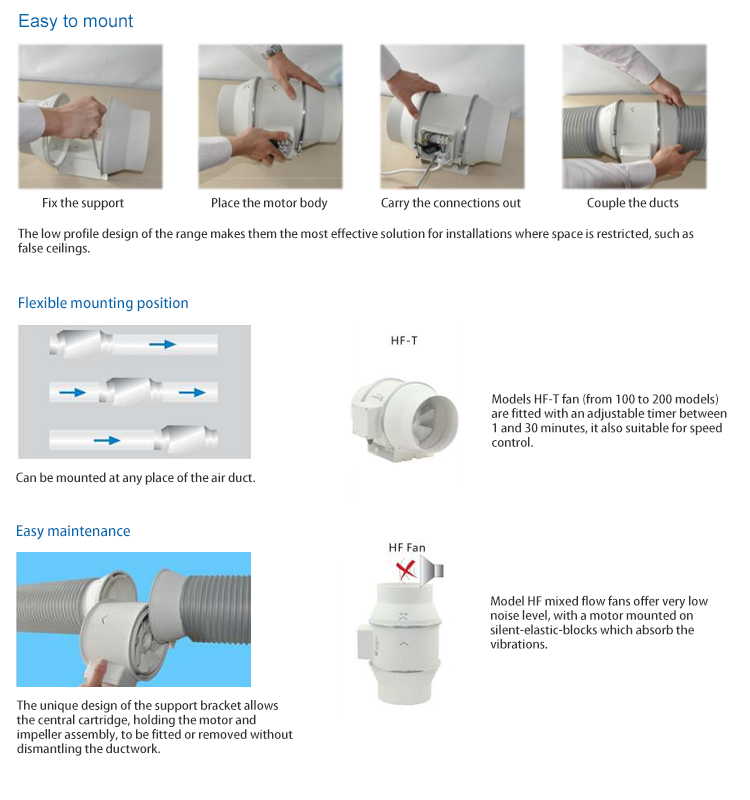 HF-100S Duct Fan
Application:
HF Mixed Flow Fan can be used for exhaust and supply ventilation systems that require high pressure, powerful airflow and low noise levels. With a range Applications of sizes that include 100,125,150 and 200mm, HF fan can be used with rigid and flexible ducting. The HF Mixed Flow Fan are the ideal solution for air exhaust systems for rooms with high humidity such as bathrooms and kitchen, as well as ventilation for apartments, house, shops, cafes, restaurant, cinemas etc.
Design:
The motor is attached to the body of the fan by two quick release clips which enables the motor to rotate to provide connection for confined spaces and removal for maintenance without removing the whole fan or duct. All models have an option of standard which has a two speed motor or overrun timer option variable range of 1 to 30 minutes.
Motor:
The single phase ball bearing motor has two speeds and is equipped with standard thermal overload protection (STOP) with automatic restart. Motor protection rating IP44 and are fully speed controllable. Complies with part F building regulations and designed for ambient temperatures -20~60°C. Supply voltage 110V~380V, 50/60HZ.
Mounting:
The fan can be mounted in line or at either and of the duct run and at any angle. Horizontally or vertically. All fans can be mounted in parallel to increase the volume of air or in series to increase the pressure. The casing is fitted with a mounting plate. The mounting box can be rotated to be installed in any positon for easy installation and connection.
HF-100S Duct Fan