OEM private label , cooling gel patch medical device ,fever reduce patch ,medical device/health care product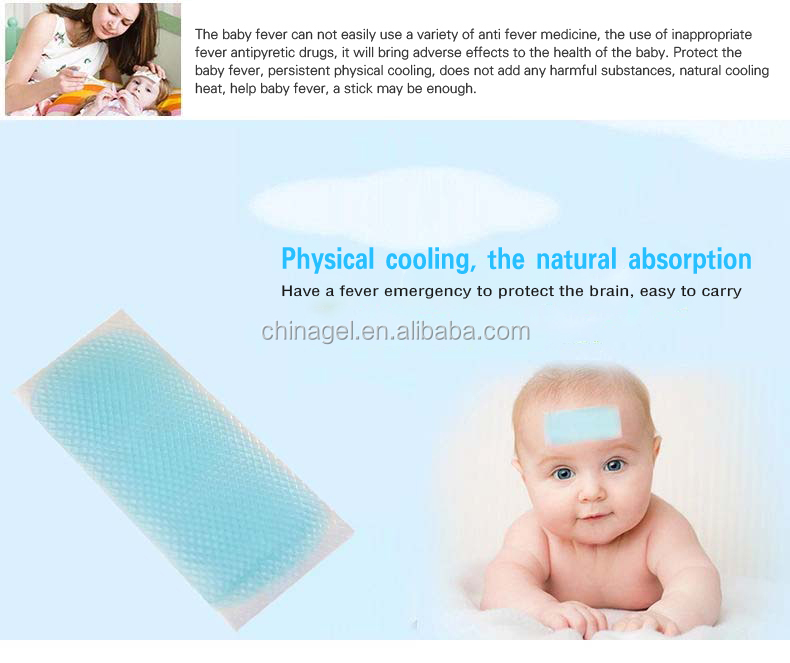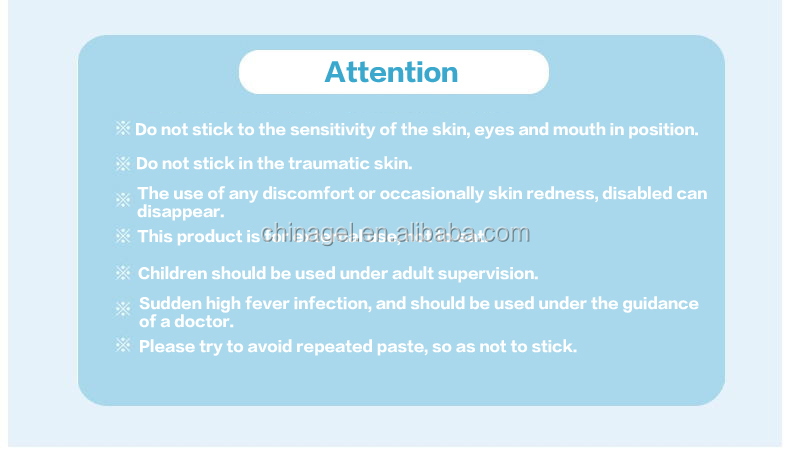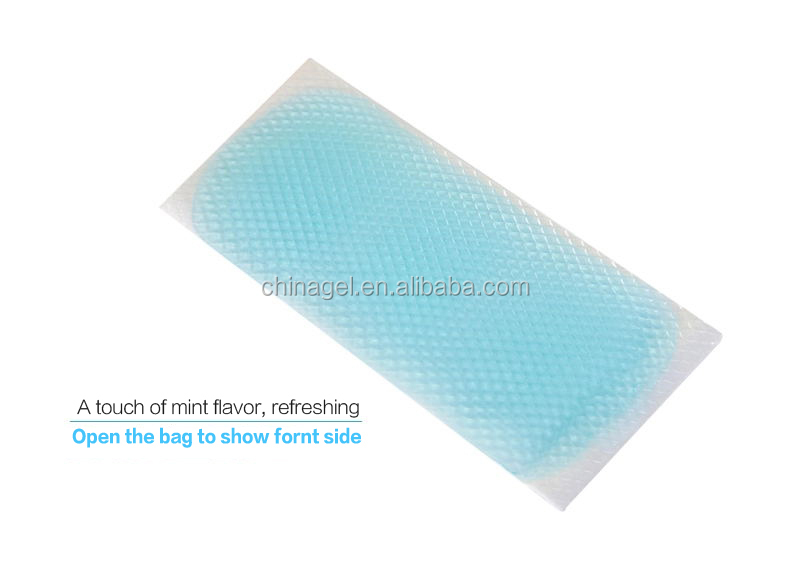 Medical Gel Cooling Patch is made up of anti-metal layer, gel layer, backing layer components, which has good energy conversion function of hydrophile macromolecule gel layer as the main body, have good skin osmosis, with a cold compress physiotherapy, absorption of heat and certain analgesic function.
Usage Scope:
Applicable to various causes of fever of auxillary physiotherapy and emergency physical cooling, alleviate fever heat causes of headache, toothache symptoms.
Drection for Use:
Cut or tear open punch and remove cooling gel sheet.
Remove transparent film from the back of the cooling gel sheet and discard.
Apply cooling gel sheet surface on the effected area.
The cooling gel sheet will not stick if the skin is wet.
The the best results use each cooling gel sheet only once.
Precautions:
1. Use only as directed.
2. For external use only.
3.Avoid direct contact with eyes and noistrils.
4. Discontinue use if rashes, redness, itching or irritation occurs and contact your doctor.
5. When used on children, adult supervision is required.
6. For sensititve skin consult your doctor or pharmacist before using cooling gel sheet.
7. When body temperature over 39 C, you must seek medical advise.
Storage:
1. Store in a cool dry place, away from the direct sunlight.
2. Keep out of reach of children.
Sample policy we can make sample as your requirement ( artwork ) free, you just need pay for express shipment cost ( FEDEX OR UPS ,DHL shipment cost )
OEM private label MOQ 100000 piece
Q1: Where is your company located in?
A1: Our factory is located in zhu hai City, guangdong China . Warm welcome you make visit to our factory any time as you wish .
Q2: Can you provide products to customized specifications?
A2: Yes, we can formulate, process and package your products according to your individual specifications and quality requirements.
Q3: Does your company have both quality and quantity assurance programs?
A3: Yes, our quality assurance program covers all operations and processes in the making of our products base on Iso13485 and Iso9001.
(1) The raw material used in our products must adhere to our strict incoming quality requirements. Every raw material has its own detailed specifications that our suppliers must certify to with every batch .
(2) Every worker is trained in the specific work instructions for each product. These instructions insure each product is produced with the utmost attention to product attributes and quality requirements.
(3) The quality assurance department is responsible for monitoring every step in the manufactureing process. This insures strict controls and practices are in place to guarantee your products quality requirements.
Q4: Do you offer samples?
A4: Yes, our company welcomes all customers requests for samples.
If you just want to test quality ,we support sample free, you just need pay for express shipment cost .
Q5:Do you make personal labels?
A5: Yes. As a manufacturer of skin care products for over 10 years, we can provide unique solutions to you labeling and general packaging needs. We can support special package as you wish if you can support artwork or tell me your requirement in details for this .
<img src="http://g03.s.alicdn.com/kf/HTB1BA1dGXXXXXbaXVXXq6xXFXXXj/1917803/HTB1BA1dGXXXXXbaXVXXq6xXFXXXj.jpg" width="760" height="417" style="width: 760px; height: 417.48px; display: inline;" ori-width="892" ori-height="490">
<img src="http://g02.s.alicdn.com/kf/HTB1NT6lGpXXXXbtaXXXq6xXFXXX6/1917803/HTB1NT6lGpXXXXbtaXXXq6xXFXXX6.jpg" width="432" height="771" style="width: 432px; height: 771px; display: inline;" ori-width="432" ori-height="771">
<img src="http://g03.s.alicdn.com/kf/HTB1ulHmGpXXXXcdXVXXq6xXFXXXW/1917803/HTB1ulHmGpXXXXcdXVXXq6xXFXXXW.jpg" width="530" height="702" style="width: 530px; height: 702px; display: inline;" ori-width="530" ori-height="702">
<img src="http://g04.s.alicdn.com/kf/HTB1ZaehGpXXXXX5apXXq6xXFXXXF/1917803/HTB1ZaehGpXXXXX5apXXq6xXFXXXF.jpg" width="760" height="342" style="width: 760px; height: 342.63px; display: inline;" ori-width="956" ori-height="431">