Handheld hot beauty salon equipment mist face sprayer facial steamer for personal skin care at home
1. It can cleanse deep layers of skin, discharge toxins as well as replenish moisture. Nano-ionic steams lets you easily perform skin care at home.
2. It is more easy for deeply cleansing skin and discharging toxins under effect of heated steam, to make skin more transparent, fair and clean.
3. Simply and conveniently used with one-key operation, you can perform comfortable care of an esthetic salon in your own home.
4. In a minute, nano-ionic steam penetrates deeply into skin to quickly moisturize skin and supplement skin moisture.
5. Nano-ionic steam consists of small nanometer-size steam particles.
Compared to normal steam it can more easily penetrate skin to more effectively supplement moisture.
Characteristic:
1.The unique skin care with hot steamer + ion+ essential oil
2.Burn-proof design
3.Beautiful & elegant
4.Desktop Facial Steamer
5. For the Salon, SPA or Home
6.Producing warm steam to moisturize the facial skin
7.Professional Facial Hot Steamer
Functions:
1. When the ion fog is sprayed on the face, the epidermis cell of skin will expand and become soft because of penetration of ion fog. Hence, it is convenient to clean the aging cutin on the skin and make the skin more air permeable to absorb skin care products.
2.The water content of skin cuticle is 10%-20%. When the water content is lower than 10%, the skin will become dry and wrinkle. Direct spraying of ion fog can increase the water content of cutin cells and make the skin look more moist and elastic.
3. Lots of ion fog will make the pores open. Nanometer grade ion fog can penetrate into the skin easily, so as to clean the dirt in deep level of the hair follicle, deep layer deposit of the skin and excessive oil. Then, the skin can breathe freely.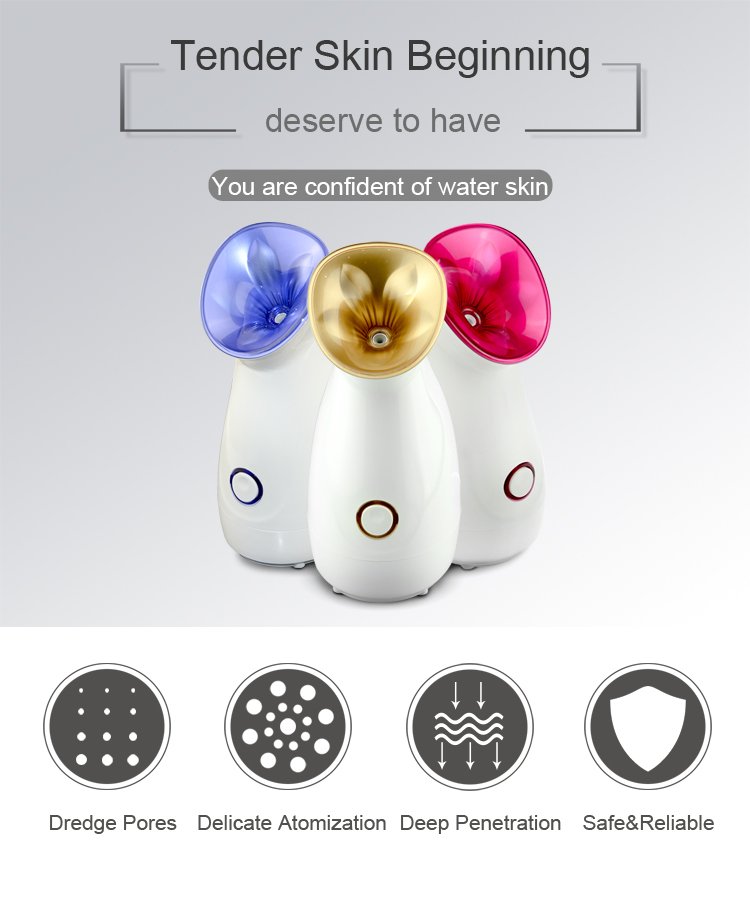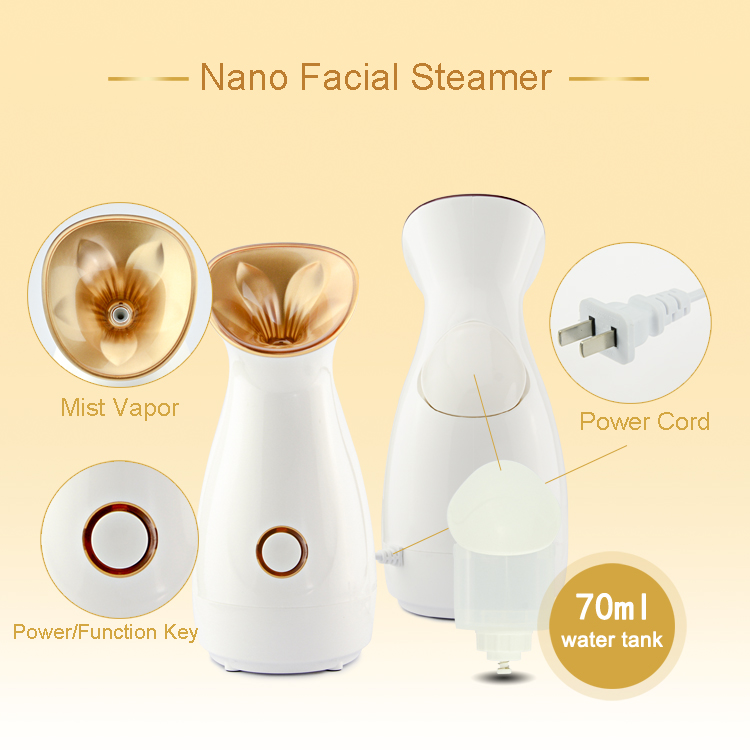 We would like to take this opportunity to introduce ourselves as one of the leading Manufacturer & Exporters of Beauty products in China, European & American market.
We have more than 7 years of experience in exporting to overseas market and producing our own factory in China.
We can offer facial steamer with hot and cool spray, hair steamer for beauty salon, ultrasonic facial massager, microcurrent skincare device, portable galvanic ion facial massager, Photon (LED) skincare device, portable multifunctional beauty equipment with ultrasonic, photon (LED) and galvanic functions, derma roller, LED electric derma roller, derma pen, Far-infrared slimming suit, slimming belt, multifunctional skin scrubber, EMS stimulator, Facial cleanser, cavitation slimming machine, facial brusher and so on.
We wish to establish business relationship with your company in near future.
Please note that our business may be satisfying your company with Best Quality,Most competitive Price and On time Delivery.
Q: Can we get a sample before order in bulk?
A: Yes, you can. Samples are available.
Q: How can we pay for the samples? Delivery time?
A: Paypal & Western Union are ok. We can arrange delivery in 1-3 working days upon payment and ship by DHL/UPS/TNT etc. Will arraive in 3-7 working days.
Q: Are you factory? Can you manufacture the device as we wish?
A: We are factory with our own R&D team. OEM & ODM are available.
Q: What is the delivery time of OEM orders?
A: leading delivery time is 15-25 working days upon payment.