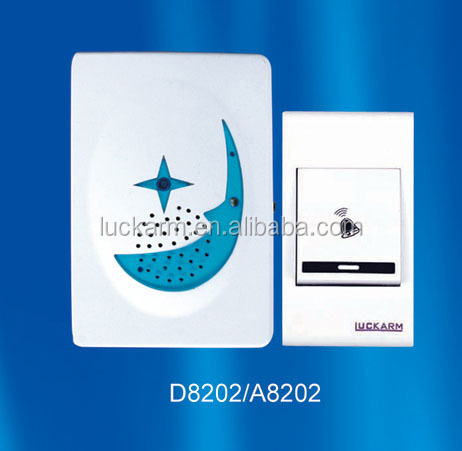 Features:
1) · Suitable for homes, office installed in or outdoors buildings and ships etc.
2) · 32 sounds selectable at either transmitter or receiver
3) · Transmitter uses 1x12V 23A battery (supplied)
4) · 150m operating range
5) · Easy to install
6) · No electrical wires to install
7) · Suitable for Hard of Hearing with Strobe feature
8) · Low power consumption
9) . CE certificate
*Although line of site is not required, the maximum range is based on optimal conditions with minimal interference. Wireless range is affected by objects such as walls, trees, etc. Actual range may vary, depending on environment.
Technical parameters:
Model No.

5097

Frequency

315MHz±0.5MHz
433MHz±0.5MHz

Active pressure wave(receiver)

≤-57dbm

Negative pressure wave(button)

≤-36dbm

Power supply(receiver)

2×1.5V AAA

Power supply(button)

1*12V 23A
Alkaline battery

Working power consumption

≤5W

Transmit power

<10mW

Operating range

UP to 150 meters(OPEN AREA)

Sound options

32 melodies option
About our superiority:
·We own advanced facilities and a professional team with wonderful technique.
·Best service, high quality, timely delivery.
Packing:
Carton

pcs/Carton

G.W (kg)

N.W (kg)

MOQ

CTNS/20"FC

Certificate

Battery wireless doorbell (DC)

0.045 CBM

60

9.00

8.00

3000

620

CE

Plug-in wireless doorbell (AC)

0.061 CBM

60

12.00

11.00

3000

460

CE
About us