Pure moringa leaf extract moringa oleifera powder
About Product Information:
Name of Product: Moringa Leaf Extract
Latin Name: Moringa oleifera Lam.
Common Name: Moringa, Horseradish Tree, Drumstick Tree.
Part of Used: Leaf
Active Ingredients: Total flavonoids, Polysaccharide
Specification Available: 10: 1, 10% Saponins
Appearance: Yellow Brown Powder
Pure moringa leaf extract moringa oleifera powder
Moringa(Moringa oleifera Lam. ) is tropical deciduous Perennial trees, height can reach up to 10 meters. The tree is native to India but has been planted around the world. Moringa contains balanced and rich nutrients, The leaves contain all essential amino acids and are rich in protein, vitamin A, vitamin B, vitamin C, and minerals. It is one of the richest sources of essential nutrients often lacking in people's diets.

Moringa powder is made from the freshly harvested leaves of the Moringa oleifera tree. Fresh Moringa powder has a deep green color and a rich nutty smell. The nutrient-packed powder is soft and fluffy when it is pure and grown in organic conditions. It dissolves easily into water or juice and is an excellent ingredient in a variety of healthy recipes.
Analysis of moringa oleifera powder
Item

Specification

Method Result

Physical Property

Appearance

Fine Powder

Organoleptic Conforms

Color

Green powder

Organoleptic Conforms

Odour

Characteristic

Organoleptic Conforms

General Analysis

Identification

Ratio

Loss on Drying

Identical to R.S. sample

10:1

<5.0%c

HPLC

HPLC

Eur.Ph.6.0[2.8.17]

Conforms

Conforms

3.22%

Ash

≤5.0%

Eur.Ph.6.0[2.4.16] 3.37%

Contaminants

Pesticides Residue

Meet USP32<561>

USP32<561> Conforms

Lead(Pb)

≤3.0mg/kg

Eur.Ph6.0<2.2.58>ICP-MS 2.1

Arsenic(As)

≤2.0mg/kg

Eur.Ph6.0<2.2.58>ICP-MS 1.9

Cadmium(Cd)

≤1.0mg/kg

Eur.Ph6.0<2.2.58>ICP-MS 0.7

Mercury(Hg)

≤0.1mg/kg

Eur.Ph6.0<2.2.58>ICP-MS 0.07

Microbiological

Total Plate Count

≤1000cfu/g

USP30<61> 119

Yeast &Mold

≤100cfu/g

USP30<61> 41

E.Coli.

Negative

USP30<62> Conforms

Salmonella

Negative

USP30<62> Conforms
Function of moringa oleifera powder
1. With the function of anti-depression and sedation, moringa powder has an effect on the nervous system;
2. With the function of increasing the natural defenses ability of the body, moringa oleofera leaf is great for boosting the immune system thus preventing colds.
3. Moringa leaf powder can provide nourishment to the eyes and the brain.
4. Moringa oleifera leaf has the function of resisting arrhythmia, lowering pressure, falling blood sugar and protecting the cardiovascular system function.
Application of moringa oleifera powder
1.As raw materials of drugs for anti-bacterial, anti-depressants, anti- tumor and sedation, it is widely used in fields of pharmaceutical and health products;
2.Applied in health product field , it can be used as the raw materials of health care product to enhance the immunity of human body;
3.As dietary supplements increased therapeutic function, it is widely used in fields of dietary supplement food products.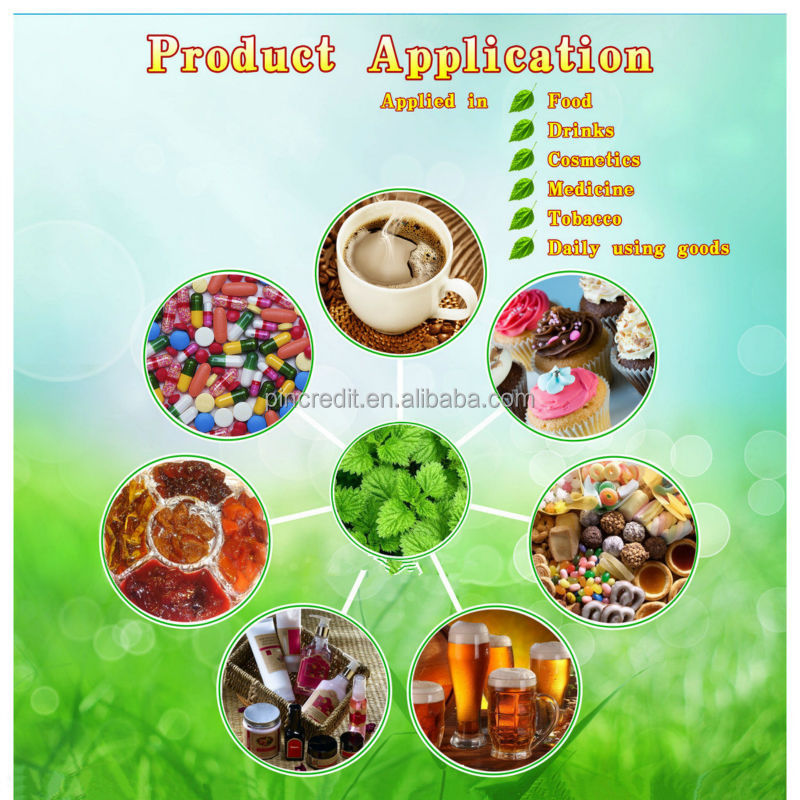 Convenient-Testing Equipment-After Service:
1. What's your payment terms?
T/T,L/C or Western Union.
2. What's your delivery time?
Usually we will arrange the shipment in 3 -7 days.
3. What documents you provide?
Usually, we provide Commercial Invoice, Packing List, Bill of loading, COA , Health certificate
and Origin certificate.If your markets have any special requirements, let us know.
4.Is that sample free ?
Yes,Free sample is available while you are kindly requested to afford the courier charge
which will be returned in the initial order.
Package & Storage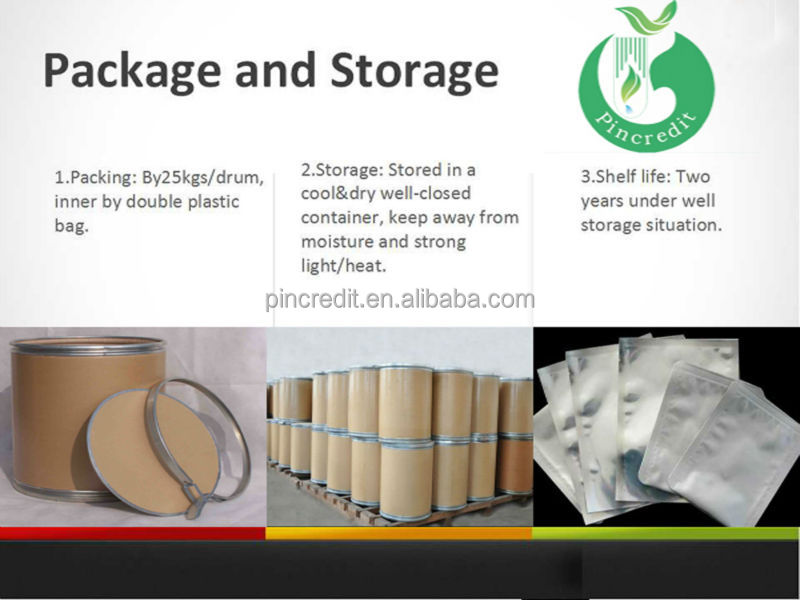 About Pincredit: