Product Name: farm use poultry heating equipment(THD2608)
Chongqing Haodong Technology Factory produce bbq gas grill burner, gas burner, infrared burner, gas heater, poultry heater, gas brooder, pizza oven burner, industrial oven heater, fruit dryeretc.
Now we are the first and only company who apply rare-earth catalytic combustion technology on infrared burner & heater, this kind of technology could save 10~20% energy than non-catalytic infrared heater.
Poultry heating epuipment specification:
MODEL

Dimension

Consumption

Heat Output

mm

NG(m3/h)

LPG(kg/h)

Kw/h

Kcal/hr

THD2608

(Marual/automatic Type)

Out cover 320*270*130

Ceramic plate190*165

0.24

0.18

2.46

2116
poultry heating epuipment details
ITEM: THD2608
FUEL: NG/ LPG/biogas
Material: ALUMINIZED STEEL SHEET WITH ENAMEL FINISH, STAINLESS STEEL, BRASS TUBE, MANGANIN ALLOY WIRE MESH NET, RARE EARTH CATALYTIC CERAMIC PLATES
COLOR: BLACK
FINISHING: POWDER COATING
NET WEIGHT: 1.9KG/PCS;
PACKING: BUBBLE BAG, CARTON
Heating Area: 25 sqm, about 600~800chicks.
poultry heating epuipment adavantages:
ü Imported Aluminized Steel construction
ü Wide operating range
ü Energy efficient, as high as 20% energy can be saved every year
ü Reliability, Silent, light and compact
ü Lower emissions to the air in the barn, CO≤80ppm;NOx≤10ppm;CHx≤50ppm
ü Low maintenance
ü Withstands high pressure washing
ü Flame-out protection device
ü Long useful time: ≥11000hr
poultry heating epuipment application
With energy-saving and environmential, now this kind of infrared gas heater is very already widely use for all kinds of industrial and house heating.Like patio,poultry farm ,greenhouse, room,indoor, workshop, terrace,church...
1. Commercial Heating of sports hall, church, terrace, garage, exhibition hall, public building
2. Industrial Heating: industrial building, workshop, vehicle repair, warehouse.
3. Poultry-livestock heating: widely used in poultry heating, farrowing, nursery, grower-finisher, wean-to-finish
poultry heating epuipment using direction
There are manual ignition and automatical ignition type for this poultry gas brooder, 1 gas heater could supply heat for 25 sqm and about 600~800 chicks.
Gas heater installation height from ground is about 1~1.5m.
Why choose Chongqing Haodong Gas Burner?
Rare-earth catalyst technology of Chongqing Haodong company is the first and only one in China, it's used in infrared gas burner & gas heater and could save 10~20% energy than non-catalytic infrared heater. Besides, 50% production cost could be saved than electric tube infrared heater.
Poultry Infrared Heater for baby chiken Product & Application Pictures
Automatic ignited type
mannual ignited type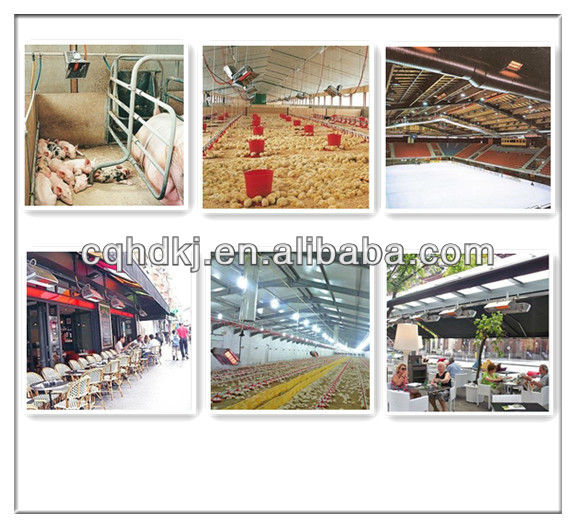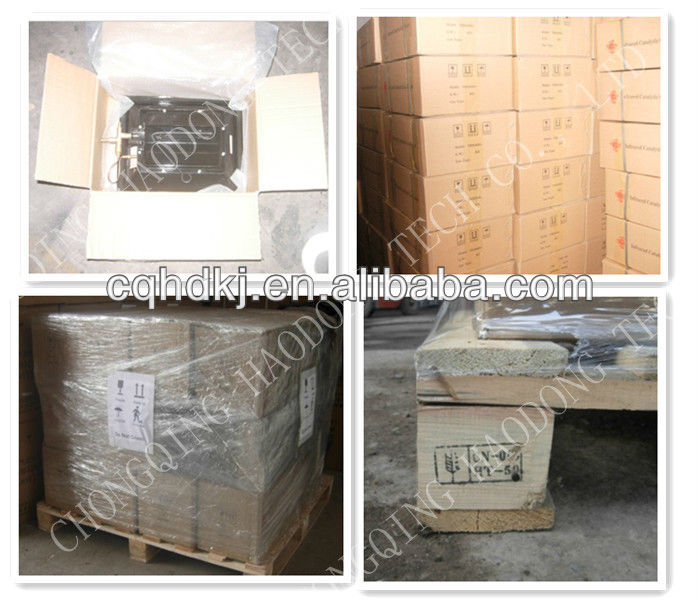 Just sending us an inquiry, then we will take care of all the rest.
Skype: jasmine_liu1
Phone(whatsapp,wechat):+86 13628346049