1. Company Introduction

2. Details For The Machine
1.Raw Material
The raw material can be used wood chips,wood log,wood sawdust,wood wast,grass,straw,corn straw,wheat straw,corn con,rice husk and so on.
2.Working basis
Using the intrinsic attributes of the wood material, by spiral extruding at high temperature, under high pressure, wood element in wood material becomes plastic and makes the fine fiber combine, and then stick solid fuel is formed.
Using a large screw to grind, compress and extrude the biomass into briquettes. The natural lignin content in biomass is liberated with wood fiber under high pressure and temperature. In the briquetting process lignin serves as the glue and combines the particles of wood together, thus binding, compressing the biomass to form into various moulds of high density briquette, such as hexagonal, quadrangular, square, etc. During this process, non-binder needs to be used.
3.The process for producing charcoal briquette as follow:
1th Crush the raw material into small pieces (diameter is about 3-5mm)
2th Dry the material by machine ,till the moisture is less than 12%
3th Put the material into feed let of briquette machine
4th Produce the briquette stick from biomass material without any additive
5th Carbonized the briquette stick
3. Details Parameters :
| | | | | |
| --- | --- | --- | --- | --- |
| Model No. | WDZB-1 | WDZB-2 | WDZB-3 | WDZB-4 |
| Productivity | 100-150kg/h | 200kg/h | 200-250kg/h | 200-250kg/h |
| Motor power (kw) | 15kw | 18.5kw | 18.5kw | 15kw |
| Electrical Heater power | 3*1.5kw | 3*2kw | 3*2kw | 3*2kw |
| Weight(kg) | 400kg | 500kg | 580kg | 650kg |
| Size outside(mm) | 1650*600*1260 | 1860*800*1360 | 2150*850*1360 | 2250*900*1360 |
4. Machine Picture Show:
A):Material Picture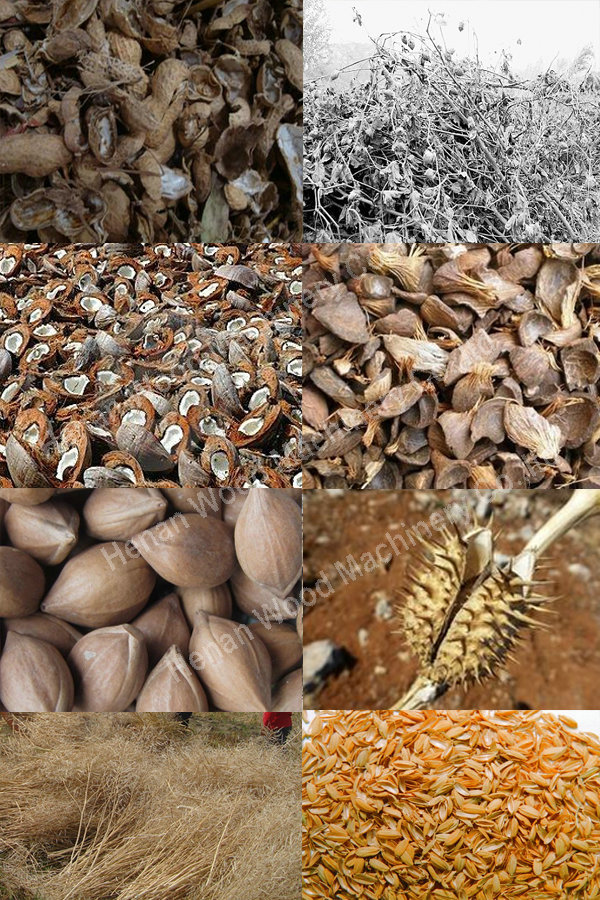 B):Machine Four Side Picture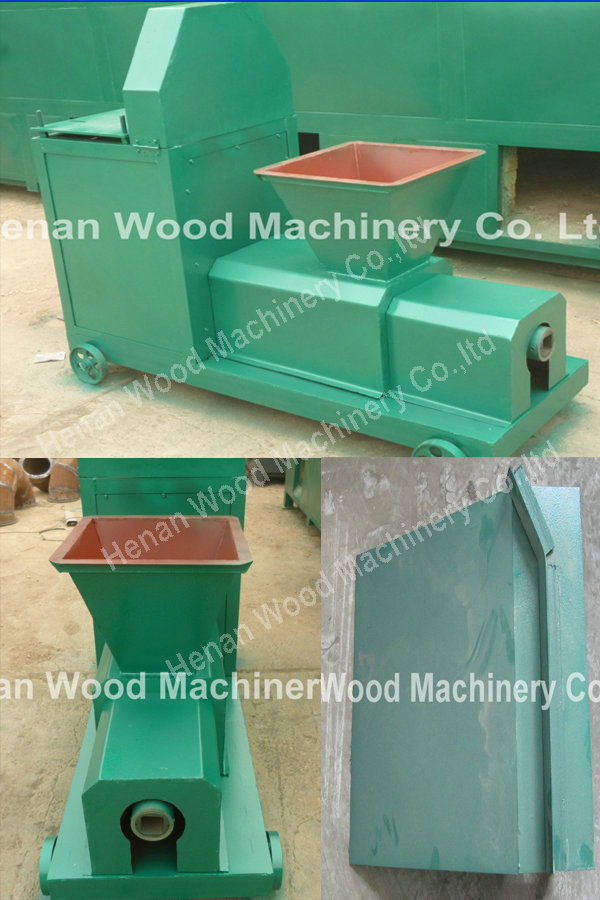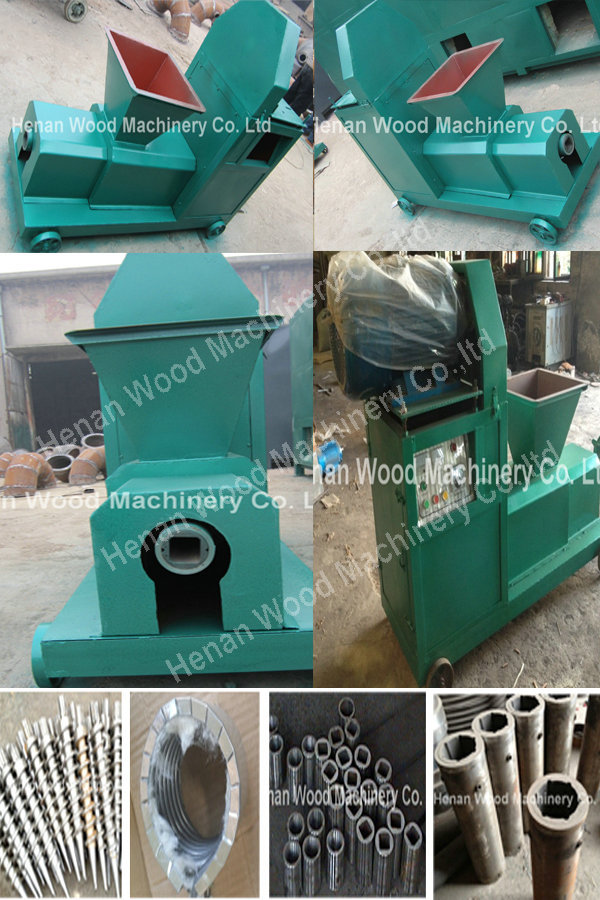 C):Customer With Machine
D):Final briquette Picture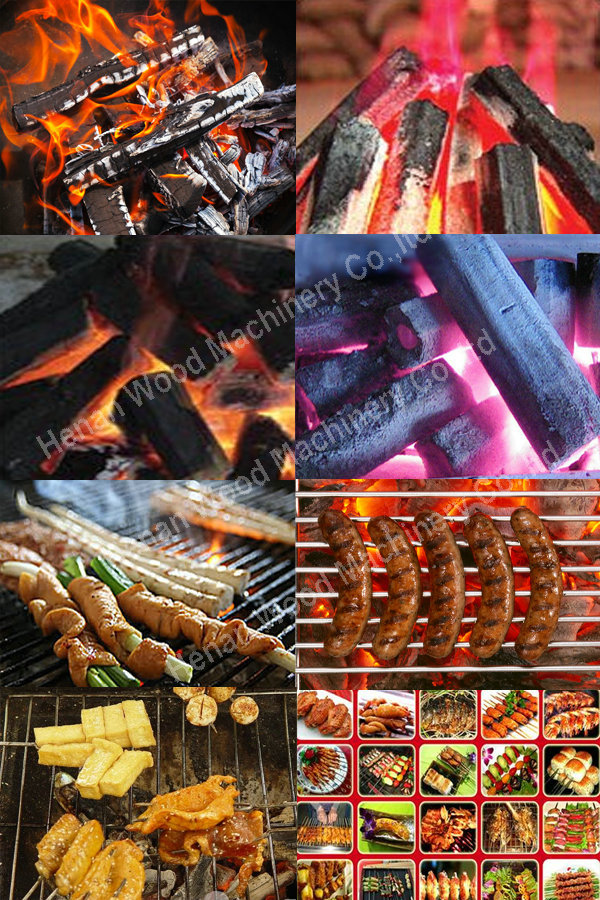 E):Packing And Sending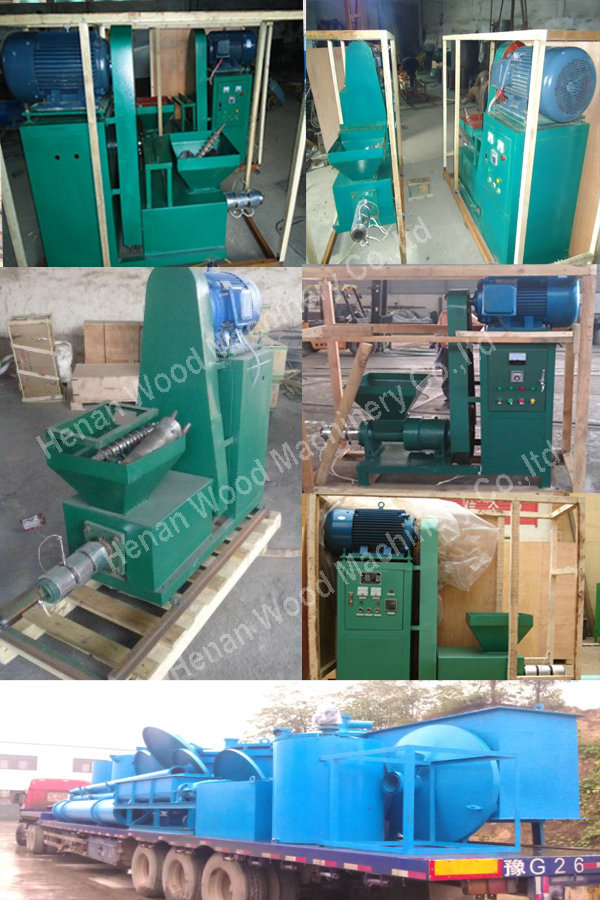 F):Whole Line 5 Sets Together
G):Whole Line Flow Chart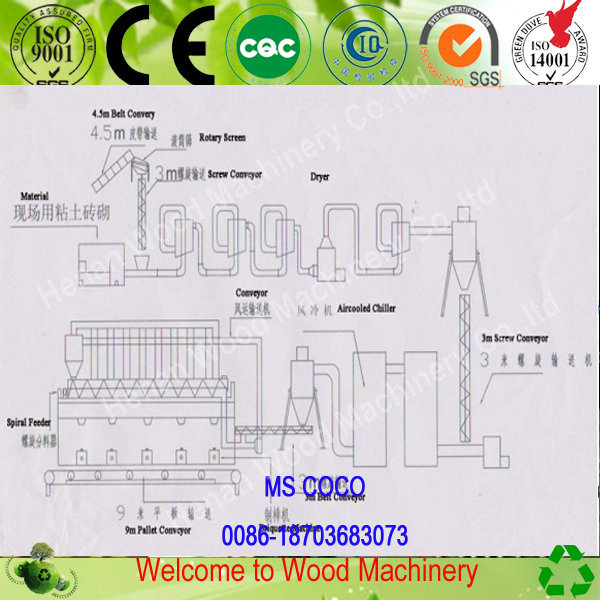 H): Customer Visit Picture
I):Our Factory Picture
4. Name Card: