Large stage electric screen is suitable for high definition playing or presentation in location with large space. Screen is stable with metal casing and heavy-duty tubular motor, ensures the screen remain flat and the movement smooth. Durability and functionality can be counted on for use in all large venue applications. Suitable for venues such as theater halls, large performance, auditoriums, command centers etc. Can be installed by wall mounted, ceiling hanged .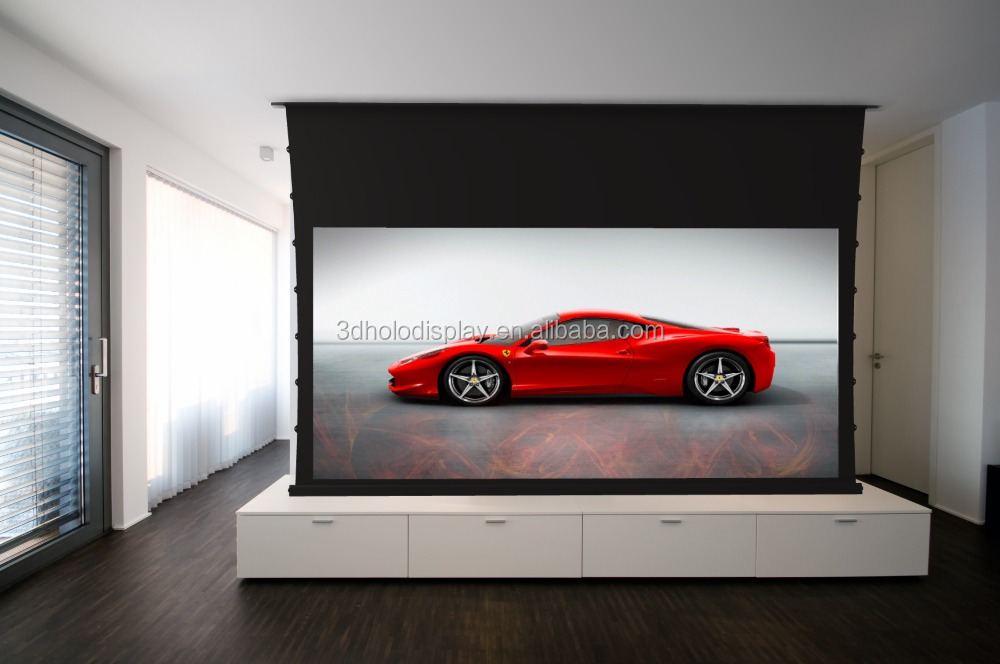 Seamless Fabric
View area size up to 5 meters in height(means size can be up to 300" format 4:3 or 400" format 16:9)could be seamless. Seamless fabric ensures the quality of high definition playing or presentation.
Remote control can control either the screen or the default extended height. The range of control is long enough to 25 meters. With a combination of up, down and stop press can conduct all movement of the screen.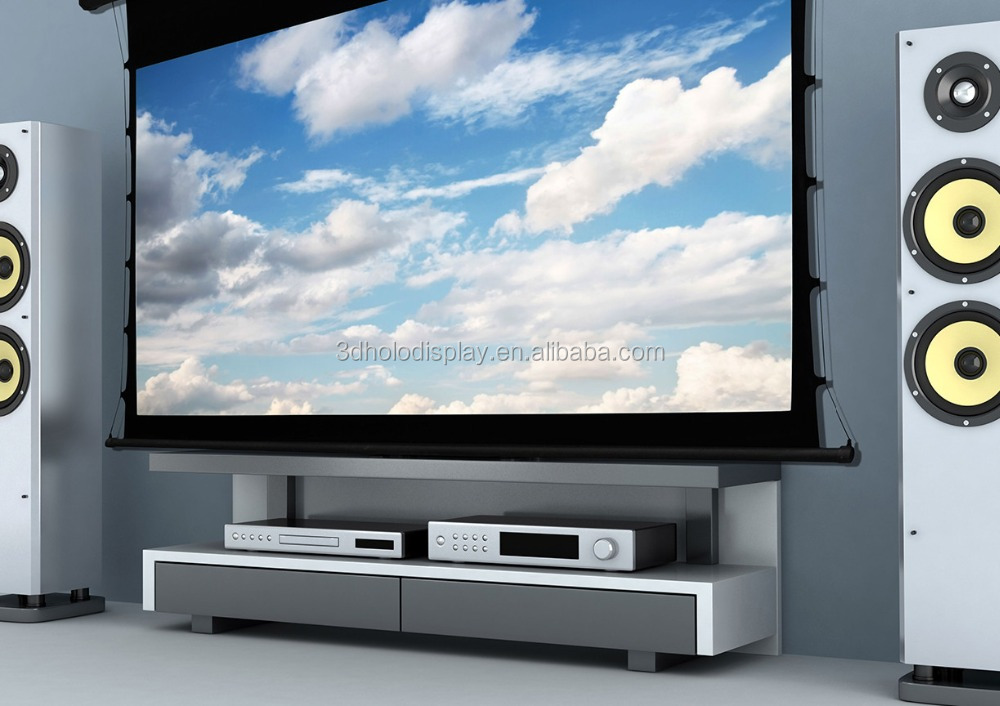 Features of Electric Screen
High quality spraying painting metal casing is shaped by punch machine, strong and elegant, white or black color is available

Use the best quality screen fabric to ensure perfect flat surface

Equipped high power tubular motor to ensure big power and the long life of screen

Ease of installation, wall or ceiling mounted are available

Standard in-line switch control system with high stability and switch includes, Remote controller is optional to control the screen friendly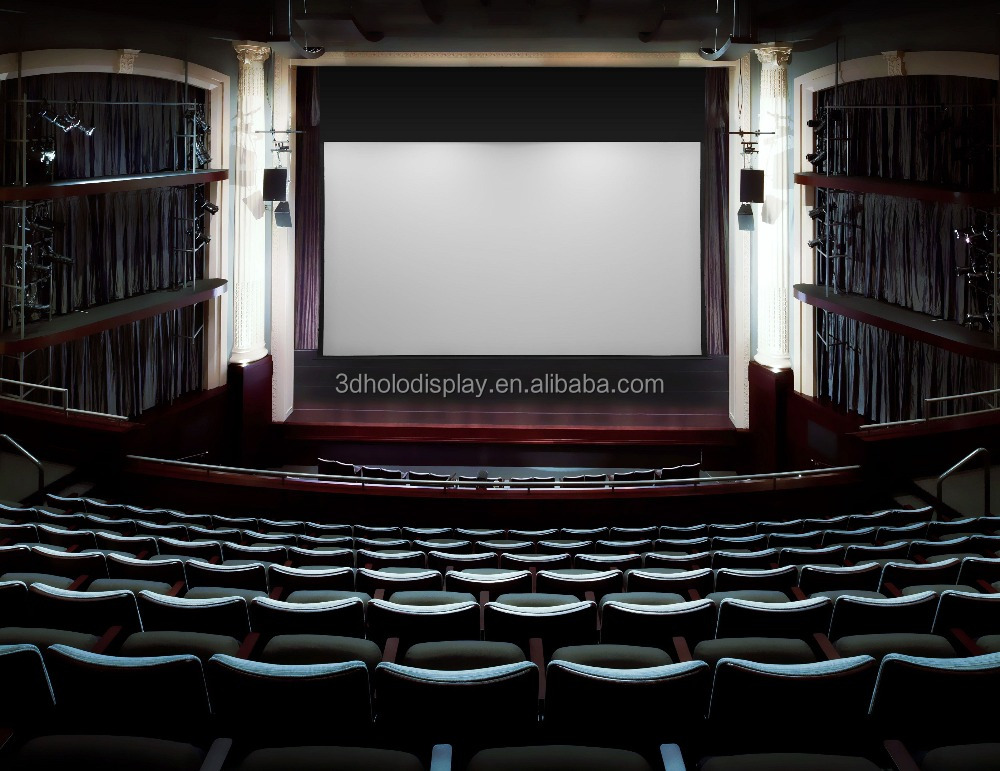 Main applications
Large Cinema,Multiple-function Hall,Auditorium,Hotel,Large Stage,Conference Room,Exhibition Center,Army System etc.
Fabrics are available on our Large Electric Screen
Fiberglass Matte

Quality Matte White
Screen parameter
Model No.

Size

Format

View Area

Screen Length

Packing Size

G.W

(Inch)

WxH

L

LxWxH

(Kg)

Unit: mm

Unit: mm

Unit: mm

Unit: Kg

LES120

120"x120"

1:1

3000x3000

3135

3360x200x160

35

LES140

140"x140"

3600x3600

3915

4030x240x200

55

LES160

160"x160"

4000x4000

4320

4330x240x200

80

LES200

200"x200"

5000x5000

5375

5380x240x200

150

LEV180

180

4:3

3660x2740

3915

4030x240x200

45

LEV200

200

4060x3040

4320

4330x240x200

60

LEV250

250

5080x3810

5375

5380x240x200

140

LEV300

300

6090x4560

6370

6470x367x314

165

LEV350

350

7110x5330

7380

7480x367x314

185

LEV400

400

8120x6090

8390

8490x367x314

210

LEV450

450

9140x6850

9805

9905x438x366

320

LEV500

500

10160x7620

10825

10925x438x366

350

LEH200

200

16:10

4300x2690

4585

4685x273x236

80

LEH250

250

5380x3365

5660

5760x367x314

150

LEH300

300

6460x4035

6740

6840x367x314

170

LEH350

350

7535x4710

7805

7905x367x314

190

LEH400

400

8615x5380

9280

9380x438x366

300

LEH450

450

9690x6055

10355

10455x438x366

330


Professional carton package for saving transportation, it can be shipped by air or sea.
Shipping way:
Sample will be sent by DHL express and bigger quantity will be sent by sea.
Trust us over 10 years experiences for export.
You are very important to us and our aim is to make you not only one of our customers, but one of our fans. Part of our excellent customer service is to offer discounts on multiple purchases when we can.
We supply 24 hours service by the following way:
Skype: smaxscreen2
E: sales002#3dholodisplay.com
Shenzhen Smx Display Technology Co.,Ltd is a professional manufacturer specializing in R&D, manufacture and export UHD Projection Screens, Stage Holographic System, 180°/270°/ 360° Hologram Display Showcase, Large Pyramid Holographic Display and other projection related products.
Our products include,
Projection Screen: Motorized Screen, Manual Screen, Tripod Screen, Electric Floor Screen, Motorized Tab-tensioned Screen, Fixed Frame Screen, Curved Fixed Screen, Fast-fold Screen, Eyelets Screen, Rear Screen etc.
Stage Holographic System: Musion Eyeliner Foil, Stage Holographic Foil, 3D Holo Foil, Stretcher System, Bounce Screen, Stage 3D Reflection Film.
Film: Projection Film, Holo Reflection Film.
Hologram Display Showcase: 180°/270°/ 360° Holographic Display, Large Pyramid Holographic Display, Holocube, Pyramid Hologram Glass.
If this all seems a little too technical for you, then why not get in touch with us...
We're always happy to help and offer advice. Simply email us using the link below.
Customer Services: info#3dholodisplay.com
If this product is not for you, please view our range of other items by searching in our one line website.