Brief Introductions of Moringa Oleifera Extract:
Product Name:Moringa Oleifera Extract Powder
Botanical Name: Moringa Oleifera
Part Used:Leaf

Active Ingredients: Saponins, Polysaccharides
Specifications: 10%Saponins, 3%~5% Polysaccharides
Extract Ratio:4:1 ~ 20:1
Appearance: Brown yellow or Green fine powder
Brand Name:Hunan Nutramax

Extract Method:Water/Ethanol
What is Moringa Oleifera Extract produced in Hunan Nutramax Inc.?
Moringa(Moringa oleifera Lam.) is tropical deciduous Perennial trees, height can reach up to 10 meters. The tree is native to India but has been planted around the world. Moringa contains balanced and rich nutrients, The leaves contain all essential amino acids and are rich in protein, vitamin A, vitamin B, vitamin C, and minerals. it is one of the richest sources of essential nutrients often lacking in people's diets.
Moringa powder is made from the freshly harvested leaves of the Moringa oleifera tree. Fresh Moringa powder has a deep green color and a rich nutty smell. The nutrient-packed powder is soft and fluffy when it is pure and grown in organic conditions. It dissolves easily into water or juice and is an excellent ingredient in a variety of healthy recipes.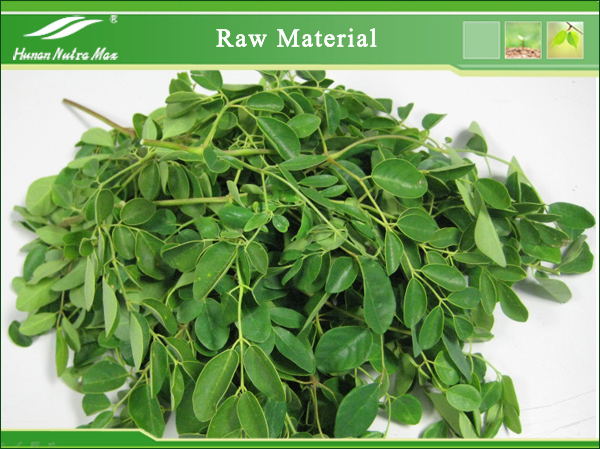 Where will Moringa Oleifera Extract be uesed to?
1,It inhibits the growth of gram-positive and gram-negative bacteria.
2,In high concentration it inhibits the growth of fungus.
3,It acts as potent antitubercular and used to cure liver diseases.
4,It stimulates the sympathetic nerve endings.
5,It accerlates the heart beats and constritic the blood vessels.
6,It inhibits the tone and movements of involuntary movements of the gastrointestinal tract.