New generation q switch nd yag laser machine 1064nm and 532nm tattoo removal nd yag laser price
1. Tattoo removal nd yag laser
2. Laser type:Q-Switched ND YAG laser
3. Wavelength:1320nm & 1064nm & 532nm
4. Spot diameter:2-5mm adjustable
5. Cooling system:wind + closed water circulation cooling
6. Display:6.0"button screen
7. Output power:800W
8. Pulse energy:0-1600MJ
9. Pulse width:5-10ns
10. Frequency:1-6HZ
11. Voltage:100-110V/50-60Hz;230-260V/50-60Hz
12. Machine size(L*W*H):33*35*53(cm)
13. Machine net weight:14KG
Pictures of tattoo removal nd yag laser
Operation skills for tattoo removal nd yag laser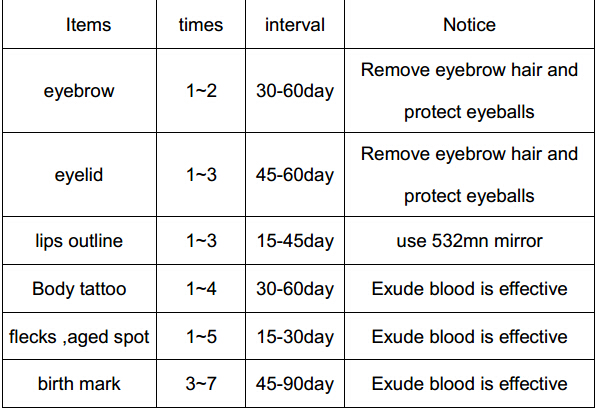 Effective of tattoo removal nd yag laser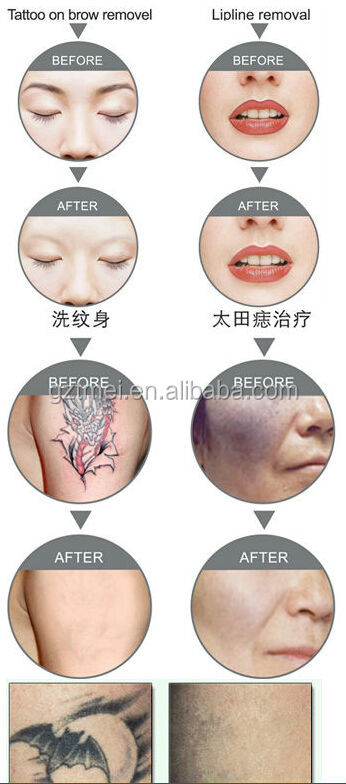 Energy reference
Notice
A.1064nm(round mirror)for blue and black colors
B.532nm(square mirror)for red and brown color

Before & after treatment by laser
1. Preparation before treatment by:
1 No inflammation in the treatment part.
2 No treatment for pregnant woman.
3 Fomentation on the treatment part avoid skin dehydration.
4 No cosmetic left, clean the treatment part.
5 Taking photo before treatment, compare the effect after operation.

2. Skin appearance after treatment:
1 Reddish swelling on treatment part on the moment, it will disappear shortly.
2 To some special customers need to be higher, when you make the Volt too high, there comes the scab, but it will drop off naturally after 7 days, not to scratch it, skin becomes normally
about 2 days. Taking some Vitamins can lighten the pigment circumfluence. Usually there is a feeling of scorching or slight bleeding, it is normal and no scar.
3 When the scabs fade away, the treatment part shows pink, 2-3 weeks late it appearscoffee color, and 1-2 months later recover.
CE certificate