K9 damaged used cars for sale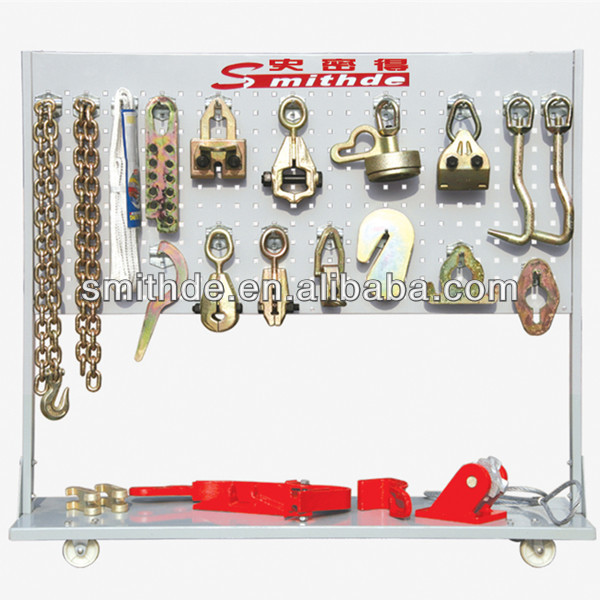 Technical Data:
| | |
| --- | --- |
| Platform Length | 3400mm |
| Platform Width | 890mm |
| Platform Height | 120-1700mm |
| Pulling Capacity | 95KN |
| Air Supply Required | 0.8MPa |
| Radius of Pulling | 360 degree |
| Max. Load | 2500Kg |
| Gross Weight | 1000Kg |
We reserve the right to modify the data to meet the demands of everchangeful market.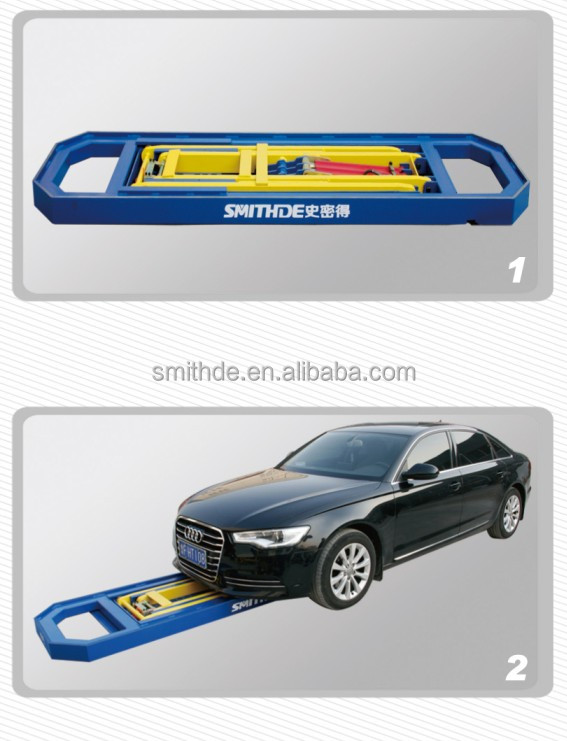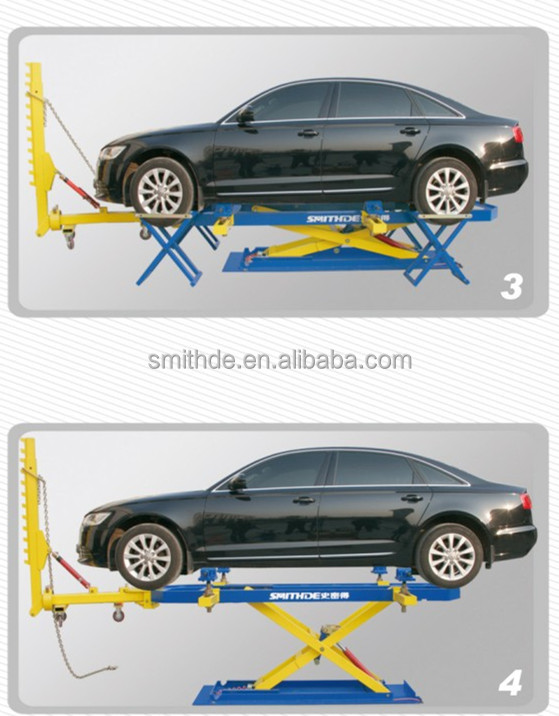 Features of Portable Smithde K9 car body repair bench with CE: (Export Type)
1. European style K9 damaged used cars for sale is in accordence with European advanced technology,researched operators actual need,i,e,the advanced and disadvantage of European equipment,considered every kind of sheet mental actual condation.This is to be simple ,practical ,safe,precision,so it is a classic in European style frame equipment .
2. European working frame machine,welded with cold high alloy rectangular tubes,high flatness and high intensity.
3. Vertical lifting platform,it can be down to 120mm from the floor,and make sure any of the accident car is convenient for up and down,Also it doesn′t need to hide in the floor.it can lift to 1400mm from the floor,provide you a multi-use platform.
4.High degree freedom tower,easy to move,strong and fast to fix,wide working range,and there is no blind area for stretching,high strength,durable.
5.The unique patented desigh universal main clamp.Mechanical streamline streamline desigh of the jam after carburizing,heat treatment process to ensure the rapid clamping of various auto models,improved work efficiency and service life.
6.Configuration of variouds tools almost considered all kinds of car deformation correction.Lifetime limited warranty under normal use and in according to the requirement of equipment use.
7.The hydraulic system is reliable,long life,powerful,The maintenance is quick and easy.
8. Globle synchronization of the body database information to ensure that the latest and fatest body data.
Optional accessories
Smithde is in terms of researching , producing, selling and providing after-sale service of car repair equipments. Our company determines to produce more practical , innovative and more cost-effective products.
Our company has absorbed the advanced technology of European and American countries, and we are dedicated to building auto body calibrate equipment of top quality.
1.Are you a factory or a trading company?
we are a factory and all machines are produced at our own factory.
2.How long is the production?
Within 10 working days after receiving deposit.
3.What is the main product?
Auto body collision system, car repair machine, spray booth, car lift and etc.
4. Which yard specified or recommended your products?
Volkswagen, Hyundai, Citroen, KIA, NISSAN, FORD, HONDA, BJC etc.
5.What's the warranty time?
Three years with good after-sale service.
If you need any additional information about our product, feel free to enquire any time.
You are also warmly welcomed to visit our factory. ^_^
Address: No. 98, Tongxing Road, Yongda Street, Fushan District, Yantai, Shandong, China (Mainland)
Phone Number: 86-0535-6946988