blacksmith power forging hammer / steel bar/ sword machine
1. Metal Hot Forming, Hot Forging, Hot Upsetting, Hot Pressing.
Standard components hot forging, bolts & nuts hot forging, fasteners hot forming,automobile and motorcycle parts hot pressing, metallic tools hot forming.
2. Heat Penetration
Bar materials hot forging, round steels forge heating, square steels hot forging, copper bar hot punching,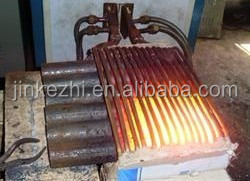 this is the bolts and steel bar hot forging machine design
3. Metals Continues Hot Forging
Hot forging of embryo gear parts, Gears hot forging, axle shaft hot forging, connecting rod continues hot forging, Bearings precision forging
4. Heat distortion
Pipes Heat distortion, pipe bending, stainless pipe Heat distortion, copper rod Heat distortion, steel billets heat distortion, steel pipe heat bending
this is the steel bar hot forging machine
5. Hot Rolling Heating
Steel rod hot rolling, steel billet hot rolling, copper rod hot rolling, square steels hot rolling, bar hot rolling, hot coating
6. Other forge heating applications, Such as hot extrusion, hot squeezing, partial heating, heating before hot cutting, hot fitting, thermal refining
MFS Series Medium Frequency Induction Heater Product Features
1. IGBT(SIEMENS) technology, high conversion efficiency
2. Energy saving 15%-30%, compared to SCR/KGPS technology
3. Much more efficient than gas-fired and coal-fired method
4. 100% start-up success rate; power factor > 95%
5. Perfect and complete protection functions, increasing machine's reliability & stability
6. No special foundations required, Low operating cost, Easy operation
7. Modular design, ease of maintaining and repairing
Product Advantages
1. Energy saving, Environmental protection, Low pollution level
2. Easy operation, can be equipment with PLC controller
3. Miniature and light weight, Economic Space Occupation, Easy installation
4. Enhanced monitoring and diagnostics system—"JKZ-PS" device, guarantee the machine of high stability, reliability and security.
5. Strict Supplier Management System and ISO9001-2008 Quality Management System guarantee high quality of each equipment.
6. Customized services, which made machines as per customer's requirement