HC-06 Wireless Bluetooth Transceiver Slave Module bluetooth wireless serial module
1.Aggressive price
2.Rohs
3.Excellent pre & after sale service
Deatils :
Module Parameters:

1.PCB Dimensions: 37.3mm (length) * 15.5mm (W)
2 Weight: 3.5g
3 Input voltage: 3.6V - 6V, 7V ban over
4 power anti-reverse, reverse module does not work
5 leads to 4 feet: VCC / GND / RXD / TXD
6 with a status indicator, Bluetooth pairing is not successful, LED flashes; After successful pairing, LED lit
7 onboard 3.3V regulator chip, the input voltage DC 3.6V-6V; when unpaired, current does not exceed 40mA (because LED lights flashing, the current state of change); pairing is successful, the current about 4mA
8 interface level 3.3V, you can directly connect a variety of microcontroller (Arduino / 51 / AVR / PIC / ARM / MSP430 etc.), 5V microcontroller can also be directly connected. Directly connected to the microcontroller serial port, not through the MAX232 chip!
9 open area effective transmission distance of 10 meters, over 10 meters are possible, but do not guarantee the quality of the connection
After 10. pairing is successful, can be used as a full-duplex serial interfaces. Without knowing any of the Bluetooth protocol, but only supports 8 data bits, 1 stop bit, no parity communication format. This is the most common communication format, not support other formats!
11 when a Bluetooth connection is not established, you can set the module baud rate, name, password pair AT command, parameter setting down save after Bluetooth connection is automatically switched to transparent mode
12 The module is a slave, can and various computer with Bluetooth, with most Bluetooth-enabled mobile phones, PDA, PSP and other intelligent terminal pairing, slave and slave pairing between the machine
13 modules default baud rate is 9600, the default passkey is 1234, the default name for linvor
14 with transparent shrink tube protection
wiring methods:

VCC: positive power supply
GND: power supply is negative
RXD: the receiver, Bluetooth module receives from another device sent data; normally connected to other devices transmitting end TXD
TXD: sending end, the Bluetooth module to send data to other devices; receiving terminal is normally connected to other devices RXD
Package contents:
1* HC-06 Wireless Bluetooth Transceiver Slave Module bluetooth wireless serial module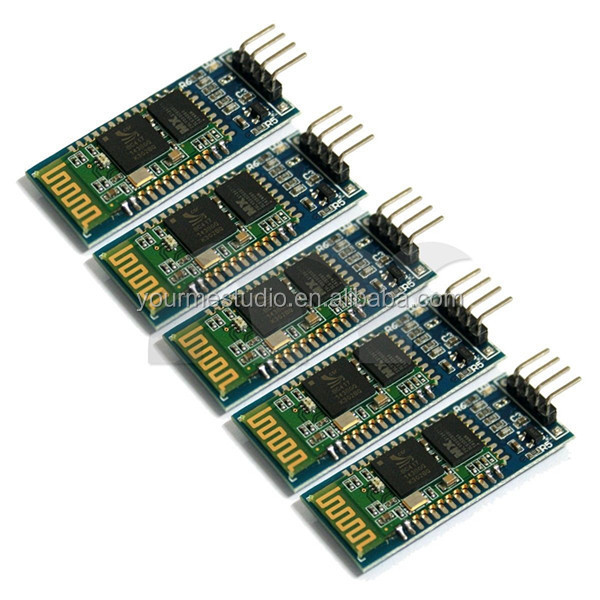 Welcome to YOURMESTUDIO.COM
We have a professional sales team which will service for you within 24 hours.
We will always remeber "Customers is our eternal God"!
We are looking forward to establishing business relationship with you.
All in all, Reputation First, Custoers Foremost is the aim of our service.