New products pre inked rubber stamp with competitive price/Factory supply nice rubber stamper
The extensive range of Pre-Ink Stamps offered by our company is supplied using
the latest flash stamp technology. High quality material is also used at our unit for
ensuring reliability and long lasting performance. These stamps are capable of
producing more than 20,000 impressions and are also re-inkable. Customers can
easily refill the stamp in 5 different colors namely black, blue, red, purple and green.
Our pre-ink stamps are ready to use anywhere at any time because of the oil based
pre filled ink. It leaves a lasting impression and do not get blurred over the time.
Variety Available:


· Custom Pre-Ink Stamps

· Stock Pre-Ink Stamps

· Custom Pre-Ink Stamps With Logo/Photo

· Signature, Greeting & Teacher Pre-Ink Stamps

· Inspector Round Pre-Ink Stamps

· Pre-Ink Stamps In Key Rings, Pen, Mouse, Pocket

· Executive Class & Corporate Gift Pre-Ink Stamps
Specialty:
· Time Saving

· No Ink Pad Required

· Neat & Clean

· Cost Effective

· Hassle Free Stamping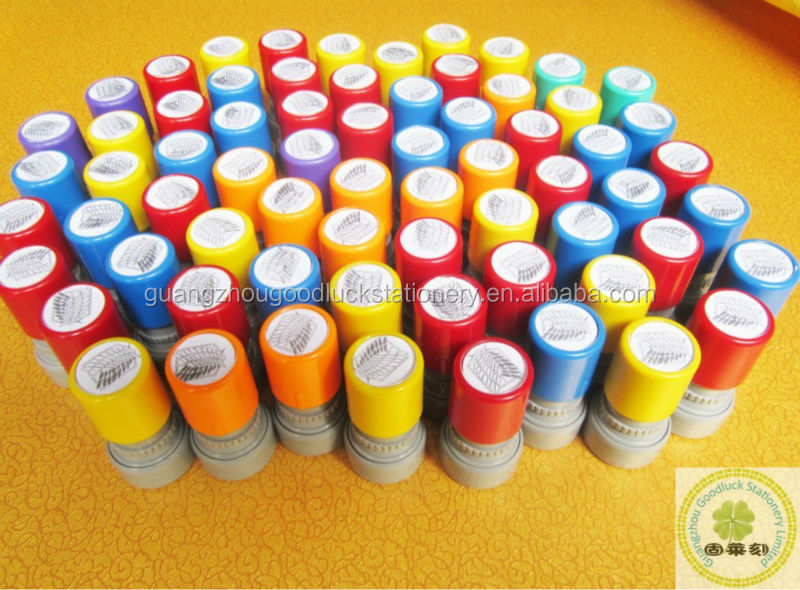 The GOODLUCK self-inking stamp, with durable frame structure and comfortable grip,is a huge improvement to previous generations of self-inking stamp . In particular,The new design features an innovative lock system which makes replacing the inkwell a Seamless task. With these distinctive features, the self-inking stamp series complement the range of stamping products in "impressing the world".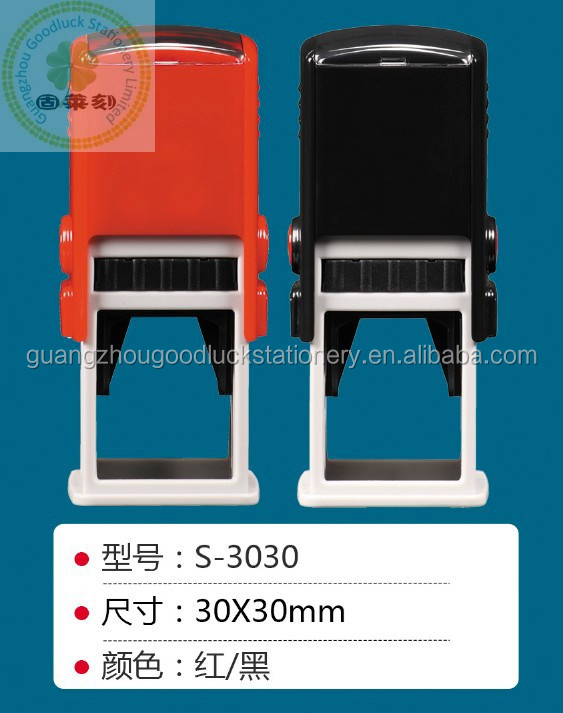 For frequent and repetitive use in daily office work. This multi-purpose plastic self inking stamp has a text view window for easy identification of your personlised message.
1.Material:ABS.
2.Copy Area: 27*10mm/38*14mm/47*18mm/59*23mm/69*30mm/76*37mm, ect.
3.Ink olor:black/blue/red/purple/green, etc.
4.Every Self-inking Stamp comes with a replaceable ink pad.
5.Custom Your Own Logo.
Payment Terms: Paypal, Western Union, T/T, etc.
THANK YOU!
1.Please offer your designs by CROWDRAW, AI, PS.
2.Wholesale and retail are both welcomed.
3.large quantity can enjoy good discount.
Wax Seal Kit Deluxe
We are leading the way in wax seals and sealing wax.....
We can design our seals with your LOGO, INITIALS, FAMILY CREST or IMAGE or one of our stock images.
Use your wax seal stickers not only as custom envelope seals but as wax seal labels on products and their packaging. Wax seals will be produced using a unique faux wax that looks and feels like the real thing.
Our faux wax seals are flexible and will not crack or break when sent by mail. We have over 70 standard colors and can custom match any pantone! We carry 3 different types of sealing wax.
We carry 3 different adhesive types for all sorts of applications from envelopes to glass bottles to metal boxes.
We offer a selection of over 20 different shapes and sizes starting at ½" and up to 3″ – round, square, oval, rectangle, oblong, heart, octagon, or triangle. Custom shapes and larger sizes can be accommodated, just email us the details.
Engraving depth is always manually controlled to ensure your image is created to preserve the integrity and clarity while producing wax seals that looks amazing every time.
Our same day electronic proof process ensures depth requirements are gauged appropriately. For recommendations tell us more about your project. Our high speed equipment produces seals in a method that mimics hand stamping; creating very unique and timelessly beautiful wax seals.
With an in-house team, we work hard to help you meet the tightest timeline with all orders.
Do you need samples? we can offer you the samples, please feel free to contact us!
Historically, wax seals were used on the outside of envelopes to enclose letters; the personalized seal also alerted the receiver as to the identity of sender. In the early 21st century wax sealing is no longer a necessity, as there are self-sealing envelopes, but it can be used to add a personal touch to the art of letter writing. The method can also be used for added elegance with wedding invitations. The simple method of pressing hot wax with a decorative seal demonstrates the writer's thoughtfulness and care to the recipient.
Welcome to inquiry us!

About Us.
Guangzhou Goodluck Stationery Limited is a professional manufacturer engaged in the research, development, production,
sales and service of stamps such as wax seals, embossing seals, toy stamps, and office stationery stamps, rubber stamp materials etc. We are located in Guangzhou City, Guangdong Province which is near CHINA IMPORT AND EXPORT FAIR LOCATION,
Welcome to China, welcome to GOODLUCK!

Selling well in all cities and provinces around China, our products are also exported to clients in such countries and regions as
Southeast Asia, the Middle East, Oceania, Europe and America, and are favorably appraised by clients. We also welcome OEM and ODM orders.

Our professional sales representatives attentively listen to each customer and respond to all enquiries with market information and suggestions.
Our company fulfills your needs from sourcing to shipment.

We guarantee prompt response to all enquiries of different products. "Complete satisfaction to our customers" is our priority.

When you choose us, honest attitude, professional product knowledge and service, double-win concept will be always with you. Trust us would bring you GOODLUCK!