Decorative art titanium fancy tempered glass mirror sale

Decorative art titanium fancy tempered glass mirror sale
Size (L*W)

2200 * 1650mm, 2440 * 1830mm.

custom sizes

Thickness

6mm-15mm

Material

Glass

Technic

Tempered glass, hot melt glass, frosted glass,mirror glass

Glass color

Blue, green, purple, yellow, red, pink, etc.

Packing details

Wooden Box and inner foam packing

Packing size (L*W*H)

As per the actual situation

Payment

30% T/T in advance, and balance before shipment

Delivey time

Approx 25 days(as per your quantity), 30%T/T in advance

Certification:

CE/ISO/SGS/CCC

Applications

Kitchen, Bar& Nightclub, Bathroom, Restaurant& Transaction desk& Glass shelves,

Stair treads& Floor& Bridge
OUR PRODUCT
Why ZhitaoGlass art glass are sustainable and a healthy choice :
100% fully

recyclable

No sealants

or harsh chemicals are used to produce them

Maintenance-free and

highly durable

No emissions released and

no negative impact on air quality

Radon free

(compared to granite)

10 points LEED

for Homes

23 points NAHB

Model Green Home
WHY YOU SHOULD GET ART GLASS PANEL FOR YOUR HOME OR OFFICE?
Wow factor that makes it the focal point of your home

High-end appearance

Maintenance free

Non-porous, making it suitable for Kosher home

Most hygienic glass on the market

No Cross-contamination

Can endure high heat without cracking or scorching

Impossible to stain

Textured finished underneath that masks fingerprints, common wear and allows scratches to go unnoticed

Can be edge lit to transform your glass panel, creating a floating and ethereal beauty
WHY USE GLASS IN YOUR ARCHITECTURAL PROJECTS?
Most noble material

Quality of glass: transparence, brightness

There is no fake, no imitation, no plastic, glass IS the real thing!

You can use glass in all types of applications (countertops, freestanding walls, signage, etc.)

100% recyclable

Can be used to add LEED points
UNIQUENESS
ZhitaoGlass has by far the most versatile process of the whole cast glass (thermoforming) industry.
Our unique molding process enables us to create new or repetitive textures. We have a wide range of textures for all types of projects.
ZhitaoGlass can create filled glass slabs unconstrained by thickness requirements. This is unique and opens a myriad of creative possibilities.
ZhitaoGlass uses state-of-the-art electric ovens —all custom-made— to satisfy the requirements of our unique production process. With over 20 ovens that can fulfill a vast number of needs and provide us with the flexibility needed to efficiently schedule and produce all possible endeavours, from small to large, and from simple to complex.
DECORATIVE PROJECT
ZhitaoGlass has many years of experience in home renovation projects , to provide the most professional renovation program for you!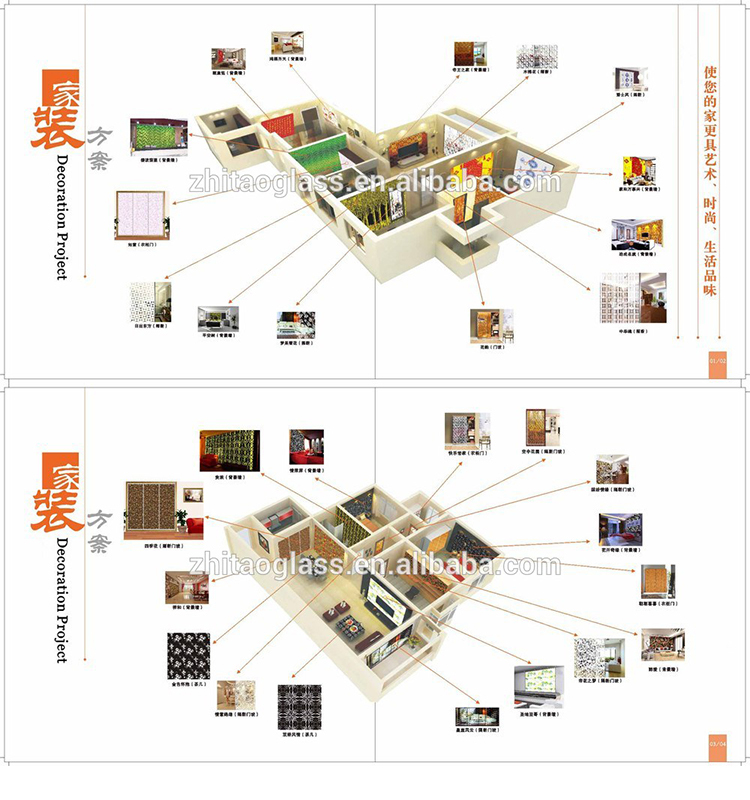 Decorative art titanium fancy tempered glass mirror sale
Decorative Art Glass:
Acid Etched Mirror Glass
Apply to senior silver mirror and colored silver mirror through multi-level silk screen printing and multi-level chemical polishing technology is made and be become. Its decorative administrative levels sense, strong expressive force. Change the traditional mirror glass decorative purposes
Is widely used in: hotel, entertainment, clubs, office buildings, fashion household background wall, wall body, porch (hallway), TV background such as large area decoration.
General Specifications : 2200 * 1650mm, 2440 * 1830mm. Thickness 3-15mm


Acid Etched Pattern Frosted Glass
The original selection of automotive glass float glass, toughness, high safety factor, its Frosted surface particles uniformly smooth feel, and its pattern of use of automated screen printing technique pattern texture clear, clean lines, uneven orderly, three-dimensional sense of strong, nearly 500 kinds of classic and innovative design has a unique patented technology, engineering and design of the perfect combination, creating a superior quality.
Main application: study, balcony, hall kitchen, bathroom, office, hallway, and so do cut off, screens, doors, windows, ceilings and other decorative purposes, will not affect the lighting, there is limited space to protect the privacy of watching sight were watching filtration permeate, create lose stylish room environment. Re-processing performance: can be used for tempering, bending, laminating, cutting, milling, drilling and other deep-processing technology. Can also be painted, the color of deep processing technology.
General Specifications: 2200 * 1650mm, 2440 * 1830mm. Thickness 4-10mm
Customers can specify the request processing.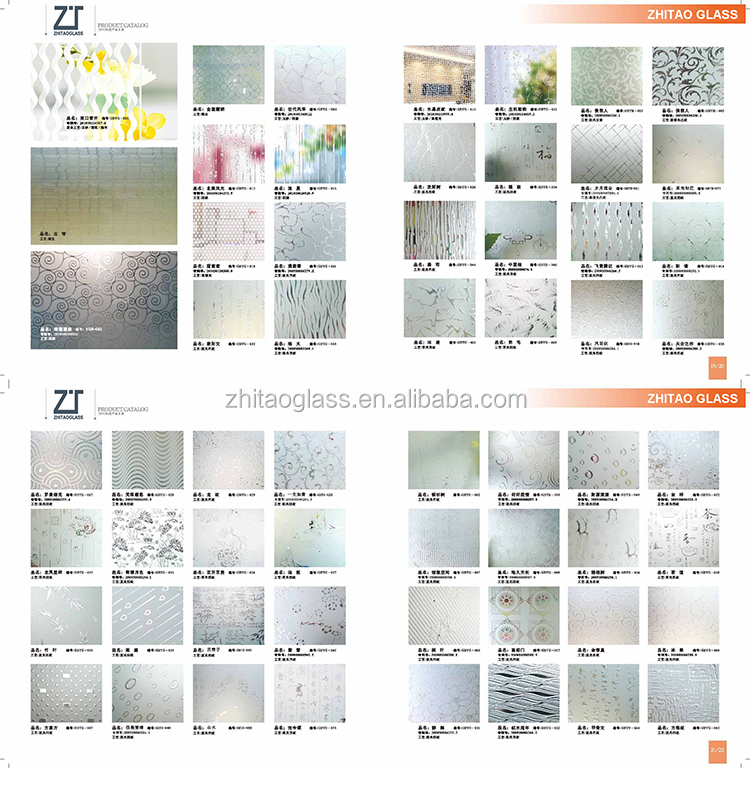 Carving Glass
Carving glass is divided into manual sculpture and computer carve two kinds of. The carve the depth that USES adept knife method and turn to cooperate artificially, can show simple sense of glass more, make place plot case grants person of be vividly portrayed experience. Carving glass is to live in a decorative glass has good taste in decorating; place plot case has individual character commonly "originality", reflecting the appeal place of bedroom host and pursuit.
Features:
1, the use of special effective components of etching agent of ammonium fluoride, less pollution, operating environment improved substantially.
2, don't need to layer, as well as saving the paraffin and gasoline, but also reduce the manufacturing process, improve the efficacy.
3, used in etching agent, reactants, simple configuration, easy to use.
4, compared with the past, was etched glass, are of good quality and low cost.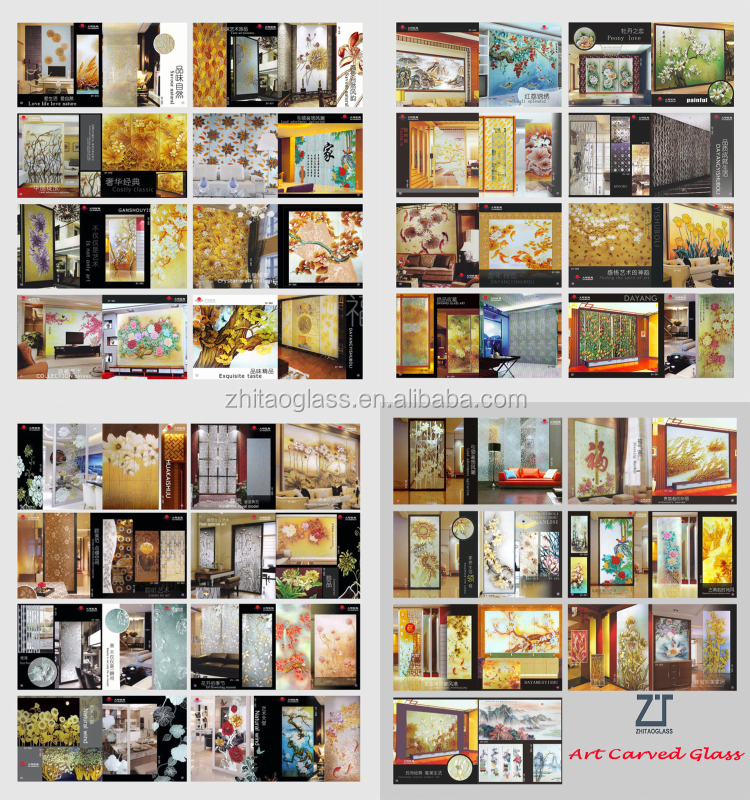 Hot Melt Glass
Hot melt glass, also known as crystal-dimensional art glass or called investment casting (Ssgging) glass. Melt glass are glass thermal processing, namely the seizure of flat glass, recessed into the molding; melt glass its unique decorative effect become a design unit, glass processing owners, decoration owners focus.
Using a special hot-melt glass is a hot furnace, and the inorganic pigment to the glass sheet as the main raw material, set a specific heating process and annealing curve, the glass is heated above the softening point, after annealing specially molded from the molding die, if necessary, further carving, drilling, cutting, etc. repair process after the procedure.
Significant advantage melt glass, rich patterns, stereoscopic, ornate, dazzling, solve common feeling monotonous dull decorative glass facade, the glass surface has a very vivid shape, meet people for a variety of styles and aesthetic decoration pursuit.
Melt glass variety, have been hot-melt glass tiles, doors and windows with hot melt glass, embedded in a large glass wall, partition glass, one-bathroom glass washbasin, glass art and other products to meet the greatly expanded scope. Can be used to make the living room TV and sofa backdrop, glass doors and windows, partitions, porch lights throughout.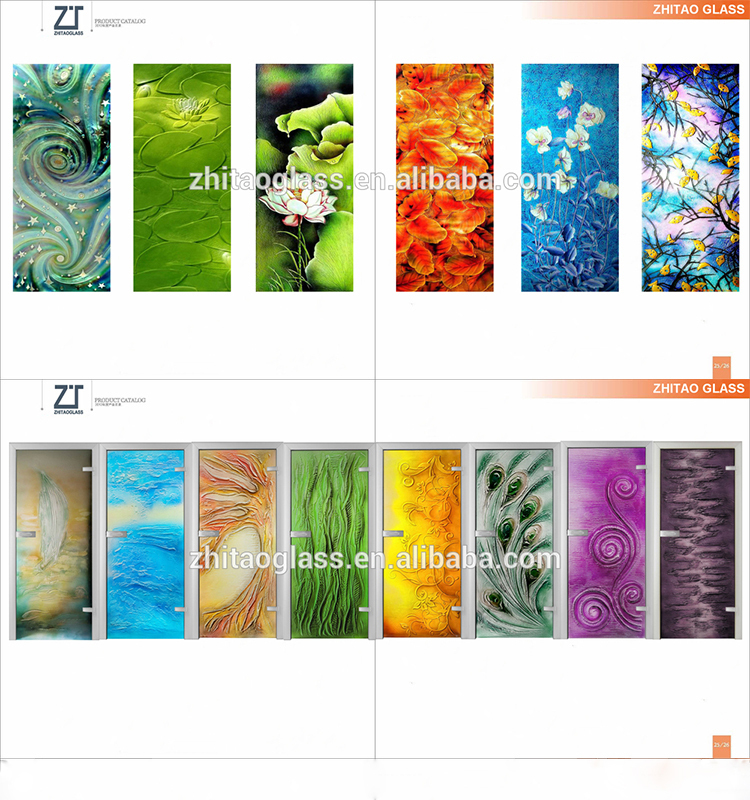 Plated Mirror Glass
The mirror technology development, more prominent level and three-dimensional , so that through force , Asia Li , Asia concave, concave complex , mandarin ducks , art mirror, color and other patterns comprehensive show more added Art Deco charm ; multi-level process, so that decorative function more stylish ; high technology manufacturing mirrors, so art glass applied more widely ; antique mirror , classical mirror sublimation again ; silver, gold tea, champagne , crystal gold , gold, purple , red and other colors are optional.

Float mirror thickness 2mm-8mm, mirror plate maximum size 2440x3600mm (96 X 144 inches)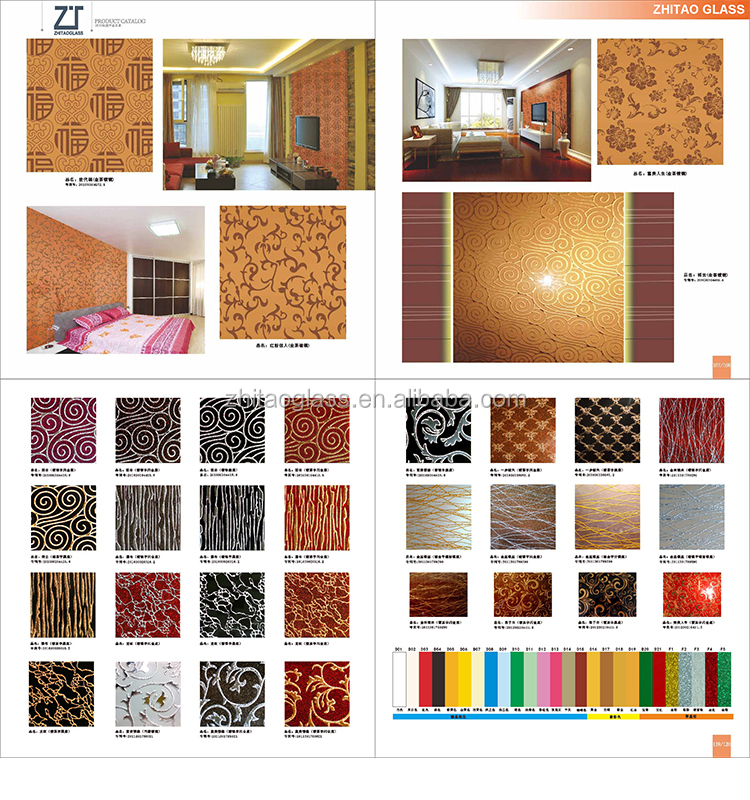 Texture Art Glass
Definition: a unique presentation layer type of process, the various popular texture on the advanced float glass, called skin texture glass.
Characteristics: good design uniformity, strong consistency, depth and texture level is outstanding, is a traditional sand carving skin texture, its approach, more transparent, inferior smooth, the color, the color, such as regent manner, and texture with hot melt glass, three-dimensional glass effect.
Compared with other art glass advantage:
1. The large size, large quantities of stock sales mode, will become more favorable texture of art glass, only a quarter of the cost of conventional texture glass, art glass dealers bring more convenient and fast operation mode and profit, also let consumer choice easier.
2. The transparent part inferior smooth, can use big board undertakes open again after cutting steel, hot bending, and other processing technology.
3. Gather colorful, regent part to enable the selection of security, for preventing explosion and the ritz process, to ensure that its use is more secure and practical.
4. The color is rich, unified uniform color, and strong and durable. Color combination is more perfect, can let the latest design, which can be widely cooperate with any elegance, fashion design.
5. Unique design art glass fabric, all design has applied for patent of appearance design, by the state intellectual property protection, beautiful, safe, art at an organic whole, created a new perfect decoration ideas, is to seek changeable and personalities of new art concept and a new choice.
General Specifications : 2200 * 1650mm, 2440 * 1830mm. Thickness 3-15mm
Crystal Art Glass
Selection of high technology, made of special high-strength, non-radioactive form various concave patterns on the basis of transparent glass material, the use of computer automated laser dimples add text flowing powder technology. Within the polymer with a colored powder mixed material filled with concave profile, high-temperature paint it again firmly attached to the bottom, and finally the use of automatic spray drying production line, the polymer ceramic glaze spray after repeated cycles. After baking at 180 degrees Celsius temperature glaze stars sturdy bottom, closely attached to the concave pattern glass bottom. And finally by the natural cooling that the formation of colored pattern glass. Bottom with no fading, delamination; acid, moist; prevent mildew; antifungal special features.
Its colorful, delicate luxury, design and the underlying multi-glaze colors, decorative, is a large area with a fine selection of art glass.
Crystal glass is widely used and hotels, office buildings, entertainment, nightclubs, upscale residential district, home fashion and other places for the lobby walls, pillars, room walls, elevator corridor, passage wall, background, entrance, television background, doors and windows, Kitchen walls, partitions, sliding doors and other large decorative purposes, giving magnificent, splendid fashion sense, it is a modern whole wardrobe, sliding doors, aluminum doors, glass mosaic, bathroom mirrors and other production industries preferred supporting art glass .
General Specifications : 2200 * 1650mm, 2440 * 1830mm. Thickness 3-15mm
Titanium Mirror Glass
Should the trend of the era of environmental protection , invested heavily in high-tech level with the world 's first automated continuous magnetron sputtering vacuum coating equipment of various titanium -sided mirror mirror mirror the name of environmental protection unleaded , semi-reflective glass , titanium pattern mirrors.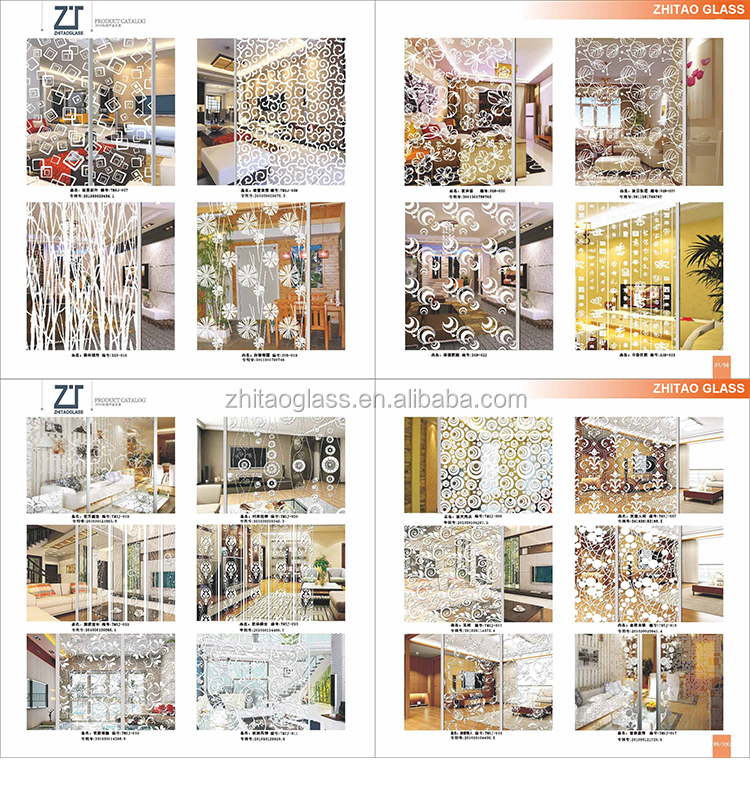 1.Package:
Product packaging containers or wooden boxes . Caused by easy application between each glass or paper bags packaging, glass and glass containers scratches and other cosmetic defects infill light and soft materials , the specific requirements of compliance with the relevant national standards.
2.Packaging logo:
Packing mark comply with the relevant national standards, each box marked " up , light moving light, carefully broken glass thickness , grade , name or trademark ," the words and so on.
3.Transport:
Products with various types of transport vehicles , transport rule conditions comply with relevant state regulations.
Transport, boxes are not flat or diagonal length direction and the direction of movement of the same transport vehicle with rain and other facilities.
4.Store:
Products stored vertically in a dry room.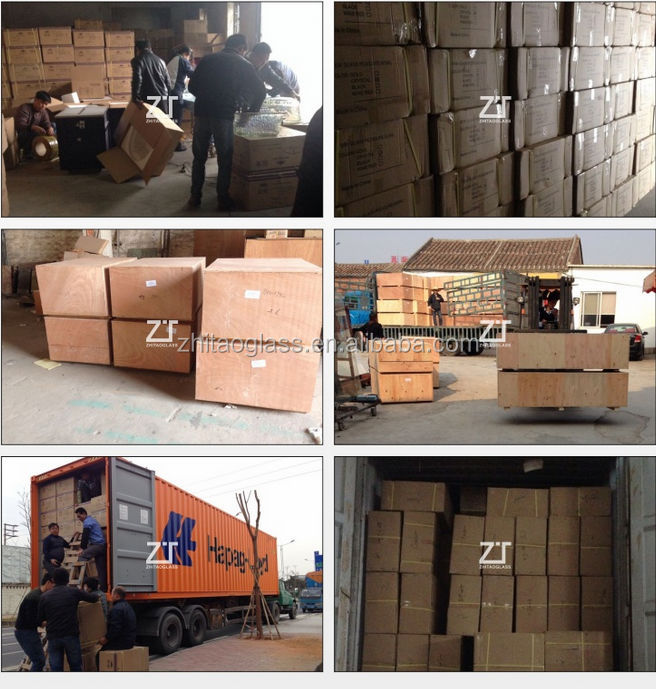 1.Foshan City Nanhai Zhitao Art Glass Factory is founded in 2004, is one to the development and production the art glass consisting mainly of product factory.
2.Our management tenet is "active development, perfect design, better quality, reliable service".
3.Our art glass is widely used for home decorations, hotels, restaurants, stores, office buildings and furniture decorations.
4.We also can supply furniture glass, decorative glass, glass mirrors, mosaic glass, KTV glass tables, colored glaze glass and casting glass. We can provide clients with various sizes and thicknesses of products, and the sizes, thicknesses and colors can be made as per your requirements.
5.Our company would like to cooperate with new and old customers to create a better future. welcome!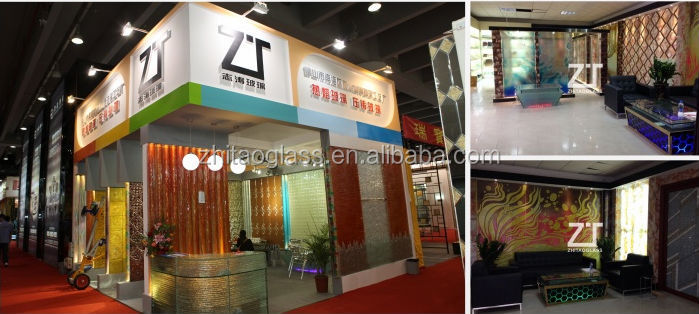 1. We have our own professional team for material market research that to choose best price and high quality.
2. All products designed by us. We have the advanced equipment (Tempered Machine, Hot-bending Furnace, Glass Edging Machine etc...) and hang production technology, from raw material to finished products manufactured by ourselves.
MARKET: North America, South America, Eastern Europe, Southeast Asia, Africa, Oceania, Mid East, Eastern Asia, Western Europe.
We accept OEM service, design service and buyer label offered.
If you're confused about our products?
Please email or call us toll-free at 0086-0757-85608589. We'll be delighted to help.
What is architectural art glass?
It is a marvelous blend of form and function. One-of-a-kind, handcrafted art pieces made to architectural standards of safety, sustainability and utility. Architectural art glass is expressed in forms such as walls, dividers, counter and tabletops, stairs, sinks and a wealth of other applications, limited only by imagination.
How long does it take to create and install architectural art glass?
Each project has a unique timeline, but typically, it takes four to eight weeks from design approval to installation. We are very flexible, however, and happy to work with you to adjust production and delivery to fit your schedule.
Does your glass meet safety codes?
Yes. Safety is an essential part of our fabrication process. Depending on the project specifications, we temper or laminate our glass to ensure safety without sacrificing artistry or functionality.
Do you offer classes in glass making?
We deal exclusively in the design, fabrication and installation of architectural glass.
How are your prices determined?
Pricing takes into consideration many factors, such as glass type, thickness, intricacy of design and complexity of installation. Since every project comes with its own unique set of requirements, prices vary accordingly. We regularly work with a wide range of budgets, and believe our prices reasonably reflect the quality of our products and service.
Mob:086-0757-85608589
Fax:086-0757-85683008
QQ:2881146353
Wechat: zhitao-glass
Skype: Zhitaoglass
WhatsApp:zhitao-glass
Web:www.zhitaoglass.en.alibaba.com
If you want to know more details -----
----- Please kindly contact us.