Introduction:
High smart crystal soil is a novelty hi-tech products, it is water absorbent polymer, which is able to absorb and hold 200 times of water for a long time, to release water gradually to supply the planting requirement.
The product is shining and colorful after absorb of water and looks like crystal, thus it can be used for planting and decoration.

Features:
1) Crystal soil is a new type of green environmental material
2) It's non-toxic, odorless and clear
3) It can absorb water up to 50 - 100 times of its original weight, and after expansion
it looks very colorful and brilliant
4) Used for indoor plants to make your home and office more unique and beautiful
5) 12 colors available: red, pink, blue, yellow, purple, orange, green, light green, whisky, clear, white, black

Application:
1.Fresh flower arrangements
2.Floating candle arrangements
3.Centerpieces
4.Clears Vases and Bowls
5.Air fresheners
6.Wedding Decoration
7.Parties
8.Events Planning
9.Christmas Gifts
Item

Original size

Expanded size

With water

time

water beads


2.0-2.5mm

10-12mm

10gram with 1 liter water

6-8 hours

2.5-3.0mm

13-15mm

3.0-3.5mm

16-18mm
Color Available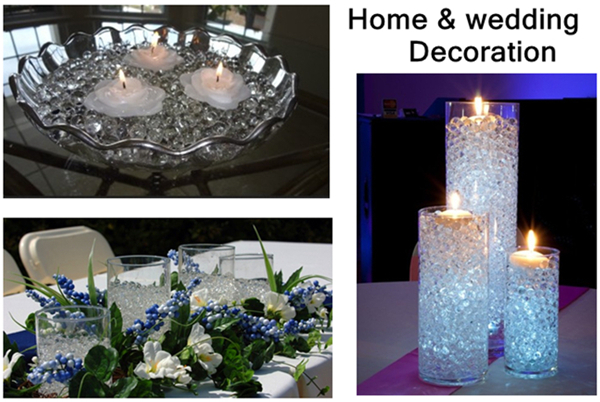 Free sample can be provided, if need!
Please feel free to contact us.