HDPE Sail Material and Shade Sails & Enclosure Nets Type outdoor garden sun shade net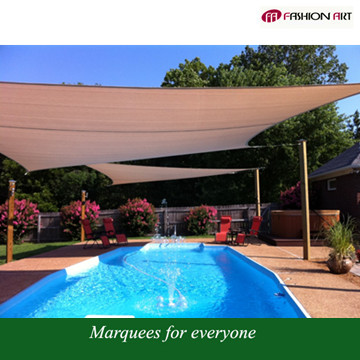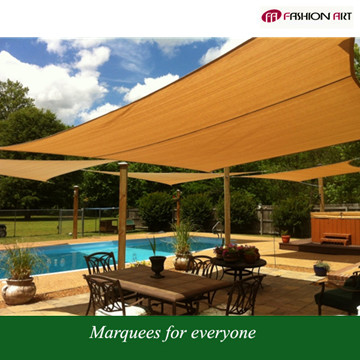 Shade Sails are made of high density polyethylene shade cloth that is especially manufactured with tensioned fabric structures in mind. The knit is made using monofilament and tape filler. The fabric is treated with a UV stabilizers to give it long life in direct sunlight. Depending on color, the average shade rating is approx. 90% and the UVR block is approx. 95%.
Custom and commercial sails are manufactured with a stainless steel cable double locked stitched into its perimeter. This cable terminates at a stainless steel ring located at each corner. These rings are then used to fasten the sail by either a shackle or turnbuckle to a hard point either on a post or existing structure. Each corner is further reinforced with extra layers of cloth and strapping to distribute forces. All stitching is performed using a locking stitch; outdoor "awning maker" thread is used throughout. The size of the stainless cable and rings as well as attachment hardware are engineered to be the appropriate size for each sail and application.
The perimeter of each sail has a catenary curve designed into it that controls the fabric tension in the center of the sail. Therefore, when tension is placed on the perimeter cable, the fabric will have uniform tension. They do not sag or flap in the wind.
Attachment hardware is all marine grade stainless steel and has locking mechanisms to assure that sails do not detach or come loose accidentally. Generally, one turnbuckle is used per sail, and the remaining corners are attached using "D" or "Twist" shackles of the appropriate size for the expected corner loading.
Specification:
| | |
| --- | --- |
| Fabric material | HDPE |
| Size(cm) | 400x500cm |
| Color | White,Yellow,Light Grey,Green,Light Green,Clear,Muti |
| Accessory | 5mm stainless steel D shackle at each corner |
| Ropes | Polyester rope material :(3pcs) |
| Facture | Environmental Material,Energy-saving,Strong anti-aging |
| UV retardant | Effectively block 90% UV damage. |
| Usage place | Swimming pool,yard,garden,grove.etc |
| Type | Shade Sails & Enclosure Nets |
| Package | 60cm x 60cm x 10cm |
| Gross Weight | 3.5kg |
| Warranty | more than 5 year |
Fabric: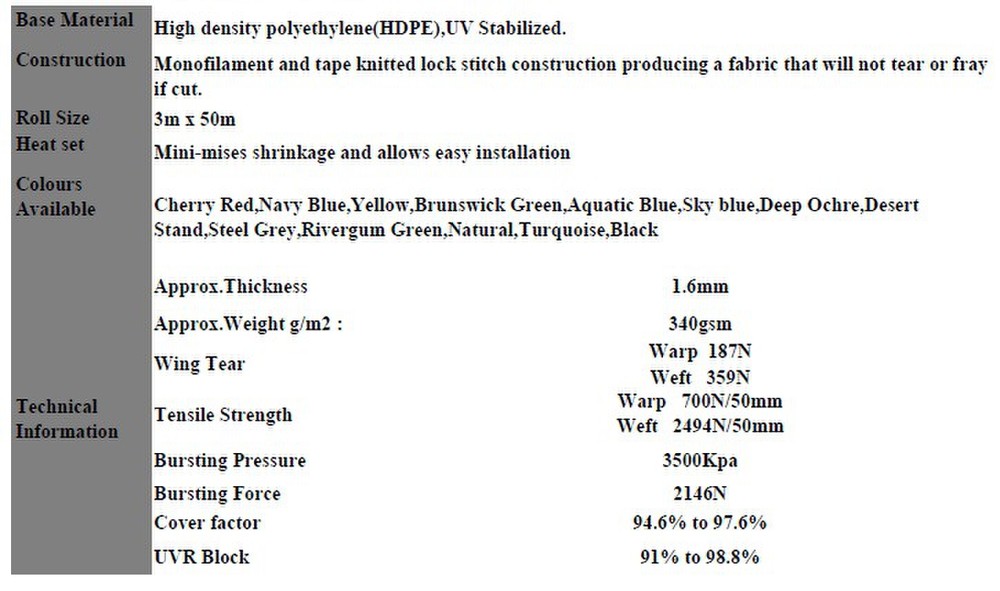 Size:
Color: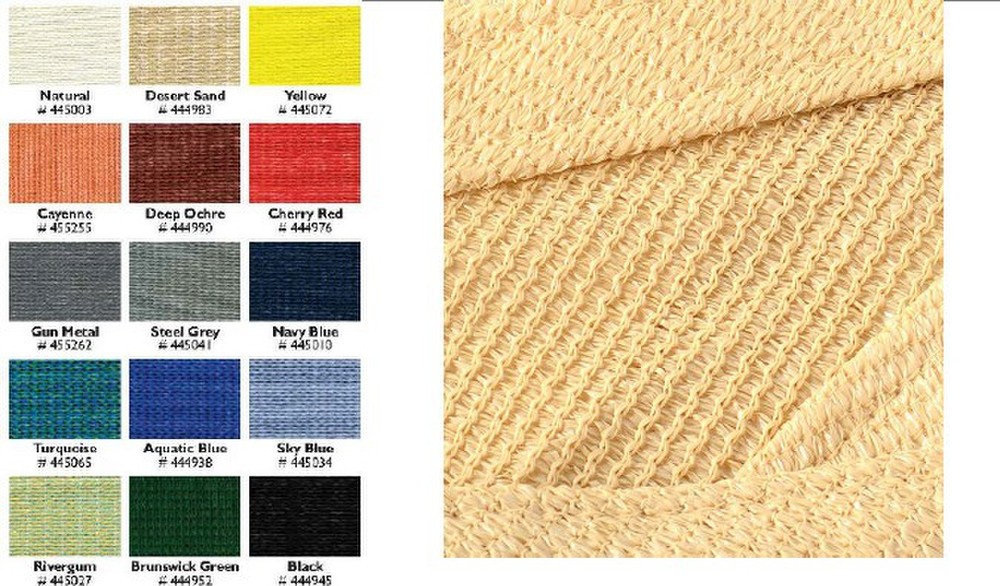 Our factory :
Shade sails or sun sails offer many terrific benefits for homes and businesses. Some include…
Flexible to suit almost any application: Shade sails come in all shapes and sizes and can be customized to suit almost any application. An experienced designer can design a sail that both enhances the appearance of your home and gives you many practical benefits. For some applications one large sail is best while for others it's best to integrate multiple smaller sails in an overlapping pattern. Whether you're looking for sun protection for your pool, patio, BBQ area, driveway, courtyard, entrance, veranda, play ground, sandpit or car park, an expertly designed shade sail is perfect. Shade sails are equally good for domestic and commercial applications. You may have seen shade sails used successfully at a restaurant, café, school, preschool, childcare centre, sports club, golf club, rotunda, amphitheater or even on the deck of a boat. Feel free to call us for a free in home consultation. We can even show you a 3D diagram of what your sail will look like on your home.
Excellent protection from harmful UV rays: Shade sail fabrics can offer as much as 98% block out of harmful UV rays. This means you and your children will be safe to play in the pool, sandpit or playground even on the hottest days. Be sure to seek expert advice before deciding on a fabric type and colour. Different fabrics and even different colours offer different amounts of UV protection. Different colours also offer different amounts of light block-out which may be important to your application (darker colours generally block more light creating more shade and a darker environment under the sail).

Protection from rain: Many shade sails are made from non-permeable fabrics. This means they are 'water resistant' – they diffuse rain but will not keep the environment completely dry. If you prefer to keep your environment completely dry, an experienced designer can show you a range of 'waterproof' fabrics. Be sure to speak with a designer before choosing a fabric as there may be other factors to consider. For example, if you choose a waterproof fabric, you will need to take water run-off into account. You may be surprised how much water is collected and redirected by an average size sail. You wouldn't want all that water getting into your home or eroding away your prize garden.
Ventilation for extra cooling: Most shade sails are made from permeable (mesh-type) material that allows airflow. Using different shapes and angles, an experienced designer will design a sail structure that gives you maximum protection from the sun while allowing breezes to flow through your environment. This means your entertaining area will stay cool even when the BBQ is firing.
Large choice of colours: Looking for a colour that matches your home? Or perhaps a colour that creates a nice contrast? An experienced designer can show you a large range of colours and give you help in choosing something to meet all your needs. For example, you may like to keep in mind that while lighter colours allow more natural light into your environment they show the dirt more and can look untidy after a few years. Darker colours not only appear clean even when they are years old, they block out more light keeping your environment cooler.
Cost effective: Compared to other shade solutions, shade sails are very cost effective. A well designed sail structure can give you many benefits for a relatively small investment.
Quick to install: Unlike other more permanent structures that may take a week or more to install, shade sails can usually be installed in a day.
Easily removed: Moving house soon? Why not take your shade sail with you. Stainless steel fixings are easily undone for removal. Worried about a big storm? Take done your sail and put your mind at ease.
Add value to your home: A well designed shade sail can add an extra room to your home. This adds both practical and financial value to your home. It could even become the major selling point that helps your house sell faster and for more money. Can't you just hear the young mum saying, "Look dear, it's even got a shade sail over the pool. The kids will be able to swim all day without getting burned."
Please feel free to contact with me for cooperation
Jessica
skype:cntransasia
phone:86-13867115020