for cummins 3912019 water pump 4B diesel engine
Specifications:
Product Name: water pump
Part No.: For cummins 3912019
Application: water pump used in diesel marine truck auto engine
Description Genuine, quality with attractive price

1: We can provide full series genuine and original Cummins engine spare parts
2: We can deliver goods fastly due to we have large stocks in our warehouse
3: We can offer you best favorable prices for all cummins spare parts
4: We will carefully pack cummins spare parts you order with package you required
5. We are glad to offer the best solutions to solve any questions you met with cummins engine spare parts and provide our warm service for you no matter when you are inquiring prices with cummins accessories.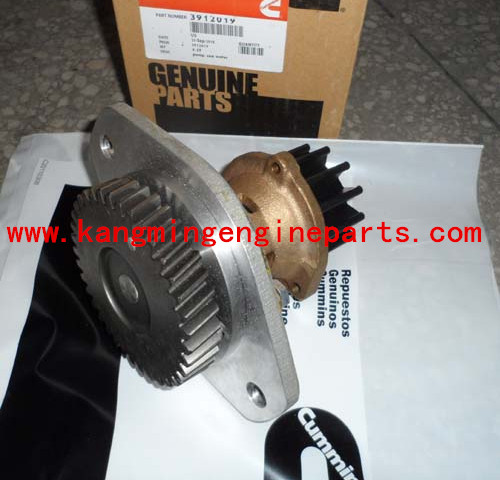 HKYZCUMMINS is a professional and experienced supplier of CUMMINS engine generator and spare parts. We directly take charge the Cummins imports, domestic products: 6BT5.9 6CT8.3 NTA855 K19 K38 K50 QST30 QSK60 QSK23 M11 L10 VTA28 etc, include Fleetguard Filters, cylinder heads, cylinder blocks, crankshafts, holset turbocharger ,camshafts, connecting rods, pistons, piston liners, Cummins overhaul accessories, assembly parts, filter, connecting rod, fuel injector, gasket kit, injector ,cup, fuel injection pump, piston pin, piston liner, piston ring, etc.

Our main products series are NT855, NTA855, KTA19, KTA38, KT38, KTA50, KT50, 4BT, 4BTA5.9, 6BT, 6BT5.9, 6CT, 6CTA8.3, M11, L10, L345, N14, NH250, NH220, VT28, QSK19, ISM11, QSM11, ISB, ISL. Our main series of CUMMINS: CCEC CUMMINS, DCEC CUMMINS, XCEC CUMMINS, USA CUMMINS. Our main Business: heavy-duty truck, construction equipment, mining equipment, marine engine, diesel engine, marine gearbox, generator bulldozer, shantui, komatsu, car parts for Cummins engine and related parts.

Warm Tips:
To help us quote the right parts, please kindly let us know the following information:
1. When inquiring, please tell us the detailed Part Numbers.
2. If you do not have part number in hand, please tell us the Engine Number.
Our goals: Reply you with fast speed, give you the best prices and deliver goods promptly.
If you want to know more information of Cummins engine and spare parts, please feel free to contact us! We are looking forward to establish long term mutual benefit cooperation with you in the future.

Contact Information:
QQ: 873712658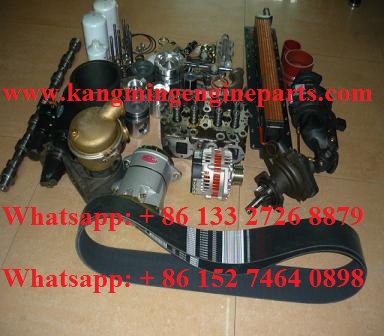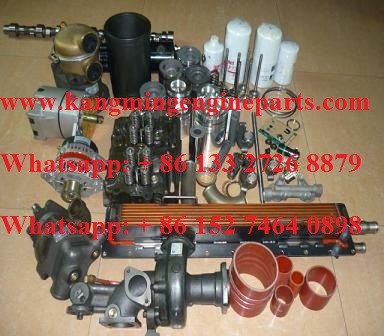 Products in Detail
1: Cummins truck parts, Cummins diesel engine parts, Cummins generator parts, Engineering machinery parts, Marine parts
2: Cylinder Block ,Cylinder Head, overhaul gasket, Gasket Kit
3: Filter, Oil Filter, Fuel Filter, Fleetguard Filter, Oil Cooler Core
4: Piston, Piston Pin, Piston Cooling Nozzle, Piston Ring, Piston Pin, Piston Liner, Seal O-ring, O-ring
5: Oil Pump, Water Pump, Fuel Injection pump, Injector, Fuel Injector
6: Camshaft, Crankshaft, Main Bearing, Thrust bearing, Crankshaft oil seal, Cup
7: Turbocharger, repair kit of turbocharger, holset turbocharger
8: Connection Rod, Gear Chamber, Oil Pan, Valve Parts , Assembly Parts,
Cummins overhaul accessories
| | |
| --- | --- |
| 200946 | ADAPTER, O RING |
| 3163306 | GAUGE, TIMING |
| 3919943 | RETAINER, GEAR |
| 3926534 | HOUSING, THERMOSTAT |
| 4089576 | KIT, FUEL SOLENOID |
| 3076738 | BARREL&PLUNGER, PTD |
| 4021704 | ISF3.8 CM2220 SERV M.V1-2 |
| 202994 | HOSE, PLAIN |
| 3972749 | BRACKET, ALTERNATOR |
| 4927363 | SWITCH, PRESSURE |
| 4030085 | KIT, WASTEGATE ACTUATOR |
| 4952785 | PAN, OIL |
| 3503798 | WHEEL, TURBOCHARGER H2 |
| 3178747 | CONNECTOR, MALE |