Galvanized Electric Steel Pipe
Type

Straight Pole ,Tensile Pole ,Turn Pole

Suit for

Electricity distribution

Shape

Conoid ,Multi-pyramidal,Columniform,polygonal or conical

Material

Usually Q345B/A572,minimum yield strength>=345n/mm2

Q235B/A36,minimum yield strength>=235n/mm2

As well as Hot rolled coil from Q460 ,ASTM573 GR65, GR50 ,SS400, SS490, to ST52-

Torlance of dimenstion

+- 2%

Power

10 KV ~550 KV

Safety Factor

Safety factor for conducting wine : 8

Safety factor for grounding wine : 8

Design Load in Kg

300~ 1000 Kg appliced to 50cm from the to pole

Marks

Nane palte through rivert or glue ,engrave ,emboss as per customer requirement

Surface treatment

Hot dip galvanized Following ASTM A 123, color polyester power or any other standard by client required.

Joint of Poles

Insert mode,innerflange mode,face to face joint mode .

Design of pole

Against earthquake of 8 grade

Wind Speed

160 Km/Hour . 30 m /s

Minimum yield strength

355 mpa

Minimum ultimate tensile strength

490 mpa

Max ultimate tensile strength

620 mpa

Standard

ISO 9001

Length of per section

Within 14m once forming without slip joint

Welding

We has past flaw testing.Internal and external double welding makes the welding beautiful in shape

Welding Standard :AWS ( American Welding Society ) D 1.1

Thickness

1 mm to 30 mm

Production Process

Rew material test → Cuttingj →Molding or bending →Welidng (longitudinal )→Dimension verify →Flange welding →Hole drilling →Calibration → Deburr→Galvanization or powder coating ,painting →Recalibration →Thread →Packages

Packages

Our poles as normal cover by Mat or straw bale at the top and bottom ,anyway also can following by client required , each 40HC or OT can loading how many pcs will calculation base on the client actually specification and data.
Design and Detail
Lofting and design software :We have Power Transmission Monopole design software which can help us design all kinds of steel pole ,at the same time ,the TMA and LMA are adopted by us to provide the design
the drawing accuratly.
Lofting and design software :We have Power Transmission Monopole design software which can help us design all kinds of steel pole ,at the same time ,the TMA and LMA are adopted by us to provide the design
the drawing accuratly.
Production Process
As an BV ,ISO ,SGS approved supplier in China ,we have more than 20 years produce and export steel
pole and we can assure the pole we offered is of sound quality which made from qualified material with
our professional workers and advance equipment .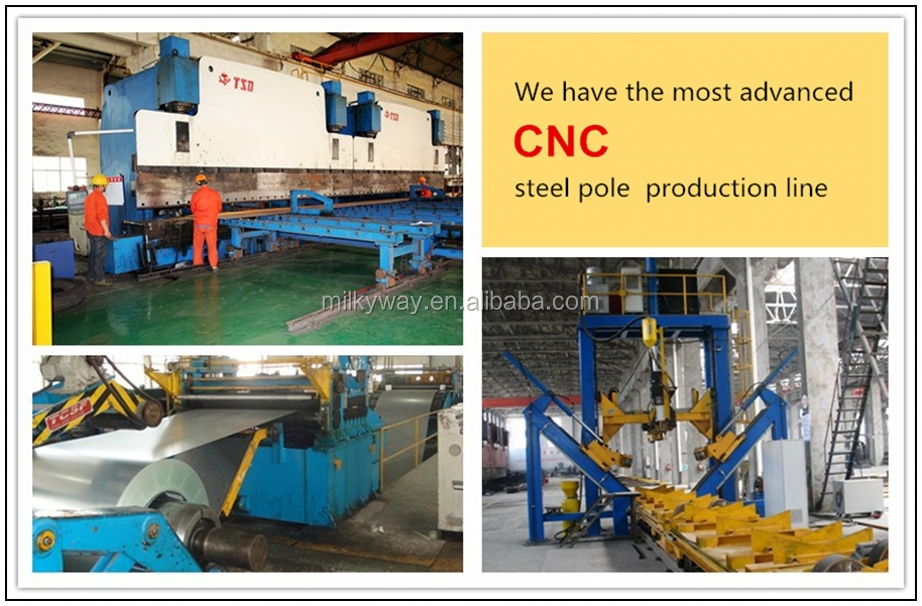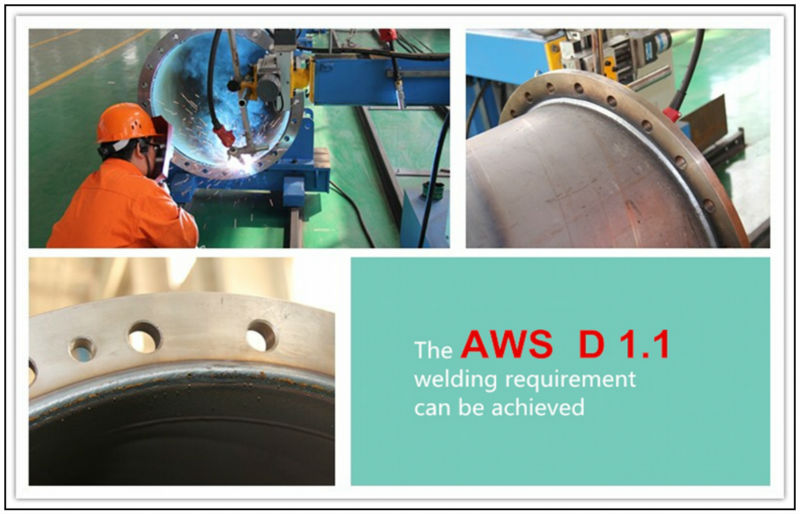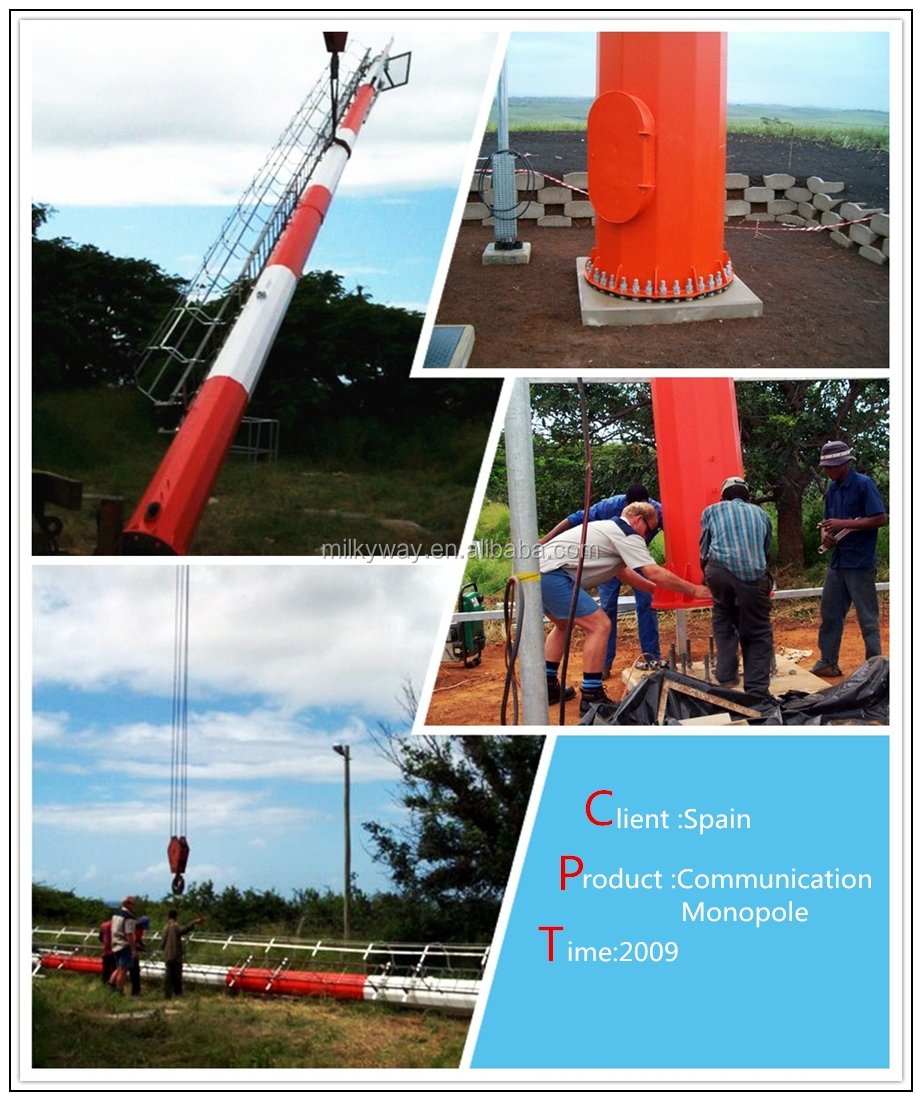 Material
All of our material are purchased from famous mill factory to assure the quality.

1.A mill certificate issued by the mill factory with stamp and signature must be provided before unload the material in our factory ,otherwise we have our reason to refuse the material .
2.Before put into production ,all the material must pass the chemical and physical analysis to make sure
that they have meet the requested strength and component.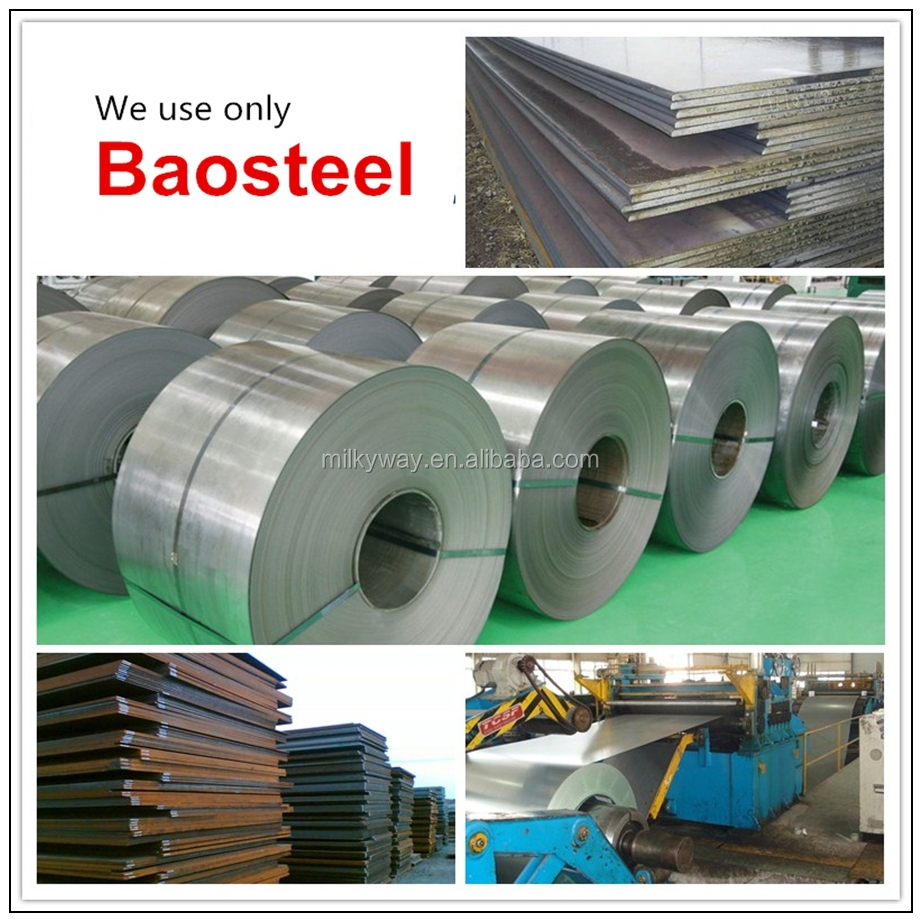 Inspection
To assure our product qualified ,we take steps as follows :
1. Management team : We have employ the foreign export to take chaege of the overall managemnt, especailly the technical managemnt and quality management .
2.Introducing ISO management ,We are awared ISO 9001:2008 certificate.
3.QC Inpection:It is our company policy that all the finish product should be inspected by our specialzed
QC in every manufacure steps and beofore every shipment.
Trade Terms
1. Payment: (1)Telegraphic Transfer(30% advance payment, balance before shipment)
(2)Telegraphic Transfer(30% advance payment, balance against copy of documents)
(3)Letter of Credit: at sight
2. Lead Time: Two weeks after confirmed order.
3. Delivery way: by sea.
Best Service: At Jiangsu Milky Way Steel Poles Co.,Ltd, our priority has always been providing our clients with great
quality products and superior Customer service.
Quick Lead Time. We're dedicated to providing the quickest turnaround times and work Hard to ensure that all of your
deadlines are met.
Unbeatable Prices. We continuously strive to find ways of reducing our product costs, and passing the savings
Over to you!
Unbeatable Quality. we always supply good quality also leadingproduct to our VIP customers.
Brand Awareness . The goal of any strong brand is achieve a level of awareness that instills the idea of quality and value
into all of your customers.
Special Offers. In order to maintain our competitive edge, we are constantly running special offers on our products,
consumer goods, and design services.
Contact our sales team to see how we can help you save a lot of money.
Special support. we have a policy term to support our VIP customers for product also payment.
our steel pole, steel poles , steel power poles ,power steel poles, electrical poles, electrical power poles, power poles, power distribution equipment poles , wind power pole ,electric power pole ,electric power transmission &distribution steel poles ,hot-dip-galvanized steel poles ,lamp poles ,road poles, transmission pole ,steel power pole , steel pole ,street lighting poles, street lamp poles ,solar street lamps steel poles ,high mast lamp poles, road lamp poles, the steel street lamp poles, hot-dip-galvanized steel lighting ,outdoor lighting ,outdoor lamps ,street lighting poles ,steel post ,street poles, electric steel pole ,electric pole ,lamp parts ,lighting fixture ,lighting poles ,lighting equipment ,lighting decoration ,lighting product , street lighting body, high mast lighting steel poles &tower, electric poles, round & square street lighting steel poles with double arm or single arm . Stainless steel poles, Flag mast stainless steel pole, aluminum street light poles, traffic lighting steel poles, telecom tower poles , base plate , bearing plate, base flanges , are made by hot-roll steel coil ,the process as cut plate, bending ,forming, automatic welding, drill holes ,quality check before galvanized, hot dip galvanized or powder coating , final quality check according by client required.